Daniel Kellogg has won a $25,000 commission to write a work for The Philadelphia Orchestra in celebration of the 300th anniversary of Benjamin Franklin's birth. The orchestra will premiere the new piece as part of a citywide celebration in November 2005.
Kellogg seems undaunted by the challenge of writing a work tied to such a culturally significant personality. "The possibilities for artistic response to such an individual are limitless," he explains. "I hope the music will capture his curiosity in all things, his flirtatious fun, his wit, and the spirit of the amazing time in which America was born."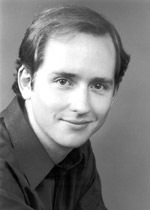 Daniel Kellogg
Kellogg, a Young Concert Artists Composer-in-Residence, has been awarded the Charles Ives Fellowship from the American Academy of Arts and Letters, as well as the 2003 ASCAP Foundation Morton Gould Young Composer Award for his work and the dust shall sing like a bird. His compositions have been performed at New York's 92nd Street Y, Carnegie Hall's Weill Recital Hall, and the Kennedy Center, and have been broadcast on National Public Radio's Performance Today. His piece Divinum Mysterium was recently released on eighth blackbird's Beginnings [Cedille Records].
He holds degrees from the Curtis Institute of Music and the Yale School of Music, where he is currently a candidate for a doctor of musical arts degree. His teachers have included Don Freund, Ned Rorem, Jennifer Higdon, Joseph Schwantner, Ezra Laderman, and Martin Bresnick.
The competition was administered by the Philadelphia chapter of the American Composers Forum. Kellogg was chosen from among more than 100 applicants by a panel of five composers and Philadelphia Orchestra Director of Education and Community Partnerships Sarah Johnson. The orchestra's music director, Christoph Eschenbach, made the final selection.
Kellogg says he is just now beginning to sketch the piece while doing quite a bit of reading about Franklin and even exploring some of the music that influenced the American diplomat and inventor. "He was very interested in music and even wrote some pieces. There is a librarian at Yale that knows a good deal about his interest and involvement with music. I am hoping she can direct me towards tunes or pieces that he loved in addition to giving me copies of pieces he wrote. Possibly I will find some good melodies or motives in this process."
As his plans stand now, Kellogg will write an 18-minute, multi-movement work which incorporates a narrator reading brief excerpts of Franklin's writings before each movement. Divided in this way, each section would be designed to reflect a particular facet of Franklin's personality—his wit and humor, his love of women, his inventiveness, and his political involvement in the foundation of the country.
The Philly commission, a milestone in any young composer's career, will be especially meaningful to Kellogg, who regularly attended Philadelphia Orchestra concerts as a student. Several of his Curtis classmates who performed his student compositions are now members of the orchestra.
Regardless of the shape the piece finally takes, Kellogg says he has plenty of material from which to draw. "The life of Benjamin Franklin could supply the stories for 100 operas. I am in awe of all that he did and how we connect with this person daily through his imprint on America."
The 300th anniversary of Benjamin Franklin's birth, January 17, 2006, will be the culmination of a multi-year, international celebration. The Federal Benjamin Franklin Tercentenary Commission, along with a consortium of five Franklin-related Philadelphia cultural institutions have joined forces to coordinate a major traveling exhibition, special events, and educational programs to commemorate the occasion.