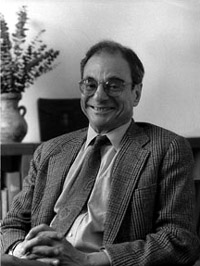 Daniel Steiner
Photo by Paul Foley
Daniel Steiner was recently named President of the New England Conservatory of Music by Board Chairman David W. Scudder. Steiner has been serving as Acting President since July 1999.
The appointment concludes a year-long search by a Presidential Search Committee and follows its recommendation. "In little less than a year, Daniel Steiner has shown himself to be a leader of rare and exceptional strengths," said Scudder. "He has been able to bring a strong sense of focus on key priorities of the Conservatory. His leadership abilities will enable the Conservatory to chart a well-planned and enthusiastic course for the future."
Faculty Senate President Robert Paul Sullivan commented, "…a wise and skillful administrator, Daniel Steiner will provide the decisive leadership NEC needs at the beginning of the 21st century."
When asked about his role in promoting new American music, Steiner commented to NewMusicBox: "As an American conservatory, we have an on-going and active responsibility to encourage American composers and to help bring about the performance of their works. Our renewed relationship with the Boston Modern Orchestra Project is an example of how we carry out that responsibility. We also have, of course, an active composition department that fosters the careers of American composers and the performance of their compositions."
Prior to joining NEC as Acting President in July 1999, Daniel Steiner's career as a lawyer had focused on higher education. He taught at the Kennedy School of Government from 1993 to 1996 and was General Counsel and then Vice President and General Counsel at Harvard University from 1970 to 1992. While at Harvard, Mr. Steiner was responsible for all the University's legal affairs and assumed management responsibilities at various times for the security, human resources, real estate and international departments.
He is the author of several articles on individual and institutional ethics; he co-chaired the American Medical Association Task Force on Association/Corporation Relations in 1997-98.
An active supporter of Boston's cultural life, he chairs the Boards of Boston Baroque, Mind/Body Medical Institute, and Harvard Magazine and is a director of WGBH, Cambridge Community Foundation, Cambridge Trust Company and New England Conservatory.
At New England Conservatory, as an Overseer since 1994 and Trustee since 1995, Steiner served on and chaired many board committees, including the Admissions and Financial Aid Visiting Committee and the Faculty Development Committee, before becoming Acting President in 1999.
Recognized nationally and internationally as a leader among music schools, New England Conservatory, the only music school in America to be designated a National Historic Landmark, was founded in 1867. New England Conservatory presents more than 600 free concerts each year in NEC's Jordan Hall and throughout New England. The college program instructs more than 775 undergraduate, graduate, and doctoral music students from around the world, and has a faculty of 225 artist-teachers and scholars.
Through its Preparatory School, School of Continuing Education, and Community Collaboration Programs for pre-college students, adults, and elders, NEC offers a complete music curriculum. Educated as complete musicians, NEC alumni fill orchestra chairs, concert hall stages, jazz clubs, and recording studios worldwide. Nearly half of the Boston Symphony Orchestra is composed of NEC faculty and alumni.