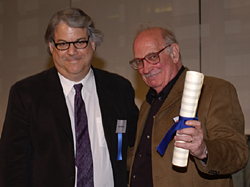 David Starobin presents George Crumb with an AMC Letter of Distinction
Photo by R.J. Capak
I first got to know George Crumb personally when, as a 19 year-old fan of his music, a friend of mine and I showed up at George and Liz Crumb's doorstep completely unannounced. George was our hero—the leading composer/poet of our time—and a pilgrimage to his house seemed like a good idea. Rather than giving us the quick boot, George invited us into his kitchen, where he was tuning crystal glasses for a performance of Black Angels that evening. We stayed for the next three days. Since that visit, I've had the privilege of traveling all over the world with George, performing with him, and working to record all of his music. George's hospitality on that initial encounter was my first view of his remarkable generosity. Over the years, I have seen him selflessly give his time and energy to thousands of students, performers, and the many listeners who have come under the spell of his singular art.
In the arts, great teachers lead both by the example of their own work, and through their ability to forge close personal connections with students. George's music and teaching have had a considerable impact all over the world, but perhaps nowhere more so than among his students at the University of Pennsylvania, where he taught for more than 30 years. Many of these former students can be counted among the leading enthusiasts and champions of George's music today. Their personal affection for George was apparent to me at a recent concert in Philadelphia. There, I came upon group of them, all distinguished professors and award winners, heatedly engaged in a contest to see who could do a better imitation of George's West Virginia drawl!
Crumb once wrote: "I believe that music surpasses even language in its power to mirror the innermost recesses of the human soul." That statement says much about the immense challenge that George Crumb has set for himself in creating his work. In George's music, the tradition of Western art music meets his enlarged palette of vocal and instrumental color, modernism meets older musics, and the composer's superb ear and natural music making abilities meet a questing spirit that seeks an intimacy and intensity of expression that goes far beyond the descriptive ability of my words.
I would perhaps best close with a few words by George Crumb about music: "I have always considered music to be a very strange substance, a substance endowed with magical properties. Music is tangible, almost palpable, and yet unreal, illusive. Music is analyzable only on the most mechanistic level; the important elements—the spiritual impulse, the psychological curve, the metaphysical implications—are understandable only in terms of the music itself."
Thank you, George, for giving us so much to understand.