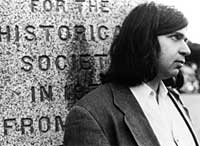 Frank J. Oteri
Photo by Melissa Richard
Throughout last year, across the street from Macy's in New York City, a "Millennium Clock" counted down the seconds until January 1, 2000. Throughout January it stayed at 0, but at some point during this month it started up again counting down the seconds until January 1, 2001. I guess you can have it both ways?
But whether or not we're in the last year of the 20th century or the first year of the 21st, one thing is clear – "20th century music" and "new music" are no longer synonymous terms. Is there another term than can embrace all this music? Are there qualities that all this music shares? We asked Matthew Tierney to provide us with a hyperhistory of various 20th century American approaches to rhythm, in an attempt to find some common ground. Each section is crammed with RealAudio music samples of a wide variety of repertoire.
When pondering rhythm in contemporary American music, a composer who immediately springs to mind is Elliott Carter, who has made such an important contribution to the exploration of temporal structure. A few weeks ago, I visited Mr. Carter, who at the age of 91 is in a unique vantage point for talking about the 20th century since he lived through most of it. What perhaps is more amazing than that, though, is that he is now more prolific than ever, creating music for the 21st century! (In order to further share this remarkable conversation with visitors to NewMusicBox, we've added RealAudio samples of some of Mr. Carter's comments to each of the pages of the interview in addition to 21 RealAudio samples of his music.)
We also got reactions about what music in the future could or should be from several other important elder statespeople of American music: Henry Brant, George Perle, George Rochberg, and Marian McPartland. We ask you to also try to answer an impossible question: Who is the most important American composer of the 20th century?
While we take this time out to reflect on the 20th century, the clock keeps ticking, of course. In our news section, announcements of important new residencies, commissions and awards continue to sow the seeds of music for the future.