A Musician in the Artworld
For the past 12 years, guitarist Stephen Vitiello has worked at Electronic Arts Intermix, the largest and most important distributor of artist's video tapes in the world. When he started working there, Vitiello was a rock musician; now as a direct result of continual exposure to artists and their ideas over such a long period of time, he's moved into a much more experimental vein. In fact, he's been so successful with this that he's about to quit his day job to pursue recording and touring full time.
Actually, it was the artists themselves who pushed Vitiello's work into greener pastures. Over the years the artists he was working with were curious about what Vitiello "really" did (in arts administration, everybody "really" does something else). But it was the well-known artist Tony Oursler who, in 1989, finally demanded that Vitiello give him a tape of his work. He was so knocked out by what he heard that he requested that Stephen's music be used in a museum installation of his in Holland. The piece consisted of a 4 channel video installation and 4 channels of sound coming out of the walls, ceiling and floor of the gallery. It was the first in a long string of collaborations that Vitiello would do over the years with artists. Vitiello says that working with artists opened things up for him: "I didn't really become an interesting musician until I started working with visual artists and started looking for ways to parallel the ways artists were processing images."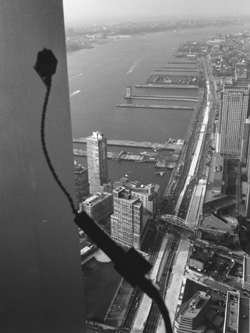 Stephen Vitiello's Installation from his 1999 World Trade Center Residency
Photo by Johnna MacArthur
It seemed that each filmmaker or video artist Vitiello worked with, the more his own musical vocabulary opened up. For instance, while working with filmmaker Jem Cohen in the early 90s, Vitiello noticed the kind of time lapses he was incorporating into his films – using delays to mirror time lapses – and began to use the same sorts of devices in his music.
However, working so closely with filmmakers and video artists led Vitiello into a bind: he was getting tagged as a composer of soundtracks and felt that his own compositions were getting slighted as a result. While hoards of filmmakers were beating down his door to work with him, he was having trouble getting CDs of his own music released. His first CD release, Intriguing People, was soundtrack for a feature by Brazilian filmmaker Eder Santos. It was shown at the Museum of Modern Art and became a favorite on radio stations like WFMU. It was a true collaboration with Vitiello paralleling Santos' activities during the writing of the script, the shooting and the editing of the film. The result was that Vitiello's music became a kind of character in the film – one consistent actor. His next CD, Chairs Not Stairs, although not based on a film, had the distinctive quality of being a soundtrack. Vitiello even swiped bits of dialogue from the original Cape Fear and threw them into his compositions. It's a great CD, but still feels very tied to the world of soundtracks.
Vitiello's breakthrough disc was last year's The Light of Falling Cars (JdK Productions). It's a record that stands on its own two feet as music and includes collaborations with Pauline Oliveros and violinist Hahn Rowe. With this disc, it feels like Vitiello has finally found his own voice and has managed to fuse several current musical tendencies (glitchwerks, electronica, improvisation, ambient music) into a single compelling practice that's all his own. The response to the disc has been phenomenal – it made many top 10 lists of 1999 – and now he's been busy improvising at places like the Knitting Factory with Pauline Oliveros and has just released a mini-CD of duets with master cellist Frances-Marie Uitti simply entitled Uitti / Vitiello (JdK Productions).
As if he isn't busy enough, Vitiello's also got a high-profile career as a curator of film, video and sound art. While the artworld is an open-arms sort of place (musicians who don't quite fit into the music world proper are welcomed into the artworld as "sound artists"), they don't seem to know how to properly present sound in a gallery context. But Vitiello feels that they are intrigued with the idea. He equates sound with the early struggles video had when it first arrived in galleries; it took many years before it was accepted as serious art on the level of painting and sculpture. Vitiello has taken some major steps to correct the situation: he was hired as chief curator of "I Am Sitting in a Room: Sound Works by American Artists 1950-2000" as part of The Whitney Museum of American Art's "The American Century Part II" show, where he presented dozens of works by experimental musicians and visual artists in the Whitney's galleries. In 1997, he curated the "Young and Restless" video show at the Museum of Modern Art, which opened to rave reviews and has gone on to tour the world.
And all this, thanks to his day job. Vitiello says that "In college I was studying film theory, literature and I was playing music. And I tried to figure out a place to merge all three interests and video seemed to be the place where they all met." And fortunately for Vitiello, that place turned out to be Electronic Arts Intermix.
From Don't Quit Your Day Job. Yet…
by Kenneth Goldsmith
© 2000 NewMusicBox