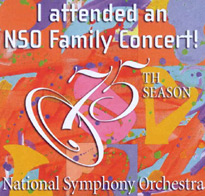 What ushers hand everyone after an hourlong Family Concert by the NSO
Last weekend, I went down to Washington, D.C. to chat with Leonard Slatkin for NewMusicBox (stay tuned for "Cover" in January). In the process, I managed to attend two orchestral concerts at the Kennedy Center. Both were billed as concerts for young people. The first, called Youth Orchestra Day, placed members from six youth orchestras from around the region alongside members of the National Symphony for performances of a contemporary orchestration of a Bach fugue, Sibelius's Finlandia and two movements of the Shostakovich Fifth. The second, an NSO Family Concert featuring the world premiere of David Del Tredici's 30-minute Rip Van Winkle for narrator and orchestra, was an all-American potpourri also featuring music by Copland, Grofé, and Morton Gould, among others.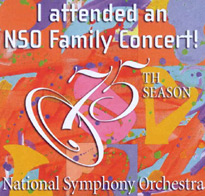 What ushers hand everyone after an hourlong Family Concert by the NSO
What these two concerts had in common, aside from both having repertoire exclusively from within the past century, was that both lasted around an hour and neither had an intermission. They were all the better because of it and it started to make me think that perhaps the intermission is an unnecessary anachronism. Once you're being transported by a sequence of pieces of music, the last thing you want to do is to break the music's spell, fight your way through the crowds for some air or small talk only to find your way back minutes later attempting to recapture the concentration necessary to listen which is now completely gone.
Of course, you're thinking, it would be difficult to keep a very large group in its place for a much longer time. But that's what movies do all the time. And maybe having shorter concerts is not such a bad idea anyway except for those special occasions where the compositions themselves call for a longer playing time: Mahler and his ilk, good ol' Morty or La Monte, etc.
For the most part, despite some folks claims that live concerts are the real music and that recordings are not, the majority of most people's listening experiences are on recordings and those experiences are what shape the way people listen. This is obviously the reason most of the people asked didn't seem to mind if music for the Radio City Holiday Extravaganza was pre-recorded rather than live despite the cries of Local 802. One of the things that recordings have taught us, for better or worse, is that musical experiences tend to last about an hour and, with the decline of having to flip LPs over, have no intermission.
Yes, I know, the next generation will be experiencing music mostly through random shuffle and downloads of individual tracks. Perhaps this will usher in an even more depressing day for folks who are saddened by the sight of people squirming in their seats at concerts. But while we can still get people's attention for about an hour, let's maximize it and get rid of the intermissions.