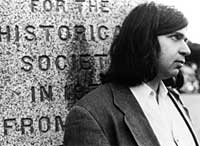 Frank J. Oteri
Photo by Melissa Richard
As one of many American composers who has yet to make a living from composing music, I am simultaneously perplexed and humbled by the economics of music making in a free market economy. Like so many of my colleagues following in the grand American tradition of William Billings and Charles Ives, I have had to earn a living through other means than musical composition. (At least I'm far luckier than they were in that almost everything I do relates to music in some way!)
Although the situation has greatly improved in the past couple of decades, there is still only a very small percentage of composers in America today who are able to survive economically from writing music exclusively. In addition to narrow audience exposure in the current media climate, there are also limited resources to nurture the development of new music in this country. Yet to quote Frank Zappa's favorite Varèse aphorism, "The contemporary composer refuses to die" and the American new music scene seems like an unending oasis of treasures that grows and grows no matter what the climate is at any given moment as any visitor to our concert calendar, new recordings round-up, or news section will instantly see. In fact, statistics can prove that there are more composers active in the United States today than at any time or place in human history.
So, how is all this music making financially possible? A good deal of it is a labor of love which does not place any monetary value on artistic endeavors. But that can only go so far… While smaller concerts can and frequently do happen on a proverbial shoestring, large scale productions, such as orchestral concerts or operatic and musical theatre works, inevitably require sizeable budgets and almost rarely recoup them. Similarly, while some recordings are being made these days with virtually no overhead, distribution is impossible without monetary resources. By offsetting the costs of endeavors like these that would never be feasible in our market driven economy, funding has played an extremely important role in American's musical life.
This month I spoke to Betty Freeman, a patron saint to new music who was directly involved in the commissioning of many important works by John Cage, Lou Harrison, Harry Partch, Conlon Nancarrow, Steve Reich, John Adams and many others. Her thoughts on the current state of American music should provoke a great deal of discussion.
Theodore Wiprud has compiled a HyperHistory about funding for new music which is to be the most extensive one we've ever presented on NewMusicBox, and there's some serious competition from previous issues!
We've asked Thomas Buckner, June Hechinger, Gayle Morgan (Music Program Director for the Mary Flagler Cary Charitable Trust) and Catherine Wichterman (of the Mellon Foundation), each of whom has played a key role in supporting new music, to comment on what they believe are the most important concerns for philanthropy in new music. And we ask you to comment on whether there is any point on the economics of new music in our interactive forum hosted by composer and American Music Center President John Luther Adams.