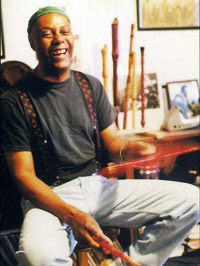 Eddie Marshall
photo by Chela Shanti
Drummer and longtime Bay Area jazz leader Eddie Marshall is the recipient of the First Annual SFJAZZ Beacon Award presented by Stella Artois. The award will be given each year to a member of the Bay Area jazz community who has played a vital role in preserving the traditions and encouraging the growth of jazz in the Bay Area.
Marshall called the award "quite an honor." He claims the award was "totally unexpected." He had called Executive Director Randall Kline about hiring his quintet for this year's SF Jazz Festival, and Kline told him "he had another idea." Marshall was surprised largely because he "considers himself a sideman. I'm just a drummer who has played with quite a lot of jazz celebrities," he explained.
In an interview, Kline responded by saying that he "never thought of him as not being prominent." He also contested Marshall's description of himself as solely a sideman, pointing out that he co-led the seminal 1970s fusion band The Fourth Way and co-leads his current band, Holy Mischief.
Kline calls Marshall "a true local treasure," citing his "constant presence" on the San Francisco scene for the past three decades. When Kline first moved to San Francisco in 1975, he heard Eddie Marshall at Keystone Korner, where he was the house drummer, performing with musicians such as Bobby McFerrin and vibraphonist Bobby Hutcherson. In his long career, Marshall has also collaborated with jazz legends Stan Getz, Toshiko Akiyoshi, and Rahsaan Roland Kirk, among many others.
Marshall's involvement with the San Francisco scene is all the more remarkable when viewed in the context of the changes that have occurred during that time. In the early 1980s, the city lost Keystone Korner, and no major jazz club has taken its place. Instead, that space has been filled by Yoshi's, "across the bay" in Oakland. Marshall also feels that the "dot-com generation" has been supporting many smaller clubs and jazz in restaurants. Kline explained that when he started the San Francisco Jazz Festival in 1983, he made a point of only using local musicians. He explained that with fewer people using San Francisco has a home base, "gradually the festival changed character, with more out-of-town players," although he still feels he maintains a "pretty good mix." Marshall has performed regularly at the Festival.
Marshall and his band recently released a new CD entitled Eddie Marshall and Holy Mischief. With the exception of one tune, the music was entirely written by Marshall. Listeners will have the opportunity to hear Marshall play not only drums, but also recorder, his unusual second instrument for many years. This instrument is strongly associated with the Baroque period, but Marshall had never heard any Baroque music when he bought a tenor recorder from Montgomery Ward at age 16. Now, he considers Baroque music to be "his favorite repertoire aside from jazz." He particularly enjoys the playing of Marion Verbruggen.
The new award is made possible by San Francisco Jazz Festival sponsor Stella Artois, which will make a $5,000 contribution to the SFJAZZ Education Program in the name of the Beacon Award honoree for the next three years or longer. Marshall is pleased that educational programs will benefit from the award. Marshall teaches at San Francisco State, at The Jazz School in Berkeley, and at home.
The SFJAZZ Beacon Award presented by Stella Artois will be given to Eddie Marshall on Thursday, November 2, at San Francisco's Masonic Auditorium, in the San Francisco Jazz Festival concert "A Salute to Eddie Marshall." Marshall will perform with Holy Mischief and in a historic reunion of The Fourth Way. Marshall will also be joined onstage by all-star special guests Bobby McFerrin, Bobby Hutcherson, and jazz trumpeter Freddie Hubbard. Marshall has been put in charge of planning the program. He calls the task a "challenge," but he also explained that if he "show[ed] up for the award without playing" he "wouldn't know what he was receiving it for."
The San Francisco Jazz Organization (SFJAZZ), founded in 1983, is a not-for-profit organization dedicated to preserving the traditions and encouraging the growth of jazz through presentation and education in the San Francisco Bay Area. SFJAZZ is the presenter of the annual San Francisco Jazz Festival, the SFJAZZ Spring Season, and multiple series of free outdoor concerts from June through October. The organization also produces a number of jazz education programs for youth and adults, as well as commissions for talented composers and an expanding array of other year-round events and programs.