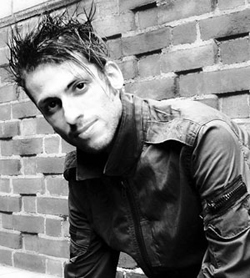 Ricardo Romaneiro lives in New York City. He earned his undergraduate degree in composition at the Manhattan School of Music under the tutelage of Richard Danielpour. Following private studies with Mexican composer Samuel Zyman, he completed his Master of Music degree at the Juilliard School, studying with Pulitzer Prize and Grammy winner Christopher Rouse. His music has been commissioned from such ensembles and institutions as Museum of Modern Art's Summergarden Series, Metropolis Ensemble, New York Miniaturist Ensemble, New Juilliard Ensemble, Colorado Ballet, Sacramento Ballet, Alvin Ailey, and has been performed throughout North & South America, and in Africa, Southeast Asia, and China. In the dance world, Romaneiro's music has been widely choreographed. Romaneiro is currently at work on a new studio album, which will be released later this year.
---
FURTHER READING AND STUDY: COMPOSER PICKS

Invol2ver
Sasha


Venice
Fennesz


Give My Regards To Eighth Street: Collected Writings of Morton Feldman
Morton Feldman


Dia: Beacon (museum)
Ricardo Romaneiro combines a background in classical music (including degrees from Manhattan School of Music and Juilliard) with an intense passion for electronic music; his work uniquely melds these worlds together with rhythmic elements drawn from his native Brazilian culture. Looking back, Romaneiro admits that his ultimate commitment to fusing classical music and electronic music in his compositions was a long time in the making. "In reflecting upon the personal path that has lead me to where my work stands today, I see that for many years I viewed electronic and classical music as two disassociated genres," he recalls. Romaneiro found his compositional voice early on, and in 2000 won The Claremont Prize for Alma Brasileira, an acoustic chamber orchestra work whose driving, percussive rhythms were reflective of the modern, industrialized sounds of the two cultures he grew up surrounded by—those of Brazil and New York City. Though Alma Brasileria does not use electronics, this piece was an important development in his dynamic, energy-infused style. Over the next few years, Romaneiro devoted much of his time to mastering the intricacies of studio production and in 2005 released : synthetic mosaic : , an experimental electronic album that explored sophisticated techniques of sound design, analog recording, software/hardware integration, MIDI technology, digital synthesis, and effects modules. Viewed by Romaneiro as the beginning of his mature compositional output, : synthetic mosaic : is a beautiful collage of electronic sound, texture, and color that mixes dark, ambient sonorities with industrial-influenced experimental rhythms. Each track is a unique sonic mosaic that cohesively narrates the architecture of the entire album, bringing the listener on an emotive journey though time and space.
Following this he created Blue Steel (2006), an intensely dramatic orchestral narrative that paints evocative, ethereal sounds and then starkly contrasts them with relentless brass and percussion-driven rhythms. In this piece, Romaneiro sought to depict the orchestra as a machine by exploiting aspects of electronic music within a purely acoustic/orchestral language. Utilizing complex harmonic movements, non-traditional forms, and irregular time signatures to construct the sonic architecture, Blue Steel propels the listener from a pensive yet agitated introduction to moments of dreamy repose, juxtaposing increasingly aggressive gestures with serene tone clusters until he hurls the listener towards a fiery, triumphant climax. Premiered at Lincoln Center and later performed in Shanghai, China, to a sold-out audience, Blue Steel represented a culmination of the orchestral techniques Romaneiro had acquired through his formal studies of 20th-century American symphonic music, and returned his attention to the medium of orchestral composition. Though garnering accolades and critical acclaim for his compositions (including winning the Arthur Friedman Prize for his orchestral song Hard Garden and the premiere of Second Exposure, a large work commissioned by the Colorado Ballet), Romaneiro admits to a growing sense of consternation during this time. He explains, "Following the completion of Blue Steel, I began to sense a fence encircling my compositional voice. It seemed to me that I had exhausted all of my musical ideas, and lacking novel inspiration I was uneasily relegated to recycling older concepts and methods over and over in new pieces."
Romaneiro dealt with this compositional impasse by taking a hiatus from writing classical music. Instead, he threw himself into electronic music production, embarked on numerous late night jam sessions with like-minded producers, and (re)discovered the non-academic side of his creativity. Admittedly, he also decompressed from the pressures of orchestral commissions and the formalized training of academic music studies. Though this began a confusing and tumultuous period of his life, the departure from previous conventions and work methods afforded Romaneiro a much-needed respite from the pressures that were overwhelming him (both internal and external). As his internal chaos subsided, Romaneiro was able to finally analyze and restructure his approach to composition. Recalling this process, he states: "There wasn't an exact moment when I decided to 'return' to composing classical music. It's like a balance scale—during this period I was completely immersed in the studio, learning about analogue hardware, production techniques, etc., and my classical side was not given much attention. It takes a while for a composer to get a somewhat decent perspective of his music; sometimes the only way to really achieve that perspective is through time and distance." Romaneiro adds, "What I eventually realized is that my music was off-balance. I needed to find a way to develop my sound design techniques concurrently with my orchestration techniques, and stop substituting one for the other."
Each period of a civilization creates an art that is specific in it and which we will never see reborn. To try and revive the principles of art of past centuries can lead only to the production of stillborn works.
—Wassily Kandinsky
With renewed energy, Romaneiro committed himself to finding a way to marry the (previously) opposing sides of his musical dialect. This process led to the creation of The Rite: Remixed, "an electro-classical re-imagination of Stravinsky's Rite of Spring," and the composition of Two-part Belief (2008), a piece for brass ensemble, percussion, live electronics, keyboard and soprano, both premiered by the Metropolis Ensemble at Brooklyn's Prospect Park Bandshell. Two-part Belief opens with an ethereal, electro-symphonic soundscape that sustains itself throughout the piece. The electronic writing fuses the orchestra and the discretely processed vocal writing into a surreal sonic architecture; Romaneiro beautifully underlays the high soprano writing with thick textures and emotional, lush sonorities, aptly portraying the first lines of Chris Cahill's text: Everything will be lost, the lucid dreams, the thimbled dreams of cobalt sunk with living dark. During the same summer Romaneiro premiered Storm King, a work for chamber ensemble and electronics, at the Museum of Modern Art Summergarden Series. Echoing the architecture of Blue Steel, Storm King explored various juxtapositions in a kaleidoscope of sounds and elements: starry night and early morning, dark and light, electronic and acoustic. Seeing electro-orchestral works performed in such "high art" settings reaffirms the fact that transformation of the traditional symphonic sound is growing increasingly accepted (and appreciated) in the classical audience.
Though his compositional journey has had intense and difficult periods, Romaneiro is strengthened and renewed by the artistic adversity he unwittingly found himself confronted with. "The merging of high art and underground art led me to a path that both was rewarding and frustrating," he says. "As I attempted to marry disparate processes that were previously utilized with either my classical works or my electronic music, I found myself redesigning my entire approach to notation and production. During this time, creating music was a very slow, frustrating process: I would immerse myself in the production aspects of electronic composition at the expense of the instrumental writing, likely due to the instant gratification that electronic music naturally possesses. In response to this new quandary, I examined and streamlined my compositional techniques, and in the process found new ways to combine more intuitive, thought-out harmonies, melodies, and rhythms with my love of improvisatory soundscape exploration."
Certainly one element that is an important progression of Romaneiro's music is his role as composer/performer. Though electronic producers and DJ's are always performing, most contemporary classical composers are relegated to sitting in the audience during their premieres. However, in his large-scale works with electronics Romaneiro can always be found onstage, surrounded by the orchestra, performing the electronics in real time. He embraces this new role with enthusiasm: "Happily, my new creative process has firmly established me as a performer and interpreter of my own works. Performing "live" during the creative process (using various MIDI controllers) has fueled my commitment to performing my works live on stage, and I find myself continuously invigorated by the organic, interactive nature my music has taken."
Romaneiro adopts a modest tone when asked about his place in the "evolution and development" of contemporary classical and electronic music. "I am not trying to 'save' classical music or bring 'electronic music' into some sort of intellectual forum, "he says. "This is just what I do, something that I have a deep connection to and believe in personally (my path for lack of a better word). Whether it reflects our modern times and society as a whole is not for me to decide."