[Ed. Note: Within days after the beginning of the year, NewMusicBox learned of the death of composer and longtime Manhattan School of Music composition teacher Elias Tanenbaum. His son, Bay Area-based guitarist David Tanenbaum, kindly offered us this memorial. – FJO]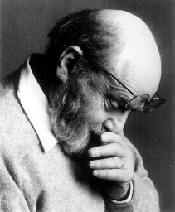 Elias Tanenbaum
Photo by Si Chi Ko
Elias Tanenbaum was born in Brooklyn, New York, in 1924, the middle of three children of Harry and Fannie Tanenbaum. When Harrie met Fannie, she was desperately poor, living without a working bathroom, and his first gift to her was a winter coat. Eventually they owned Tanenbaum's Groceries, which stayed open seven days a week. Elias delivered groceries from an early age. He broke his nose as a young man when he ran out in the street to get a ball and his nose was hit by a car. His nose forever after remained crooked. He claims that his older brother Murray taught him how to swim by throwing him in the water over his head at Coney Island, but I don't think Murray was trying to teach him how to swim. A redhead from childhood, he was nicknamed "red." A lifelong baseball fan, he idolized Willie Mays, and he continued to follow the Giants after they broke his and many other hearts by moving to San Francisco in 1958. He eventually became a Mets fan, but he never really forgave or forgot the Giants, and he followed them until the end.
As World War II broke out, Elias was so horrified by the news of Hitler's evil that he volunteered for the army, lying about his age because he was only 17. He served as a radio mechanic and saw duty in France, Italy, and Northern Africa. At one point, by sheer coincidence, he met Murray while they were both on duty in Italy.
In the spring of 1944 a bomb exploded near him around 10 a.m. At that same moment, we later learned, his mother leaped out of bed in the middle of the night in New York and screamed, "Something's happened to Eli's leg!" The leg was indeed the problem; the wound resulted in an amputation above the knee, something that would lead to a lifetime of pain and difficulty. I remember many times during my childhood when he would have to pull the car to the side of the road and just scream in pain for a while, from "stump jump." Eli died with WWII shrapnel still embedded in his stump.
After the war, he became a lifelong peace activist, and he wrote music decrying every armed conflict the U.S. engaged in. While he was recovering from the amputation, he discovered his deepening love of jazz and classical music. He had studied trumpet and played in various jazz bands when he was young, and while in the hospital Murray would sometimes sneak him out with his trumpet at night to go to jazz clubs. There he heard and even played in open mikes with some of the all time greats, such as Charlie Parker and Dizzy Gillespie.
When he got out of the hospital he was awarded a Purple Heart, and he then received a bachelor of music degree from the Juilliard School in 1949, and an master's from Columbia University, all on the G.I. Bill. During this time, he played jazz gigs in the Catskills, made many new friends, and generally enjoyed the art and social scenes of New York City. He met Mary Weir, a pianist studying at Columbia, and they married in 1952. They took in a double header at Ebbets Field right after the ceremony. Her parents were against Mary marrying a one-legged Jewish composer, but three weeks after the wedding Elias developed type 1 diabetes as a result of the amputation, so then you could add that to the list: he was a one-legged, Jewish, composing diabetic with a crooked nose and left wing, even communist-leaning sympathies. And, as it turned out, he didn't get a salaried, full-time job until he was almost 50. But they remained married and in love for 55 years, and she dutifully cared for him through an increasing array of illnesses. During his final stay in the hospital, she was there every day, all day, holding his hand and kissing him. When she eventually got an infection from being in the hospital and couldn't see him anymore, she decided to write him a letter for me to carry there, but was too ill and confused to do so.
They produced two lousy kids, myself in 1956 and my brother in 1963, and surrounding our births they suffered through five miscarriages. Elias taught private trumpet lessons and directed a few school bands to support us: In those days you could have a nice house and support two kids on one part-time salary. He played more sports with me than any dad I knew. To this day I am a very accurate thrower of any ball you put in my hands because we would have lots of games of catch and if I didn't throw right to him, I would have to run and retrieve my mistake. We spent summers in New England, sometimes at the MacDowell colony, and then, when Robert Moog invented the synthesizer, we rented the first available one. My dad brought me with him one morning to his summer studio when he introduced this new invention to an impossibly elegant man named Duke Ellington. Music and musicians were everywhere in our house and lives. Stockhausen was blaring through large speakers in our living room when I was learning to crawl.
I am a classical guitarist today because of my dad. I showed some early talent so they started me at four with recorder lessons. By the time I was ten, I had been studying piano for five years, cello for three, and taking all kinds of classes at the local conservatory. Piano and cello are loud instruments with well-known repertoires, so if I practiced while dinner was cooking, my parents would scream corrections from the kitchen. They couldn't help it, and I couldn't stand it. So I caused a minor earthquake by quitting everything and playing electric guitar in a rock band. Not so long after that the great Andres Segovia came to play at the Loew's movie theater in New Rochelle. My father took me, kicking and screaming, because at least he was playing classical music on the guitar. And it was at that single event that my whole future became clear, and I've never done anything else.
As I got into the guitar and its repertoire, I told him that I was starting to feel disappointed that I had been playing Mozart and Beethoven and now I was playing the vastly inferior Sor and Giuliani. Two weeks later my dad presented me with a new guitar piece that he had written for me. That first, easy experience with a composer led to my lifetime's work of working with composers to enrich the guitar repertoire, and Elias himself continued to write throughout the rest of his life for me and the guitar.
He also wrote a dizzying array of music for all kinds of mediums, orchestras, ensembles, with or without electronics, usually with specific performers in mind. He embraced chance music and modernism, but seemed emancipated when minimalism brought tonality and pulse back to classical music, and when he brought his beloved jazz along for the ride. His synthesizer work led to his founding the Electronic Music Studio at the Manhattan School of Music, where he remained on the faculty for almost 30 years. He was a devoted, imaginative teacher who was beloved by generations of students. His former students have gone on to hold positions and win awards around the world. He went to concerts constantly, despite his physical difficulties, and was always up on the latest trends and events.
His most well-known piece is called Last Letters from Stalingrad, and it is a setting of letters that German soldiers wrote home before they were massacred in Stalingrad in 1943. Many of his Jewish friends were upset because he was showing the humanity of our enemy, but that was his point. I remember a performance we did of that piece in Stuttgart in 1993, on the 50th anniversary of the letters. They were on everyone's mind, because the German television network WDR had just done a big production about the letters. The hall was packed, and the reception resounding. It was the first time my father had been back to Europe since the war, and the first and last time he ever set foot on German soil. I'll remember forever the image of him limping down a German street, moving with great difficulty, underneath a still, gray sky.
Besides music and baseball, he loved art, movies, reading, cooking, politics, and Jewish comedians—especially Mel Brooks. He had the entire 2000 Year Old Man record memorized, and he knew many movies by heart. What he was against: organized religion, war, oppression, discrimination, the right wing, commercialism, excess, waste. His letter in support of Otto Luening as he went before the McCarthy Commission is on display at Lincoln Center.
In his later years he became an avid letter writer to the editor of the local paper. He was also a tremendous, irascible fighter, through incredible pain and illness, to the end. But it became too much. In January, Jacob and I met with the pain manager while Elias was howling in the background, and that doctor said: "I've managed this guy for years and he can take incredible pain, so if he's sounding like this, I can only imagine what he's feeling." Soon after that a sweet physical therapist came in and asked if there was anything she could do for him, and he said, "Well, I'd love to die." His death brings to an end a spirited life, and also relief from too much suffering.