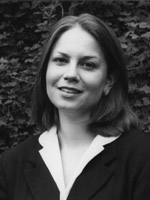 Elizabeth Bergman Crist
Photo by Buckley Harris Crist
Elizabeth Bergman Crist is Assistant Professor of Music at the University of Texas-Austin. Dr. Crist was granted the Epstein Award to support her research on Aaron Copland's music between 1932 and 1946 for a book tentatively titled Progressivism and Populism: Aaron Copland's Music and Aesthetics during Depression and War. The research will cover Copland's music from El Salòn Mexicó to the Third Symphony, including Lincoln Portrait, the Violin Sonata, Rodeo, and Appalachian Spring.
Defined by more than chronological proximity, these works share a compositional aesthetic and musical style: an ingratiating, folkloric sound that has become Copland's aural signature. This simplified musical idiom expressed a new aesthetic of accessibility to his compositional philosophy of progressive modernism, itself connected to a liberal political ideology ascendant in the decades of Depression and War.
"I'm looking at the music in a larger social context," Dr. Crist explained. "I'm interested in the ways that pieces like Lincoln Portrait, Billy the Kid, and Rodeo are related to a cultural context." As an example of the kind of connection she is trying to highlight, Dr. Crist talked about Copland's composition, in 1943, of the Fanfare for the Common Man. She is looking at "the way that the Fanfare relates to the war effort," as well as its relation to the Third Symphony, composed between 1944 and 1946.
Dr. Crist will use the Epstein Award to study materials housed at the Library of Congress. The LOC holds the entire Copland Collection, which includes the composer's published scores, as well as autographs, sketches, drafts, and revisions; his published writings; and other material such as letters, text jottings, and portions of lectures. The Koussevitsky Archives and Bernstein Collection, also housed at the LOC, will also help Dr. Crist in her work.
Dr. Crist has sustained an interest in Copland since she was very young. "I see Copland as a figure, and I also love his music," she mused. "He was a great American composer in the sense of being so connected to American history and culture – he was very in touch with society at any given time. He wrote jazzy pieces during the Jazz Age, nationalist pieces during the 1940s, serial music in the 1950s when that was the trend. He was connected to his environment."
Small pieces of the book will likely be published in article form within the upcoming year. The Epstein Award will allow Dr. Crist to take time off from teaching summer courses and spend six weeks in Washington, D.C. "It will be a wonderful time to accomplish a huge chunk of primary source research," she stated.