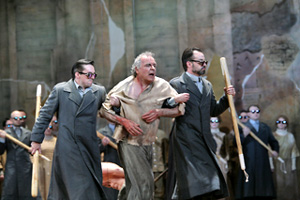 Richard Salter (center) as The Magistrate in Austin Lyric Opera's production of Philip Glass's Waiting for the Barbarians
Photo by Ken Howard
Philip Glass's Waiting for the Barbarians portrays pointless torture, executions without justice, futile interrogation, and a lost war on terror. Staging its U.S. premiere in Austin, Texas, might seem like a left hook aimed at the jaw of Bush Country—except that there's little disagreement with its message in this cosmopolitan university town.
True, the setting is a never-named generic country that, if anything, superficially resembles the South Africa of J.M. Coetzee, the Nobel laureate whose 1980 novel formed the basis for the libretto (and who once taught at UT-Austin). But, in adapting that story for the operatic stage, Glass and librettist Christopher Hampton make obvious reference to the Global War on Terror, while aiming at universal truths. The parallels to our own time are ominous, and obvious: the frontier threatened by seldom-seen "barbarians" who, when captured, are subjected to fruitless interrogations and sadistic tortures; the town's freedom submerged to the needs of a single-minded security force; the folly that inevitably results in a lost cause.
The Austin Lyric Opera have staged Barbarians with gauzy sets in which rising and seething fabrics become a landscape with a personality of its own, seeming to dance to the arpeggiated rhythms of Glass's flowing string and wind parts. At one point, a veil of cloth stands between the magistrate and the torturers, rendering the latter unreal, like ghosts.
The abstractness of setting and universality of action and the theme of a decent person struck down by merciless power claiming righteousness, brought to mind Orff's Antigonae, which was staged by the UT Opera Theatre elsewhere on campus in 2002. The contrasts help to point out how Glass's oeuvre continues to differ from Modern forebears. By our contemporary American standards, Orff's court of Thebes was the scene of high melodrama, "operatic" in the vernacular sense. In the Barbarians' unnamed frontier town, we instead glimpse the banality of evil. Orff's piece relies on German bombast, both in its declamatory, epic dialog and in its massive instrumental underpinnings. (The score calls for nine pianos but the 2002 production made do with three.) Glass' music, on the other hand, is understated, perhaps to a fault. His approach to dialog closely mimics the rhythms of natural speech, yielding little to ornamentation and other tricks of classic vocal music.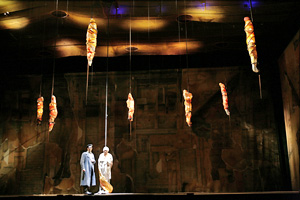 Austin Lyric Opera's production of Philip Glass's Waiting for the Barbarians
Photo by Ken Howard
Neither Glass nor Coetzee is a tragedian. Both prefer to evoke pity rather than terror. For Coetzee, eroticism is piqued and humanized by compassion. In Barbarians, The Magistrate tenderly bathes a barbarian woman onstage, and the nudity is more innocent than erotic. Yet The Magistrate's fascination with her becomes romantic and erotic as well as rehabilitative—and exploitative. His supposed treason for "consorting with the enemy" becomes the excuse for his own imprisonment, humiliation, and torture, after which he comes to know in his flesh the suffering that so fascinated yet repelled him in the broken female Other. Yet he finds no new insight; as a man of compassion he is as incredulous of human cruelty and as unimpressed by the militant demands of imperialism as when the opera began.
Within the musical history of Philip Glass, it is now tempting to see his Orion as a last joyful effusion of the 20th century, and Barbarians as the first dark episode in an evolving soundtrack to torture, war, and authoritarianism in the 21st.
Much of the buzz among those waiting in the interminable line for cocktails at intermission was pleasant surprise that "This isn't like Einstein on the Beach." Only a small minority were unpleasantly surprised by Barbarians' conventional story line with developed characters and a realistic plot. After all, it was well advertised as an adaptation of a novel. If, say, Richard Strauss might find Einstein or 1000 Airplanes on the Roof a bizarre evolution of what he knew as opera, Barbarians would present no such challenge to the composer of Salome.
Yet, in other ways—especially its orchestration, at once (paradoxically) lush and austere—Barbarians marks a return to the Glass of Koyaanisqatsi. There are the wavelike arpeggiations, repetitive but not literally repeating the identical pattern. There is the patient elaboration of a sonic texture around an unyielding, drone-like tonal center till it reaches a climax that is inevitable yet gentle and restrained.
Restraint is evident in the vocal parts as well. Hampton's dialog exhibits a Shepardesque talent for plain and idiomatic yet poignant everyday English. Thanks to the declamatory singing style and a score light on ornamentation, nearly all the dialog would have been easy to follow even without the prominent surtitles. There is an overwhelming reliance on recitative, and few arias. (One occurs by dramatic necessity when The Magistrate finds himself in solitary confinement and is thus forced to solo.) Choruses often consist of non-word vocalizations, or the mindless repetition of catchphrases by army personnel brainwashed into goons.
The plot naturally calls for a largely male cast. Countering the tradition of male lead as tenor, Richard Salter as the Magistrate is a stunning baritone; his nemesis Eugene Perry as Colonel Joll sinks even deeper as a baritone-bass. This bottom-feeding approach to male singing helps to accentuate the grim and violent subject matter. When we first hear the wail (in pain) of mezzo Adriana Zabala as The Barbarian Girl, the sudden intrusion of high-pitched female singing adds a welcome but rare dramatic contrast to a score that effectively, but depressingly, complements Coetzee's grim tale. Salter in particular drew shouts of "Bravo!" for his aplomb in executing what must have been an exhausting role; Perry also drew adulation (and a few hisses for the authenticity of his evil) and, in addition to Zarbala, Georgia Pickett (soprano) stood out as the cook.
Gone are the days when the premiere of an Aïda or, for that matter, an Oklahoma! would have their audience streaming out of the theater humming a signature tune. But we should not mourn the disappearance of that ultimately guilty pleasure. In its place we have an opera capable of engaging the nonspecialist, the middle American who loves theater.
***
Lindsey Eck is a composer, musician, writer, and editor who lives in rural Texas near Austin. His Web site is The Corner Oak.