Joseph Dalton
Photo by Dorothy Alexander, Courtesy Composers Recordings, Inc.
Though the AIDS epidemic doesn't get the media play it once did, its impact on the cultural community in this country has not ended just because the issue has fallen off the general public's radar. The Estate Project, a program of the Alliance for the Arts, is at work "to ensure that future generations understand the real experience of AIDS in America by having access to the art works created during the crisis." To that end, the project has partnered with organizations such as the New York Public Library, the Academy Film Archive, and New York University to preserve the work of the creative voices in the visual arts, film, dance, music, literature, and theater silenced by this disease.
Joseph Dalton is a consultant heading up the research into the life and work of composers who have died from AIDS or who are living with HIV/AIDS. The former executive director of Composers Recordings, Inc. is collecting information for a comprehensive catalog of works to be published this spring.
For each composer, he is interested in compiling a list of works, the name and contact information for the musical executor, the location of the composer's archive, any sources for unpublished scores, biographical information, writings or other creative works, and links to related Web sites. A list of the composers he is aware of and the status of his research has been posted on the Web, and Dalton encourages the music community to visit the site and help him fill in the blanks or draw his attention to composers he has not yet listed. In addition to his research into composers with AIDS, he is also tracking professional musicians and others employed in the music industry who have died of AIDS and is compiling a list of musical works addressing AIDS.
Dalton first got involved with the Estate Project in the early '90s as part of the AIDS Music Emergency Network, an organization that supported composers living with AIDS. After taking a year off following his departure from CRI, Dalton was approached by the Estate Project and asked to take on this latest research. "It felt like a good match," Dalton explains, citing his earlier work. "I've been working with preserving scores and promoting works for live performances as well as trying to get some recordings made. It's sort of a natural extension of what I'd been doing previously."
Though he started with the names of 15 composers last spring, that list has since expanded in ways he hadn't expected. "I now have over 50 that are deceased. We had thought we would just focus on so-called classical or serious or new music composers to begin with, but as I began sending out emails to people that I didn't really know. I realized I couldn't restrict my gathering of information just to classical. So we've expanded at least the information stage to pop and jazz and everything else." It was a move that "continues to broaden the scope of the information gathering and I continue to get new names, so while I can check off some names, as soon as I do that I get two or three more names. I'm not sure when or how I'll know I'm done."
But a cut off date is looming in the guise of a printing deadline. The Estate Project plans to publish a complete catalog of the composers with an inventory of their scores and recordings this spring. It will be distributed to libraries across the country and appear on the Estate Project's Web site.
"The information may continue to flow in but we'll publish in the spring." Any updates will then be added online, Dalton says.
"AIDS is and was a particularly awful force that cut a wide path through all of the arts." However, Dalton finds that the effect of AIDS has been better known in other disciplines. When it comes to composers, he says it has surprised him "how deep and broad the effect of this, how many people have been lost. I didn't know it was going to be so many."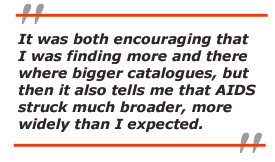 The need for investigating and preserving the work of these composers is due in part, Dalton explains, to the fact that the disease primarily hits young artists early in their careers, cutting short their creative development, and it hit the arts scene especially hard in the mid-'80s through the mid-'90s.
"The difficulty with that," explains Dalton, "is that composers often find their voice later in life, often in their 40s or 50s." Since many of these composers died in their 30s, the project will later move into a phase not only of promotion but also scholarship to look at "what might have come, what else there might have been — symphonies or operas, an even greater surety of language."
However, Dalton has found several composers who were in their 50s when they died. "It was both encouraging that I was finding more and there where bigger catalogues, composers in their 50s will have finished a lot more work, but then it also tells me that AIDS struck much broader, more widely than I expected."
The research is funded through the Estate Project's parent organization. The Alliance for the Arts was awarded and completed a Challenge Grant from the New York City Department of Cultural Affairs of $75,000 – the highest award they gave this year. That was matched two-to-one with a variety of foundation grants and individual gifts. Dalton stresses that fundraising continues so that the work can continue as the research demands.
The next step after the research is completed is the promotion phase. "We're going to take excerpts from the catalogue listings that I'm working on and reach out to performers and ensembles and ask them to consider works from the catalog for revival, to learn them and perform them in concert." Though the Estate Project will produce two or three concerts in New York City, Dalton points out that "we're not really interested in doing lots of so-called AIDS concerts. We're interested in introducing this music into the normal stream of repertoire performances."
Much of Dalton's work has gone into contacting the estates of the composers and locating the scores. It hasn't been unusual to find that the scores are in boxes in a basement somewhere. "We're helping to move those archives to safe and permanent storage. We've established an archive at the New York Public Library for the Performing Arts at Lincoln Center. It sort of parallels the AMC archive there now. The project hopes to establish a similar repository on the West Coast as well.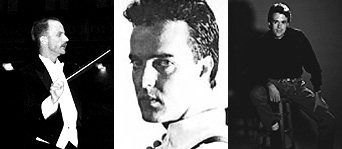 From left to right, Dean X. Johnson, Jonathan D. Cole, Kevin Oldham: Composers and victims of AIDS
Photos of Johnson and Cole courtesy Yellow Rhodes Music
The project will then distribute scores to performers for perusal and deposit them in libraries around the country. "We hope to add sound samples [to the Web site] so people can get a feel for the music." In addition to the Web-based catalog, they also plan to produce two print editions — "one that's the complete data and then another one that will be an attractive smaller booklet with a little more user friendly introduction to some of the classical artists. And that's something that will be one of our outreach tools to performers."
By taking such a multi-pronged approach to disseminating the repertoire, Dalton says, the hope is that "over time [the works] will be rediscovered by researchers or performers hungry for new repertoire."
Despite the delicacy of dealing with the friends and family of the deceased composer, Dalton says, "I hope we're providing an opportunity for healing, that the person can go and look through the boxes again," something they may not have done since the composer's death. "So we're giving the heir or the survivor an opportunity to touch that again and then we're saying to them we'll take over now."
Still, "sometimes it's been sitting so long that it's hard to open it back up."
The scope of Dalton's work is turning out to cover much more ground that he initially anticipated. "There were a few composers who were well known — Kevin Oldham, Chris DeBlasio, Lee Gannon — they were young attractive guys that were out about having AIDS, so people knew about them. I thought they were a large part of my work. They were the tip of the iceberg. There are so many more."