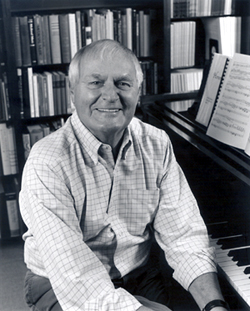 H. Wiley Hitchcock (1923-2007)
Photo by John Bentham
Hitchcock, H(ugh) Wiley (b Detroit, MI, 28 Sept 1923; d New York, 5 Dec 2007). Just typing that heading, as it will appear in future editions of The New Grove – with its boldfaces, italics, and parentheses – puts a reality to the news that I have been struggling to accept for the past month. Since it was in his lexicographical role as co-editor, with Stanley Sadie, of the four-volume New Grove Dictionary of American Music (1986) that I knew Wiley best, let me offer a few entries in tribute.
Cultivated. Wiley used the term in his classic textbook Music in the United States (see WIT) to describe the so-called classical tradition of American music, contrasting it with "VERNACULAR" and awarding both traditions pride of place in his thinking and his writings. As general editor of the Prentice Hall series of college textbooks, Wiley had initially anticipated writing the volume on Baroque music, subject of his early scholarly research (as a scholar on Marc-Antoine Charpentier and Giulio Caccini he was as highly respected in the scholarly circles of the French and Italian baroque as he was among Americanists). But lacking an author for the American music volume he had determined to include in the series, he took the project on himself. (My copy is inscribed, in typically mock horror, "What, purchased only in 1981?") The volume went through four editions, the last one, published in 2000, with the typically modest gesture of ceding the concluding section on post-1980 music to co-author Kyle Gann.
The term also fits the man. Born in Detroit, educated at Dartmouth and the University of Michigan, where his teaching career began, Wiley came to New York in 1961 to assume a teaching position at Hunter College. With his wife, the eminent art historian Janet Cox-Rearick, the couple created a highly productive and enviable intercontinental academic lifestyle, summering annually in Italy (with side trips to Paris or the Italian Riviera), where they did their most productive research and writing. They were the consummate New Yorkers, dashing and debonair, at home at the Yale and Century Clubs, Carnegie Hall, or the Met (Museum and Opera). The loss of his "212" phone number, inadvertently reassigned during a summer disconnection, was the cause of a rare display of despair.
Everbest. Anyone who ever received a letter (often handwritten in elegant script) or email from Wiley will recognize his favored signoff, borrowed (with attribution) from Virgil Thomson. It could also be the ideal epitaph for this brilliant, elegant, cheerful, plainspoken man, combining as it does the superlative and the constancy of personality. He invoked Thomson's words frequently; after Wiley's cancer was diagnosed he quoted Thomson in a note to me: "I shall worry constantly, worry being my acceptable form of prayer."
ISAM Matters. At Brooklyn College, where Wiley went to teach in 1971, he founded the Institute for Studies in American Music, single-handedly—changing the face of American music scholarship. He organized conferences, including (with Vivian Perlis) the Charles Ives Centennial Festival Conference in 1974, oversaw the publication of a series of monographs that now numbers 35, and until his retirement in 1993 edited the lively and informative biannual blue-ink newsletter. He was succeeded by one of his star students, Carol J. Oja, now teaching at Harvard, then by Ellie M. Hisama and Jeffrey Taylor. In a most worthy accolade, the center is to be renamed the Hitchcock Institute for Studies in American Music.
Ives Thrives. Wiley also founded the Charles Ives Society, serving for many years as president and treasurer, and later as chairman. He established the editorial standards and oversaw many of the scholarly Ives editions produced as part of the Society's mission. His monograph on Ives for the Oxford Composers series (1977), organized by genre, was the first general survey in what is now a robust field of scholarship. How marvelously Wiley captures the essence of Ives's music: "Stylistic pluralism was characteristic of his music almost from the beginning. Simple and complex, traditional and radical, conventional and experimental, homespun and rarefied, spiritual and slapstick—these and many other dichotomies jostle each other in neighborly fashion throughout his life as a composer. So too do modes of musical expression derived from widely varied sources…his music has roots not only in that of the masters (and lesser composers) of European and American art music and in the friendly vernacular traditions of his native New England (hymn tunes, country fiddling, camp-meeting songs, brass-band marches, piano rags, patriotic and popular ditties, songs of hearth and home) but also in 'unmusical' sounds—horses' hooves on cobblestones, out-of-tune volunteer church choirs the crack of bat and ball, the special quality of 'a horn over a lake,' the clash of two bands opposite sides of a town square each playing its own march in its own tempo—and in untried sounds as well: harmonies in massed seconds or other novel stacks of intervals, microtones, tone-rows, rhythmic and metric serialism, unique instrumental combinations." Wiley embraced it all. Years later, in 2004, his critical edition of Ives's 129 Songs was published as part of the Music of the United States of America (MUSA) series. It stands as a model of impeccably, and practically, edited scholarly work.
Leader. In addition to those cited above, Wiley's other leadership roles included the presidencies of the Music Library Association and the American Musicological Society, as well as the editorships of A-R Editions' Recent Researches in American Music and Da Capo Press's Earlier American Music series. He also served on the editorial boards of New World Records, Musical Quarterly, American Music, the Committee on the Publication of American Music (which set the guidelines for the MUSA series of critical editions established by the AMS), and was the first program annotator for the American Composers Orchestra. In 1995 Wiley was named Chevalier de l'Order des Arts et des Lettres.
Musician. Wiley's own description in the introduction to his Music in the United States of his "humming, singing, whistling, and playing through three and a half centuries of American music," sums up perfectly the practical and tactile approach to scholarship that made his writings and editions so authoritative and so valuable. He learned those lessons well when he studied composition with Nadia Boulanger in the late 1940s. In a NewMusicBox interview, he told Frank J. Oteri:
That's where I'm at, the music for itself, less than say the sociology of music or biographies of composers, or things like that.

I think my goal as a music historian has been to attempt to reflect the music as it was experienced in its own time, primarily. Also to attempt to reflect what the composer thinks he or she is doing in such-and-such a work and to become, in a sense, a critic myself.
A practical example: recently, as he edited the critical edition of Virgil Thomson's opera Four Saints in Three Acts, Wiley considered restoring an "original" orchestration to a certain passage. When I pointed out that in my own experience publishing contemporary music I found that composers frequently changed their minds, he was quick to acknowledge that possibility, as well as Thomson's own sense of pragmatism, which ultimately held sway in Wiley's final editorial decisions.
When his close colleagues Richard Crawford, Carol J. Oja, and R. Allen Lott produced a festschrift in Wiley's honor, this Celebration of American Music (1990) included not only dozens of articles about American music by the field's leading scholars, but music by a wide range of living composers important to Wiley, including Milton Babbitt, Peter Dickinson, Charles Dodge, Ross Lee Finney, Gordon Mumma, William Schuman, and Thomson.
Symmetry. "HWH" – the elegant balance of the three initials seemed so fitting. Wiley was particularly proud to have been the subject of Virgil Thomson's last completed composition, the portrait HWH: Two Birds. Was it sheer coincidence that Wiley's own last research project was in turn on Thomson's Four Saints?
Vernacular. In Wiley's words, the vernacular was "a body of music more plebeian, native, not approached self-consciously but simply grown into as one grows into one's vernacular tongue; music understood and appreciated simply for its utilitarian or entertainment value." Wiley credited his father, who took him from a young age to hear music of all sorts, with his lifelong interest in the vernacular traditions of American music. He played jazz sax and clarinet as a youth, and for a time composed. Even after giving up composition he retained a lively (and highly appreciated) curiosity about new composition and young composers of all stripes.
Wit: That twinkle in his eye illuminated a quick wit. Among my favorites, when Stanley Sadie was named a CBE on the Queen's Honor's List, the telegram sent by Wiley and Janet read: "OK Command British Empire but don't count on colonies." Vivian Perlis recalled her own telegram, on receiving the Kinkeldey Award from the American Musicological Society: "Kinkelgrats." And Wiley's favored "acronym" for his Prentice Hall textbook: MinUS.
*
When, in the spring of 1981, Wiley pulled my resume from the reject pile of applicants for the position of editorial assistant for a one-volume American music spinoff from The New Grove, he forever changed my life. Little did either of us know that this small 18-month project would balloon over the next five years into a four-volume monument to American music. Not only did Wiley oversee the project, commission or write many of the major articles (from Emma Abbott to Tin Pan Alley, with major entries on Art song, Stephen Foster, Histories, Musicology, Notation, Opera, Piano Music, Shaker music, and a group of articles on émigré musicians), but he read every last word at least three times, twice in manuscript and then in galley proofs, whether on the subway to and from Brooklyn College, in Italy, Paris, Los Angeles, or on the beaches of the Caribbean.
The growth of the dictionary was at Wiley's insistence that the most prominent American musicians were as deserving of lengthy articles as their European counterparts, and that the vernacular traditions of rock, pop, jazz, and ethnic musics deserved equal pride of place to the cultivated in such an endeavor. His impeccably penned editorial markings (the dictionary was edited in the pre-computer, pre-fax era) gave cohesion to the work of some 900 writers. Wiley also argued (vehemently at times) on my behalf for everything from adequate office space and support staff to title-page billing, and helped me maintain my equilibrium over regular Yale Club lunches where we theoretically were not supposed to conduct business. Wiley dubbed me the dictionary's "linchpin," a moniker I wore proudly, but he was Amerigrove's brain, heart, and soul. Countless of Wiley's students have their own tales of similar support, articles or books read in manuscript, or letters of reference that proved to be turning points in their careers, demonstrations of quiet generosity from this most extraordinary man.
Everbest, Wiley. Your inclusive advocacy for American music of all kinds, and your mentoring and support of generations of younger scholars and musicians, brought out the best in so many of us. We so admired your impeccable scholarship, and loved your generosity of spirit and joie de vivre.
Hear the songs!
I know not what are the words,
But they sing in my soul
Of the things our Fathers loved.

(Charles Ives, "The Things Our Fathers Loved")
***
Susan Feder is Program Officer for the Performing Arts Program at the Andrew W. Mellon Foundation. A long-time board member of the American Music Center, she previously held positions as Vice President of G. Schirmer, Inc., Editorial Coordinator of The New Grove Dictionary of American Music, and Program Editor of the San Francisco Symphony.