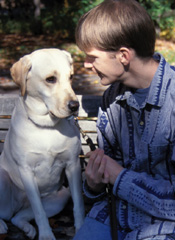 Stevens and guide dog Doris
Photo by Carla Stevens
Bill Stevens came to us as a young high school student from Louisville, Kentucky, in 1992. Legally blind since birth, Bill lost most of his remaining vision during the months just before he first attended Walden. This was a pivotal summer of change and in his own words, Walden helped instill a sense of hope and direction…
Bill was an extraordinary student/musician with astonishing "ears." I had the privilege of teaching him during one of his three summers and found it both exciting and challenging. I remember "crashing" through a study of modes and modal harmony. It was as if all I had to do was "name" things for him–he knew the rest. I remember that I would give him dictation by playing things to him and he would simply play them back. Usually flawlessly! His lack of sight was pretty much not an issue with regard to his participation at Walden. He had a cane with which he was extremely proficient, some of our students helped him to learn the landmarks of the campus, and other students volunteered to guide him up the mountains on our weekly hikes.
We invited Bill to return to Walden as a faculty member in the summer of 2000, after he graduated from Oberlin Conservatory Pi Kappa Lambda with a major in composition, an independently designed major in listening and improvisation, and a minor in music theory. He went on to the University of North Carolina at Greensboro, where he has just completed a masters degree in piano performance. This coming summer will be his (and his beautiful guide dog Doris's!) third summer as a member of the faculty. He has begun the process of adapting The Walden School Musicianship Course to the jazz idiom and has taught a popular course called "Jazz Musicianship", among other things. Each summer Bill orients our community on how to interact with a blind person (how to come up and offer him your guide arm with grace; not to interact with Doris, no matter how cute she is; how we all must remember that he cannot read the visual cues, which help us process more information than any of us realize). He is a wonderful asset to our community, musically, personally…
Finally, while Bill was at Oberlin, he met and worked for a time with Pauline Oliveros–who was in residence there for one semester during his undergraduate years. He became very interested in her work and is in the process of completing a three-year teaching certificate in "Deep Listening" from the Pauline Oliveros Foundation. It is through Bill that we have been able to make Pauline's acquaintance and will have the privilege of hosting her and working with her this summer!