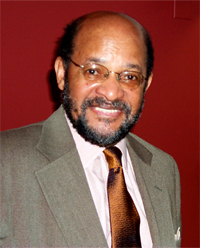 Hughlyn F. Fierce, President and Chief Executive Officer
Fred Murphy/Jazz at Lincoln Center
Jazz at Lincoln Center has tapped longtime board member Hughlyn F. Fierce to assume the organization's newly-created position of President and Chief Executive Officer. Fierce, who currently serves as board treasurer, will take on day-to-day administration of the organization, focusing on J@LC's educational and curatorial programming.
According to J@LC, the move was made to allow Executive Director Bruce MacCombie to concentrate fully on coordinating the development of Frederick P. Rose Hall scheduled to open in the fall of 2004. MacCombie came on board September 2001, succeeding Rob Gibson.
Announcing the creation of the position and Fierce's appointment, Board Chair Lisa Schiff, touted this as evidence of the organizations eleven years of growth. "We have reached a size and complexity that requires additional resources," she noted, "and we know that Hugh will provide the expertise and leadership necessary to navigate our continued expansion with success and style."
J@LC Artistic Director Wynton Marsalis added that Fierce "brings a swinging attitude, tremendous business and fiscal expertise, and a profound understanding of, and passion for, J@LC's mission."
"I view this new position as a wonderful opportunity to expand and deepen my commitment to this incredible organization," said Fierce in a statement. "I believe in the mission of Jazz at Lincoln Center to entertain and educate people around the world about this great American art form, and I look forward to working with the board, staff, musicians, and community at large to increase its role in the cultural life of the city and the world."
Fierce, a Brooklyn native, first became involved with J@LC in 1991. Formerly Senior Vice President of Chase Manhattan Bank, he retired in 1994 bringing to a close a 32-year career in domestic and foreign commercial and banking management.
Fierce is currently a member of the Board of Scudder Charitable Foundation, an Honorary Trustee (lifetime appointment) of the American Museum of Natural History in New York, a member of the Board of Marymount Manhattan College, and a member of the New York State Comptroller's Investment Advisory Committee for the New York State Common Retirement Fund. He is also a member of the Board of Directors of Parsons Brinckerhoff Inc. , a global engineering company, and the Baltic American Enterprise Fund.