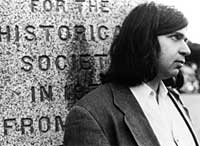 Frank J. Oteri
Photo by Melissa Richard
Ever since I started working at the American Music Center, people who are not involved with music, as well as people from other countries, sometimes ask me to name the most important American composer. Of course, it is a question that is impossible to answer, as well it should be.
Despite our relatively short history as a nation, the United States boasts an artistic landscape that is arguable the most culturally diverse in the world. And since, for the most part, we are a nation of immigrants (and archeologists and anthropologists also attest that native Americans originally migrated here from elsewhere), anyone in the world is potentially an American. Charles Wuorinen has pointed out that Igor Stravinsky and Arnold Schoenberg are two of the greatest American composers. We don't normally think of them as Americans, but both died in California after becoming naturalized citizens of the U.S.A.
In addition to our cultural diversity, we are have extremely different perspectives based on our geographical location in this large nation as well as in the kind of community in which we live (city, suburb, rural area, etc.) This is one of the most crucial of the many historical lessons of the recent virtually stalemated American Presidential Election.
John Duffy once remarked that there are 10,000 active composers in the United States. As a composer, I find that statistic humbling. As a listener and someone who gets asked his opinions about music from time to time, I find it even more humbling.
That said, given the recent events in our history, it seemed like the perfect time to reflect on what being a composer in America today is all about. I talked with John Adams, who is unarguably one of the most prominent composers of our time, about what it means to be a successful composer in America today. I asked Bradley Bambarger to conduct an investigative HyperHistory of what the most programmed American music is in our orchestras, opera houses, chamber music halls, and among our school bands, as well as on radio and recordings. I asked Martin Bresnick, Marilyn Shrude, P.Q. Phan and David Gompper, four composers who are also prominent composition teachers in schools across the country, to comment on what is the dominant musical style of today and what will be the dominant musical style of tomorrow.
The answer to that question reveals itself month after month, this month is no exception, in the ongoing variety of recordings and news events that show up on our radar here. To truly level the scale, we present you a databank of over 2000 American composers, not quite Duffy's 10,000 but we'll keep looking for them. If there's any we've missed, let us know who they are. And, after contemplating all this, we'd love to know your thoughts as well.
In the meanwhile, happy new year and new millennium, which now that we're in the year 2001, we can all agree on!