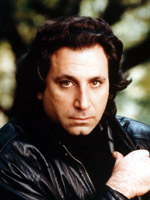 Richard Danielpour
by Bill Bernstein, courtesy G. Schirmer/Associated Music Publishers
Michigan Opera Theatre received $25,000 to support the commission of an American opera, Margaret Garner by Richard Danielpour, with libretto by author Toni Morrison. The opera is based on the true story of a woman born into slavery around 1840, who, with her two children, tries to escape to a free state.
Danielpour and Morrison have collaborated twice before on song cycles for the great African-American soprano Jessye Norman. It was after Norman had performed the first of these (Sweet Talk) in 1996, explains Danielpour, that he and Morrison discovered they had separately been making plans to write the same opera. "She wanted to use some of the original historical material she had used in writing Beloved; I wanted to use the story of a woman named Margaret Garner. She said 'my dear, that was the material!'"
However, the opera libretto will not be an adaptation of Morrision's Pulitzer Prize-winning novel, Danielpour stressed. "I love her novels, how she fractures time, the way she goes in and out of reality, but it's not conducive to operatic writing. The story of Margaret Garner is very operatic. It works well on the stage – but it's absolutely more linear that Beloved."
Danielpour has already spent a year working with Morrison on the treatment of the story. "I had insisted on having Toni do the libretto because she has an incredible sensitivity to the way she creates text." In many contemporary operas, Danielpour feels, "half the words make the singers look idiotic. If I'm going to spend two and a half years of my life on this project," he stated, "I want to know that my singers won't look stupid!" She also has what Danielpour describes as "a real sense of how drama needs to unfold with the requisite amount of tension. She knows how to propel the tension of a situation forward, how to make you care about what is going to happen."
Danielpour also feels strongly that the story of Margaret Garner needs to be sung. "There has to be a reason why a particular story needs to be an opera," the composer insisted. "You look at the situation in a given scene, and something in the dramatic unfolding needs to be involved with music. Otherwise you end up asking 'why are these people singing?' There has to be a bona fide reason why these people are singing as opposed to acting or being filmed." Danielpour feels that singing is artistically justified with this libretto because it played such an integral role in the everyday life of slaves in the American South.
"This is not really an opera about race," Danielpour explained. "It has much more to do with the issue of the human family at large. I really believe that when we see that we all collectively belong to the same family regardless of differences, origins, then we begin to communicate." When Danielpour was questioned by members of the Detroit community about using slavery as the subject for his opera, he explained to them his belief that most Americans – regardless of their origin – stand in need of a better education on the subject. "It's inconvenient to include it in the history books. It's very embarrassing to admit how inhumane we were back then."
Morrison is currently working on the libretto, and Danielpour will work on the piano-vocal score of the first act throughout the fall of 2001. The full score of the opera needs to be completed by the end of 2003. The opera will be premiered at Michigan Opera Theatre in 2004.