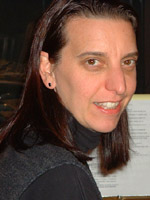 Kim D. Sherman
photo of by John Sheehy
The Portland Stage Company, in partnership with the Women's Project and Productions, received $22,000 to support the development and co-production of Leaving Queens, with book and lyrics by Kate Moira Ryan and music by Kim D. Sherman.
Leaving Queens played in Portland from January 30 to February 18, 2001, and will play at the Women's Project from February 27 to March 18. The musical is the story of a burnt-out new photographer Megan Grant, who returns home to find her father has disappeared. As Megan journeys from Ellis Island to the Museum of Modern Art in search of her father, she discovers her Irish immigrant legacy.
"I listened to a lot of traditional and contemporary Irish music, and I incorporated some of that, particularly in certain scenes of the past," composer Sherman explained. She describes her own music as "not really rock-influenced" but she claims she was "influenced by the way Joni Mitchell set words. I grew up listening to all of that stuff, but I also studied Mozart and Gershwin. Bartók was the first composer I ever got excited about."
The musical is scored for piano, violin, and cello, in addition to the voices. The NEA grant helped in large part to make the orchestration possible. "The grant allowed me to get paid for the orchestration," Sherman explained. "I could have more than a piano, I could pay for a copyist." Some of the money also went to the slides. "Since the main character is a photographer, there is a lot of visual information in the projections."
"The time it takes to develop a musical is long," Sherman elaborated. She worked on Leaving Queens for over six years, a time frame she calls "very average, even fast. The first requirement of the writers is patience and stamina … there's a lot of rewriting. The rewriting is about collaboration in the theater. You've got a plot to deal with; it's like tuning a piano – one thing affects another. You have to be willing to let go of stuff and change it. That is the key difference between [writing a musical and writing an] oboe and guitar piece. With the oboe and guitar piece, I'll make some adjustments, but with the musical, I may have to throw out the second act. Sometimes you don't get paid; you do it on faith. That's the challenge: how you put your life together to make yourself available to this work."