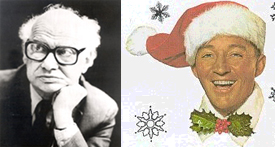 From Bing to Babbitt, the 50 recordings inducted into the National Recording Registry represent a truly a diverse bunch.
At the end of January, the Librarian of Congress James H. Billington announced the inaugural 50 recordings that were to be inducted into the National Recording Registry. The Registry was established at the Library of Congress as a part of the National Recording Preservation Act of 2000 "to maintain and preserve sound recordings and collections of sound recordings that are culturally, historically, or aesthetically significant." This act also led to the creation of the National Recording Preservation Board, an advisory group of professional organizations and individuals dedicated to the protection of sound recordings, and a foundation that will serve as a fundraising entity.
Each year, 50 recordings will be added to the Registry. To become a part of the registry, recordings must be at least 10 years old and be deemed "culturally, historically, or aesthetically significant" by the Librarian of Congress. Recordings are selected from a pool of nominations that are made by the board as well as the public. Nominations can be submitted via mail or via an online nomination form and any individual can make up to 10 nominations per year.
According to Billington, "Congress created the registry to celebrate the richness and variety of our audio legacy and to underscore our responsibility to assure the long-term preservation of that legacy so that it may be appreciated and studied by generations to come. The creation of the registry is one part of the legislation that charges the Library of Congress with developing a comprehensive national recording preservation program, the very first of its kind. Acknowledging the inception of this significant responsibility, many of my first selections for the recording registry recognize important firsts in the history of recording in America: technical, musical, and cultural achievements." Recordings selected represent significant advances in recording technology, such as Edison Exhibition Recordings and the introduction of overdubbing, as well as moments when recordings captured landmarks in music, politics, news, literature, and popular culture. The diversity of recordings chosen represents the richness of the American relationship with recorded sound ranging from FDR's Fireside Chats to field recordings of the Passamaquoddy Indians, Henry Cowell's New Music Recording series to Grandmaster Flash and the Furious Five's "The Message," Eisenhower's D-Day Radio Address to Abbott and Costello's "Who's On First?", and Bing Crosby's White Christmas to Milton Babbitt's Philomel.
For the complete list of the 50 inductees, visit the National Recording Preservation Board website.