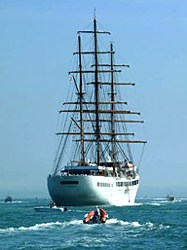 New music left in the wake of Florida Philharmonic revamp
Photo by Ian Britton
A program to present new music to Florida residents has become a casualty of the financial crunch facing the Florida Philharmonic. The orchestra has cancelled its Brief Encounters, a concept (credited to Music Director James Judd who has since resigned) that was to have placed one short work by a living composer on every main season program this season.
Terry Schlender, the Philharmonic's Director of Marketing and Public Relations, explains that the move was strictly a financial one. "None of this [music] is public domain and all the rentals, even for these three and four minute pieces, were so very, very expensive. It was a fiduciary decision."
Previously scheduled for performances were:
By canceling the performances, Schlender puts the estimated saving to the orchestra at $35,000 to $40,000. "That's the problem about doing new works. You have to have a commitment to new music but you also have to have a very flush budget to be able to do them."
That's definitely not the case this season. Palm Beach Post reporter Sharon McDaniel puts the projected shortfall at $2.1 million, potentially raising the organizations overall debt to an "unmanageable" $4.6 million.
Local critics who had written enthusiastically about the Brief Encounters idea are now expressing their disappointment, but Schlender is pragmatic about the decision. "I have to say well, it's that or maybe we won't be playing anything."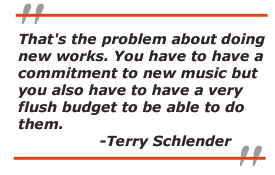 In light of recent world events, Schlender says the time already allotted for the pieces will be replaced with other selections, likely American works offered in a spirit of patriotism. Each guest conductor will make an appropriate selection closer to the program deadline. Barber's Adagio for Strings took the place of the scheduled work by Hans Werner Henze last month and plans are already in place to present Aaron Copland's Quiet City.
And in spite of the difficulties, the Philharmonic is still planning on presenting the two contemporary works that were not part of the Brief Encounters program—Peter Schickele's Overture: One for the Money in December and Ellen Taaffe Zwilich's Millennium Fantasy for Piano and Orchestra with soloist Jeffrey Biegel in April.
"We hope that will still happen," Schlender says, "if we're alive at that point. It's tough. It's tough all over though, it's not just us."