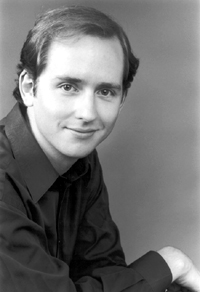 Daniel Kellogg
Photo by Christian Steiner
For many composers, passage into maturity is often an anti-climactic event marked simply by a thirtieth birthday. No longer eligible for young composer awards and development programs, but not yet revered enough to have retrospectives of their work, composers at this stage of their career experience a sort of second adolescence. Many have just earned their PhD's and face a multitude of challenges, not the least of which is survival as a freelance composer in an artistic climate that is often problematic for new music.
This transition period is pivotal and for Daniel Kellogg, who just turned in his doctoral thesis at Yale a few weeks ago. It is an incredibly exciting time. While doom and gloom reigns supreme in dialogues about new music, Kellogg maintains and enthusiasm that is enviable. In the past few months alone, Kellogg has been honored with the 2003 ASCAP Rudolf Nissim Award, a Charles Ives Fellowship from the American Academy of Arts and Letters, and a glowing review of his chamber work Divinum Mysterium in The Washington Post. So what does all of this mean to a composer about to leave the nurturance of student life and enter maturity? In between finishing his degree, preparing his works for performance, and winning awards, Kellogg took a few minutes out of his helter-skelter schedule to share his thoughts about where he has been, and where he is going.
Amanda MacBlane: So, congratulations on your two awards! 2003 is shaping up to be a big year for you. First of all, you have previously received two Morton Gould Young Composer Awards from ASCAP, a BMI Student Composer Award, and are in the middle of your time as a Young Concert Artists composer-in-residence. These two awards, however, are quite prestigious awards available to composers at all stages in their career. You are quite young, but it is obvious that you are already being accepted as an equal by many in the music community. What have been the major influences on your growth as a composer and what are your goals for future development? How have you seen your music grow since you began composing and what are the next steps?
Daniel Kellogg: My greatest influences have been teachers, individual pieces, and musical environments. My first interest in composition came through an early love of 1960's and 1970's rock music. I particularly enjoyed long instrumental improvisations and sought to re-create that kind of energy and immediacy in my own high school garage bands. That was the first time I discovered the joy of combining different musical ideas to create a piece of music.
Since beginning college in 1994, I've been blessed with a string of outstanding teachers. They guided me in each phase of my development. These teachers have included Don Freund, Ned Rorem, Jennifer Higdon, Joseph Schwantner, Martin Bresnick, and Ezra Laderman. My first teachers opened my eyes to the world of composition and helped me realize my raw potential. Later teachers were able to address weaknesses and encourage strengths. I've had teachers who helped me do exactly what I wanted as best I could and teachers who had me do the opposite of what I wanted in order to force growth in new directions. All my teachers imparted the idea that a composer must constantly examine his/her work to make sure we always offer our best and continue to grow so that we do not repeat ourselves.
When I first began to write music at the end of high school, my conducting teacher told me it takes a long time for a composer to find his/her voice. He said it probably wouldn't fully happen until I was 30, and until then I may never be fully pleased with my music. I listened to his wisdom with skepticism and a bit of frustration that he might be right. It seemed like an awful long process.
I am not yet 30, but I think his statement is wise. I am just beginning to find my voice, and my work for the last 9 years (of higher education) seems like a warm-up. The raw creation of a musical idea is easy. Making a piece that really works is hard. My goal has always been to find better ways to refine and communicate the raw ideas. It seems that a good struggle produces my best music, but I dread the aggravation this causes.
Amanda MacBlane: How does it feel to be honored by two such prestigious organizations?
Daniel Kellogg: Every positive recognition feels great. The world of composition is filled with brilliant people who work hard through long hours, personal sacrifice, and a desire to uphold the highest artistic ideals. I find this completely intimidating and inspiring. Both ASCAP and the American Academy of Arts and Letters have a long tradition of identifying composers of the highest caliber. Such recognition is humbling, as I know there are more worthy composers that did not receive that particular award at that particular time.
Amanda MacBlane: You were awarded the Rudolf Nissim Prize for a specific composition, Jasper and Carnelian. What was the inspiration and concept for this work? When did you create the piece and when will it be premiered?
Daniel Kellogg: The title Jasper and Carnelian comes from the New Testament Book of Revelation (4:1-6). It is a 13-minute piece for full orchestra that I wrote over the summer of 2002. The author describes the throne room of God with spectacular images and symbols that were revealed to him by the visitation of an angel. Jasper and carnelian are two precious stones that are compared with the One on the throne. My work meditates on that passage and its images. I wanted to evoke the atmosphere of a dark, mysterious, and otherworldly space, and then reflect the awe and glory of Christ as He occupies the throne.
Many of my concert works are sacred in nature. I find scripture and its rich imagery to be an amazing source for art. My understanding of God is most satisfying when it comes through music. I cannot read passages like the Revelation passage mentioned above without being flooded by musical images. In most cases, the impression is abstract, and the joy comes in trying to concretely express an aural image that came in an ecstatic moment while reading the text. In the past few years, my best work has come when I am addressing sacred subjects.
Jasper and Carnelian will receive its professional premiere with the Santa Barbara Symphony in May 2004 under the baton of Gisele Ben-Dor. This premiere came from the ASCAP Rudolf Nissim Prize, where Ms. Ben-Dor was a judge.
Amanda MacBlane: What will the Charles Ives Fellowship allow you to accomplish? Are there any specific projects that this fellowship will help you to realize? How do you hope it will affect your development as a composer?
Daniel Kellogg: The fellowship will help my wife and I to pay living costs while we try to work as freelance musicians. In May I will be out of school for the first time. I want to make composition my primary work. I realize this is nearly impossible to do but I still have a burning desire to try. I plan to write music, attend more concerts, and get on with the profession of being an art music composer. In addition, I will continue to work as the music director at our church, which I love because it connects me to a real community of people, while my composition fits a niche audience.
After graduation, I can put in a lot more time on the commissions I have coming up for next year. Those pieces include a piece for the 20th Century Consort in Washington DC, a theatrical work for the Pittsburgh New Music Ensemble, and a piece for the violist Antoine Tamestit from Young Concert Artists.
Amanda MacBlane: How important, overall, have awards been to your career?
Daniel Kellogg: Awards have been crucial for us. They have enabled us to leave school debt free and to focus most of our attention on music while we have been in school. This has made all the difference in taking advantage of everything school made available. The money has also helped with a computer, copy costs, travel costs for summer festivals, etc.
The awards have also been essential in establishing my name and receiving my first commissions. They have attracted attention from ensembles, individuals who help young composers, institutions who considered me for composer-in-residence positions, schools to which I applied, and grant applications. I am grateful for every opportunity a good résumé has brought. Even this interview is a result of awards.
At the same time, I wish awards weren't so important. Everyone wants to know what you have won, who played your music, and where was it played. Few people have the time to base an impression on the music itself. Consequently many composers miss the support they deserve.
I wish to thank organizations that run competitions for composers. Many competitions go out of their way to reach and serve composers. Other competitions potentially hurt composers. Last fall their was a bit of a buzz at Yale about a competition we all thought was asking too large an entrance fee for a small prize. Composers don't have money, and young composers are usually in the worst financial situations. We all write music because it seems impossible not to, and we are willing to take blind risks in the hope it will help us continue to compose. Competitions without an entrance fee that offer good performances, good exposure, and/or money are wonderful. If an organization has any other motive than helping composers, I wish they would rethink their motives and how they run their competition. We need these competitions and people who will full-heartedly fund-raise to support them.
I also greatly appreciate the many organizations, like the American Music Center, that are advocates for new music. There are so many individuals that give as much of their time to support composers as the composers put into the creation of new works. This is wonderful and essential. I feel very good about leaving school to spend a lifetime writing music. It's difficult to see how everything will all work out, but I feel art music is necessary and I am comforted to know there are organizations who want to help composers continue their work.