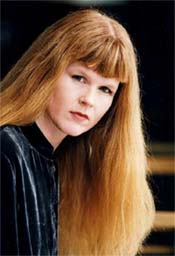 Sarah Cahill
Seven years ago, I heard some extraordinarily beautiful piano pieces at the Other Minds Festival here in the Bay Area. Pianist Rae Imamura played the 5th and 7th Collections of Patterns of Plants by Mamoru Fujieda, a featured composer that year. I immediately ordered the music from the Japanese publisher and started performing them. Fujieda, a postminimalist composer in his 40s who has dedicated these pieces to Lou Harrison, explains in the preface to the score:
In our daily life, a variety of plants appear to remain silent. Are not they actually trying to speak something to us? I once wondered if it was possible to hear what they tried to say. Then I found that an apparatus called 'Plantron' enabled us to do so. The Plantron picks up from the surface of the leaves bio-electric fluctuations in the plant, which are then analyzed and converted to digital sonic data by a computer. Thus it enables us to hear their daily activities which are constantly changing as 'their voices.'
There are six collections of Patterns of Plants for the piano (several more for other instruments and ensembles) and I've included them in many concerts around the country over the past six years, but never met the composer. So it was a wonderful surprise when he invited me to the first Pacific Crossings Festival in Tokyo, to play his music along with pieces by Terry Riley, Annea Lockwood, Paul Dresher, Pauline Oliveros, and Evan Ziporyn. I also got to premiere a piece by the distinguished composer Toshi Ichiyanagi. To open the festival, Mamoru planned a tribute to Lou Harrison, for which he asked me to play various solo pieces and the Varied Trio, with two Tokyo musicians, violinist Rieko Suzuki and percussionist Midori Takada.
In his first emails inviting me to Japan, Mamoru explains that the Pacific Crossings Festival is a smaller reincarnation of the Interlink Festival, which ran from 1991 to 1996. Everyone I know who took part in the Interlink Festival—Paul Dresher, Charles Amirkhanian, Terry Riley—remembers it as one of their best touring experiences ever. The first flurry of correspondence with the Pacific Crossings committee mentions that the other featured guest will be guitarist David Tanenbaum. David tours all over the world, and happens to live just blocks away from me in Berkeley. It's a symptom of modern life that you have to travel across the world to spend any time with your neighbor.
But what a neighborhood this is, here in Berkeley. Paul Dresher lives nearby, so we get together and work on his Blue Diamonds from 1995. The last two pages are full of treacherous leaps between the extremes of the keyboard, so Paul very graciously scratches out a few notes to make it easier. Next I drive ten minutes on the freeway to Richmond, to Terry Riley's house tucked into Wildcat Canyon, to play his "Venus in 94" from Heaven Ladder Book 7. Playing for Terry, who is such a dazzling pianist himself, I feel my fingers dripping sweat onto his Mason & Hamlin. I confess to feeling like Albert Brooks in that great scene in Broadcast News, when he starts sweating on camera. Terry replies that whenever he sang for Pandit Pran Nath he "sweat bullets"- not because Pran Nath was critical of him, but because he was such a formidable presence.
Julie Steinberg lives about six blocks away, and it was she who edited Lou Harrison's Varied Trio (written for her, David Abel, and Willie Winant) into the trio version, from an original quintet (Lou and Bill Colvig played harp and bells in the 1987 premiere with them). Julie coaches me on negotiating the trio's opening Gending movement, which involves plucking strings, striking the piano's metal frame with a yarn mallet, and sitting down to play a repeated section of 32nd notes, all in rapid succession. She also points out some errors in the score, in Lou's handwriting, which I had bought from Frog Peak, the composers' collective in New Hampshire (more on that later).
The US Embassy is one of the sponsors of the Pacific Crossings Festival, so I travel with a letter that's been Fed Ex-ed, in an envelope marked THE UNITED STATES OF AMERICA: OFFICIAL BUSINESS. The letter is from Mark Davidson, the Cultural Affairs Officer at the Embassy. It reads: "This event is registered as an official commemorative event for the 150th anniversary of U.S.-Japan relations, as recognized by the U.S. Embassy and the Foreign Ministry of the Government of Japan. The presence of Ms. Cahill and Mr. Tanenbaum in Japan will make a major contribution to cultural exchange and mutual understanding between the United States and Japan." I expect the immigration officer at Narita airport to be terribly impressed by the letter, but he just waves me through.
On June 26, I arrive at Narita airport and take a bus to the Metropolitan Hotel in the Ikebukuro district of Tokyo. Waiting there in the hotel lobby are Mamoru Fujieda, his wife Toshie Kakinuma, the festival producer Yasuyo Kondo, and her assistant Ryo Naganawa. I drop off my bags and they bring me to an elegant sushi restaurant nearby, where we sit on tatami and enjoy a sequence of exquisite delicacies. Toshie Kakinuma tells me about her most recent book project: she's writing a history of American experimental music. She is just finishing up the John Cage chapter to complete the book (she says this is the hardest, since Cage has been written about so much already). In the late '80s she and Mamoru studied at UC San Diego, where he worked with Morton Feldman (as one of only two students that Feldman accepted), Joji Yuasa, and Gordon Mumma. Toshie studied there with Jann Pasler and John Silber, with whom she wrote her dissertation on the Partch instruments, and it seems that if I mention any score by Harrison, Partch, Cage, or Feldman, she's studied it. Together, she and Mamoru travelled to Aptos to interview Lou Harrison and later brought him to Japan for the Interlink Festival. Toshie has translated both the Lou Harrison Primer and John Cage's Silence into Japanese. Now, Toshie teaches new American music at Kyoto City University of Arts, while Mamoru teaches sound design and musicology at Kyushu University in Fukuoka.
Mamoru gives me a lovely cup from the Yoko Ono exhibit. I, however, strike out in the gift-giving ritual. For Mamoru, I brought the VHS tapes of Robert Ashley's Perfect Lives, since my husband John Sanborn directed it for television. But of course, Ashley had come to the Interlink Festival, and had already given Mamoru those tapes. The only other present I brought was a tiny volume of Emily Dickinson poems for Ryo, since his e-mails of the last few months betray a poetic soul. They even look like stanzas on the page. For instance, after I responded quickly to one of his messages, he wrote:
in the fist all,
i thank a lot for your prompt reply.
it means a lot, maybe much more than you suppose!
great!

Ryo is a shy young man who has been assigned to take care of me. He tells me he studied painting in Paris, and on his cell phone he shows me a few of his paintings, portraits with the same shy downwards glance that he has. I give him the book when he picks me up in the morning and walks me to the Metropolitan Art Space, just two blocks away, where a practice room has been booked. This is a labyrinthine complex underneath the Tokyo Metropolitan Concert Hall. The hallways and various rooms are bustling with activity: a European string quartet in one, ballet dancers in another, Japanese traditional instruments in another, and the Viennese pianist Paul Badura-Skoda in another. Luckily they are sound-proof.
With jet lag, everything takes on a magic spell-like quality. I can't get over the fact that I'm finally playing Patterns of Plants in front of the composer. He has some helpful comments: I should listen to the end of a phrase before beginning the next, particularly to the fifths and fourths he favors. He says that when he uses forte, it's only for emphasis, and shouldn't be too loud. He points to the cover's design by William Morris, and tells me that he thinks of his melodies as following the same sinuous and subtle curves as Morris' leaves and stems.
In the afternoon, the violinist Rieko Suzuki appears, a lovely well-dressed young woman who studied with Josef Gingold at Indiana University. We dive into the Rondeau, for Fragonard and click immediately; it feels as if we've been playing together for years. She gives me two of her CDs. One is classical repertoire; on the other, with pianist Yuji Takahashi, she's playing Jack Body, Toru Takemitsu, Isang Yun, and Takahashi.
It turns out that my copy of the Varied Trio has mistakes, and a tricky ABACA form is written out in tiny letters in the fold, and there are numerous awkward page turns. Mamoru has a corrected edition which is much easier to read—it's included in Lou Harrison Selected Keyboard and Chamber Music, 1937-1994, edited by Leta Miller and published by MUSA. Rieko shows me how she made a score by xeroxing two pages at a time, folding them, and sticking them together with glue stick; so Mamoru and I walk to a Kinko's just across the street. We take turns xeroxing and folding pages, dabbing them with glue stick, and sticking them together. In about fifteen minutes, I have a new score for the Varied Trio.
Toshi Ichiyanagi is 71 years old. He worked with Takemitsu and gave concerts in the U.S. in the 1960s with Cage and Tudor, and he was Yoko Ono's first husband. His long hair is slicked down and curls upwards in a kind of bob. He wears a crisp monogrammed cotton lavender shirt. He wrote his Piano Poem for the 2004 Hamamatsu Piano Competition, and as one of the judges, he heard eighty pianists play it over the course of three days. Eight or nine of them, he said, played it very well. "French and Italian pianists played it too fast. the Russians treated it as if it were a big piece, even though it's small. The Chinese had too heavy a touch, and couldn't manage the pianissimos. Japanese were too exact; I want each pianist to feel very free with this piece, and not to take the notation too literally." No first prize was awarded, but a Russian and a Pole tied for second prize. During our session he was encouraging, but had few comments; maybe after hearing your piece for the 81st time you run out of things to say.
It's a great pleasure to see Carl Stone on his home turf, and especially fun to watch the shocked reactions of Rieko and Midori when he breaks into fluent Japanese. He lives in Tokyo most of the year now, teaching at Chukyo University, but keeps his house in San Francisco for visits. He joins us in a taxi to the compound of the U.S. Embassy, where there's a reception for the Pacific Crossings Festival at the home of the cultural attache, Mark Davidson, who had written the official letter of introduction.
At the reception, David plays a preview of his solo concert, with pieces by Terry Riley, Lou Harrison, and Toru Takemitsu, all of whom he has worked with closely. He begins with Lou Harrison's Scenes from Nek Chand, which Lou wrote for David to play on National Steel guitar in just intonation. Then Takemitsu's last guitar piece, In the Woods, and finally a new work by Terry Riley, Quando Cosas Malas Caen del Cielo (When Bad Things Fall from the Sky), written to fulfill a community service obligation after his arrest in an anti-war protest. David had asked Mark Davidson if this was okay for the embassy, and Mark assured him that since art is about freedom of expression, he should go right ahead. The three works together require some focus from listeners—there are long meditative stretches and periods of quiet reflection—and the audience is preternaturally quiet throughout.
The Jiyu Gakuen Myonichikan, designed by Frank Lloyd Wright in the early '20s, is just a few blocks from the noisy bustling neighborhood around the Metropolitan Hotel, but it feels like a different world. Originally built as a high school for girls, it's a complex of buildings which, with their sloped green tile roofs, echo traditional Japanese architecture but are built in Wright's unmistakeable "Prairie House" style. Sunlight streams through the angular windows, and inside, geometric architectural wonders abound.
The Lou Harrison concert and my solo concert are in the auditorium across the way, designed by Wright's student, Arata Endo, who worked with Wright on Tokyo's Imperial Hotel (David's solo concert is in the Jiyu Gakuen). With its ingenious combinations of rustic wood beams and rough stone, it's a perfect tribute to Wright. When Ryo and I arrive, the Yamaha onstage is being touched up by Mr. Yamishita, who works with Mamoru (who prefers his Patterns of Plants in Werckmeister III tuning, but does not insist upon it). Yamashita sits quietly in the hall all day, just in case there's anything to take care of. The next day, for four hours before my concert, he sits in the hall as well. I've never seen a piano tuner do that.
Midori Takada is a formidable percussionist; Mamoru says she is the most famous in Japan. Her hair is cropped to about an eighth of an inch, and she wears unusual outfits that combine avant-garde and traditional Japanese styles. David is also working with Midori and Rieko, in chamber music by Terry Riley and Lou Harrison; he points out that in rehearsals, Midori never touches her percussion instruments (except to play them). She is surrounded by an entourage of students who move marimbas and gongs from one place to another.
I need to mark the strings for plucking in Lou Harrison's Varied Trio, and also for Annea Lockwood's Ear-Walking Woman, and haven't brought enough stickers. After scouring a few likely stores, I ask Ryo where they could be bought. He sends out an assistant, a breathtakingly beautiful young woman, and suggests Kinko's. I go with her, because I'd like to get the stickers as soon as possible. We walk quickly; it's an oppressively muggy afternoon. We're both sweating. She leads us astray, and when we finally find Kinko's they don't have stickers. The concert is just hours away, so she promises to look around. Half an hour later, she returns, with a slim package of the most beautiful stickers I've ever seen.
The concerts go extremely well, and the audiences are large and enthusiastic. Mamoru and Mark Davidson both give introductions in Japanese, and the whole event feels like an exciting celebration of the cross-fertilization between American and Japanese music. David and I agree that performing in these spaces is a powerful experience. During the Lou Harrison concert, I keep telling myself: what could be better than playing new American music, in this building which is like a work of art, for such an attentive audience?
As we leave the hall, Toshie points out a harpsichordist loading equipment into his truck. He is self-taught, she says, and has just played a concert at the Jiyu Gakuen across the way. His program included Conlon Nancarrow, Frescobaldi, and Yuji Takahashi. Toshie says he has also made a Xenakis CD.
Later, over beer and sake, Mamoru introduces the young men who have been assisting at rehearsals. They are students in his class in Fukuoka. Most recently they've been studying electronic music by Alvin Lucier, who came to talk to them, and Pauline Oliveros. Yasuyo Kondo says that her favorite living composer is Robert Ashley. She says she asked him to write a new piece for a festival in Sapporo, and it became his opera entitled Dust.
As a parting gift, Toshie gives me her translation of Lou Harrison's Primer. It's a gorgeous volume: textured paper with a colorful design, and the Japanese characters are printed to evoke Lou's elegant typography, which in turn has an Asian quality. (Lou added some extra texts just for this Japanese edition.) David and I are flying home. I want to give big hugs and kisses to Mamoru, Toshie, Yasuyo, and Ryo, but their body language tells me they are more accustomed to restraint.
A few days after getting back, I get a message from Ryo:
i really thank you for your bringing me Emily Dickinson's poems.
i really don't know why you brought it to me.
cause it is the very book i have longed for.
in a weekly English/Japanese journal,
her poems have been introduced for more than 3 years
but only the first line was there.
so i was really eager to read the whole poems.

Now I get to return to Tokyo: Mamoru has invited me to perform an hour of Patterns of Plants as part of the Tokyo Summer Festival, on July 30. I will play at the Jiyu Gakuen Myonichikan, on Mamoru's old German upright piano, tuned by Mr. Yamashita in Werckmeister III. Spending more time around Mamoru and Toshie, I might learn more about new American music than I would here at home.