The overarching title for the 2005 membership conference of Chamber Music America was "Found in the Shuffle." While that name doesn't initially seem to be saying much, it proved an extremely apt metaphor for a weekend that wound up being the best conference this organization has held in recent memory. Indeed, despite the shuffle that threatens to turn conferences such as these into formless pandemonium, sessions were well coordinated and what was ultimately "found" in this particular shuffle seemed to be an unprecedented openness toward composers and new music.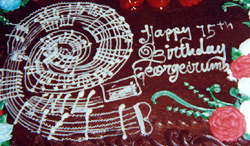 "Crumb" cake at the CMA conference
Photo by Robert Starobin
In addition to the usual CMA rituals for composers—receptions sponsored by ASCAP and BMI—there were several sessions devoted specifically to interacting with several of the key composers of our time: George Crumb, Peter Schickele, Tod Machover, and 2004 Pulitzer Prize winner Paul Moravec. The two concerts that took place during the weekend were also contemporary music centric, so much so that when the Ying Quartet played Mendelssohn it seemed strangely out of place. This is undoubtedly because throughout the weekend there seemed to be a tacit understanding that new music, rather than a specialty area on the periphery of the chamber music world, was actually its core.
New music as embraced by Chamber Music America also incorporates jazz and world music traditions. Sunday afternoon's annual commissioning showcase concert featured only one piece that fits a more conventional definition of new music, Ingram Marshall's In Deserto (Smoke Creek). But despite references to Bach and Sibelius throughout the piece, anyone familiar with Marshall's music knows how unconventional it is. Plus it was written for the Clogs, an electro-acoustic outfit of electric guitar, cello, bass, drums, and bassoon known primarily for their self-composed sonic landscapes more closely aligned with alternative rock. The other music featured on the concert that afternoon, Jovino Santos Neto's Brazilian jazz band and David Krakauer's Klezmer Madness, which incorporated hip-hop grooves and even rapping from band member So Called, seemed even more light years away from a string quartet playing Haydn. (This concert will be featured in an upcoming NewMusicBox webcast.)
Chamber Music America, at least in the tone they set for this year's conference, seemed completely in lock step with New Yorker music critic Alex Ross, whose keynote address recommended rethinking four commonly-held perceptions about this music:
1. Classical music is innately superior to other music; it's not a product, but a way of life.
2. Certain concert behaviors are necessary to appreciate classical music: the dress and silent ritual (absolutely no clapping between movements!).
3. Seriousness must be a governing value. This is not about entertainment.
4. Popular music is the enemy.
Ross's mantra, that "We need to stop being aristocrats and start being democrats," elicited a sweeping round of applause which was probably only partly the byproduct of the attendees' partisan political leanings in a speech given only a week before the re-inauguration.
The "new music as cure" verdict found its way into numerous anecdotes throughout many of the conference's sessions as well. During a session on radio titled "Audience Building Over the Air," Steve Robinson, vice president at WFMT Radio in Chicago, claimed that "classical music on the radio is booming" and bragged that he broadcasted the Pacifica Quartet's performances of all five Elliott Carter string quartets during a fund drive and it didn't turn people away. In a session titled "Programming for the Long Term," moderator Daniel Barnard, who runs the Music at Noon Series at Penn State University in Erie PA, discussed the importance of challenging audiences as opposed to merely programming to their comfort zone. As it turns out, Barnard is also a composer.
During a session devoted to Paul Moravec's 2004 Pulitzer Prize winning composition Tempest Fantasy for clarinet, violin, cello, and piano, in which the entire composition was performed by the same players who premiered it last year, Trio Solisti violinist Maria Bachmann recounted how the group's success is directly related to their commitment to new music but was careful to explain their selection process: "It's very hard to bring new music across if you're not passionate about it. We only play music we believe in." Attendees were encouraged to actively seek out new music. Moravec proclaimed, "This is a golden time for new music; it's not the 20th century anymore!"
In the session "Adding Vocal Music," new music came across as a badge of honor for chamber musicians, separating them out from the dinosaurs in the orchestral profession who continue to ignore new music. Soprano Elizabeth Keusch even recounted a comment from an orchestral musician which sparked laughter across the room: "I can't do all that new music; I like to space out."
During the presentation of this year's ASCAP/CMA Adventurous Programming Awards, George Steel, the executive director of Columbia University's Miller Theatre, who has made a name for himself as a fearless presenter of new music concerts, went so far as to castigate presenters of "unadventurous programming" and refusing to pay attention to "totally new groovy music" claiming that the only way to reach new audiences is with the new: "There's the 1percent who listen to standard repertoire, and then there's the 99 percent who we wish would come; the way to reach them is adventurous programming." (A complete list of this year's award recipients is available on CMA's Web site.)
If such euphoric advocacy wasn't enough, Chamber Music America even provided conference attendees with a list of the 101 Great American Ensemble Works, culled from membership submissions over the past several months. Presumably this list will inspire a greater awareness of this repertoire and ideally performances of it around the country. The complete list appears at the end of this article.
The final session of the conference was a general session with Peter Schickele, who in addition to making everyone laugh, made a series of comments that seemed tailor-made to make even the most standard repertoire-entrenched musicians and presenters comfortable with the wide stylistic vocabulary of the most recent new music. He described how the 1960s were a golden age in pop music because there was much less of a focus on oldies. While he clearly favored the new over the old, he carefully played to the more traditionally-oriented members of the audience by humming passages from famous standard repertoire works. He also pointed the finger at certain modernist composers whose compositional aesthetics were partially responsible for many people turning away from new music.
"Webern will never be standard repertoire," Schickele proclaimed while singing the praises of minimalism for bringing back "tonality, the composer as performer," and above all, a "beat." He lamented that "there isn't more sight-readable new music" stressing the crucial role amateur music making plays in getting people to appreciate repertoire.
At the Annual Membership Meeting, CMA board president Phillip Ying said that there were four key priorities for CMA in the future: extending residencies, more commissions, an expanded website, and field research. It will be interesting to see where Chamber Music America goes as an institution following such a conference.
101 GREAT AMERICAN ENSEMBLE WORKS


As Nominated by the Membership of Chamber Music America
John Adams: Road Movies (violin, piano)
George Antheil: String Quartets #1-3
Louis Armstrong: "West End Blues" (jazz ensemble)
Daniel Asia: String Quartet #2
Milton Babbitt: All-Set (sextet)
Samuel Barber: Cello Sonata (cello, piano)
Samuel Barber: Dover Beach (baritone, string quartet)
Samuel Barber: String Quartet
Samuel Barber: Summer Music (wind quintet)
Amy Beach: Trio in G (violin, cello, piano)
Martin Bresnick: *** (clarinet, viola, piano)
Dave Brubeck: "Blue Rondo a la Turk" (variable)
John Cage: Third Construction (percussion quartet)
Elliott Carter: Cello Sonata (cello, piano)
Elliott Carter: Piano Quintet (piano, string quartet)
Elliott Carter: String Quartets #1-5
G.W.Chadwick: String Quartets #4 & #5
Chen Yi: Qi (flute, cello, piano, percussion)
Dan Coleman: String Quartet #2
Ornette Coleman: "Lonely Woman" (jazz ensemble)
Valerie Coleman: Umoja (wind quintet)
John Coltrane: A Love Supreme (jazz ensemble)
John Coltrane: "Giant Steps" (jazz ensemble)
Aaron Copland: Clarinet Sextet (clarinet, piano, string quartet)
Aaron Copland: Piano Quartet (violin, viola, cello, piano)
John Corigliano: Violin Sonata (violin, piano)
Ruth Crawford-Seeger: String Quartet
Donald Crockett: Ceiling of Heaven (violin, viola, cello, piano)
George Crumb: Ancient Voices of Children (mezzo, piano, oboe, percussion, mandolin, harp
George Crumb: Black Angels (string quartet)
George Crumb: Vox Balanae (flute, cello, piano)
Richard Danielpour: A Child's Reliquary (violin, cello, piano)
Mario Davidovsky: Synchronisms No. 2 (flute, clarinet, violin, cello, tape)
Miles Davis: "So What" (jazz ensemble)
David Del Tredici: Heavy Metal Alice (brass quintet)
Paul Desmond (arr. Dave Brubeck): "Take Five" (jazz quartet)
Paquito D'Rivera: Aires Tropicales (wind quintet)
Jacob Druckman: Come Round (flute, clarinet, violin, cello, piano, percussion)
Duke Ellington: "Mood Indigo" (jazz ensemble)
Morton Feldman: String Quartet #2
Irving Fine: Partita (wind quintet)
Arthur Foote: Nocturne and Scherzo (flute, string quartet)
Lukas Foss: 13 Ways of Looking at a Blackbird (soprano, flute, piano, percussion)
Gabriela Lena Frank: Los Sombras de los Apus (4 cellos)
Dizzy Gillespie: "A Night in Tunisia" (jazz ensemble)
Osvaldo Golijov: Dreams and Prayers of Isaac the Blind (clarinet, string quartet)
Herbie Hancock: "Maiden Voyage" (jazz ensemble)
John Harbison: Mirabai Songs (flute, clarinet, viola, voice, harp)
John Harbison: Wind Quintet
Lou Harrison: Varied Trio (violin, piano, percussion)
Stephen Hartke: King of the Sun (violin, viola, cello, piano)
Julius Hemphill: "The Hard Blues" (saxophone quartet or sextet)
Jennifer Higdon: Impressions (string quartet)
Andrew Hill: "Dusk" (jazz ensemble)
Lee Hoiby: Dark Rosaleen (violin, viola, cello, piano)
Lee Hyla: Dream of Innocent III (amplified cello, piano, percussion)
Andrew Imbrie: Pilgrimage (flute, clarinet, violin, cello, piano, percussion)
Charles Ives: 3 Quarter-tone Pieces (2 pianos tuned a quarter-tone apart)
Charles Ives: Piano Trio (violin, cello, piano)
Charles Ives: String Quartets #1 & #2
Ben Johnston: String Quartet #4
Aaron Jay Kernis: musica celestis (string quartet)
Leon Kirchner: Piano Trios #1 and #2 (violin, cello, piano)
Ernst Krenek: String Quartet #8
Benjamin Lees: String Quartet #5
John Lewis: "Django" (jazz quintet)
Charles Martin Loeffler: Music for Four Stringed Instruments (string quartet)
Steven Mackey: Indigenous Instruments (flute, clarinet, violin, cello, piano)
Thelonious Monk: "In Walked Bud" (jazz combo)
Thelonious Monk: "Round Midnight" (variable)
Paul Moravec: Tempest Fantasy (clarinet, violin, cello, piano)
Conlon Nancarrow: String Quartets #1 and #3
Charlie Parker: "Donna Lee" (jazz ensemble)
Richard Peaslee: Distant Dancing (brass quintet)
George Perle: Sonata a quattro (flute, clarinet, violin, cello)
Walter Piston: String Quartet #1
Walter Piston: Flute Quintet (flute, string quartet)
Quincy Porter: String Quartet No. 3
Kevin Puts: Dark Vigil (string quartet)
Steve Reich: Different Trains (string quartet, tape)
George Rochberg: String Quartet #3
Ned Rorem: Santa Fe Songs (voice, violin, cello, piano)
Christopher Rouse: Ogoun Badagris (5 percussion)
Frederic Rzewski: Coming Together (variable)
Paul Schoenfield: Café Music (violin, cello, piano)
Roger Sessions: Viola Quintet (string quintet)
Wayne Shorter: "Footprints" (jazz ensemble)
Adam B. Silverman: Sturm (violin, cello, piano)
Stanley Silverman: In Celebration (violin, cello, piano)
David Stock: For Emily (violin, viola da gamba, theorbo)
David Stock: Speaking Extravagantly (string quartet)
Eric Stokes: Brazen Cartographies (brass quintet)
Steven Stucky: Nell'ombra, nella luce (string quartet)
Joan Tower: Petroushkates (flute, clarinet, violin, cello, piano)
George Tsontakis: String Quartets #3 & #4
Chinary Ung: Oracle (flute, clarinet, violin, cello, percussion)
Stefan Wolpe: Quartet (trumpet, saxophone, piano, percussion)
Judith Lang Zaimont: Doubles (oboe, piano)
Zhou Long: The Ineffable (flute, violin, cello, percussion, pipa, zheng)
John Zorn: Masada (jazz ensemble)
Ellen Taaffe Zwilich: Piano Trio (violin, cello, piano)