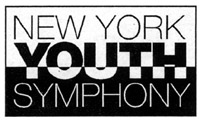 New York Youth Symphony
Four composers have recently received commissions from the New York Youth Symphony's First Music Program. Emily Lenore Doolittle, Anthony Cheung, and John Kaefer will each receive premieres of a new orchestral work in Carnegie Hall during the 2001-2002 Season. In addition, Michael Klingbeil has received the Chamber Music Commission; his new work will be performed in Weill Recital Hall in 2021.
The four selected composers were chosen on the basis of artistic potential, level of craftsmanship, and programming balance. The advisory committee for this year's commissions consisted of John Corigliano (chair); David Lang, Fred Sherry, Michael Torke, and Charles Wuorinen. Each composer will receive a commissioning fee of $2000.
Of the First Music Commissioning Program, The New York Times writes: "when it comes to making new music a natural part of the concert going experience, few orchestras in the United States can match the record of the New York Youth Symphony."
Past winners of the First Music Awards include Pulitzer Prize winning composer Aaron Jay Kernis as well as Augusta Read Thomas, Julia Wolfe, and Derek Bermel.