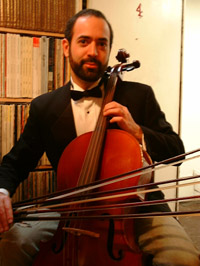 Frederick Kaimann
Photo by Melissa Richard
Entering history on the ground floor is an exciting thing, but over time new floors get added beneath as you're jacked high above the street where you entered. Eventually the hot dog vendors and beggars forget what you look like even if you're, say, ridiculously fat.
So it goes with new music, an enterprise that is ever consuming, cannibalizing and discarding its past. Even most string quartet listeners don't know Ignaz Schuppanzigh, the obese violinist. They're still trying to figure out who's playing cello for the Kronos Quartet. Which is only right, one supposes, since Schuppanzigh's true legacy is the music he premiered – which you've heard – and not his playing – which you haven't. But back somewhere deep in their conscious or unconscious memories, most string quartet players of new music have a place in their hearts for Ignaz Schuppanzigh because they're living with his music. More than 200 years ago it was Schuppanzigh and his quartet that premiered almost all of the string quartets by Ludwig van Beethoven. Quite a legacy indeed!
Schuppanzigh neatly fits into one of the two categories of new music performers, according to Norman Fischer, the cellist with the Concord String Quartet, a resident ensemble at Dartmouth for decades but long since disbanded. Fischer says musicians play new music because either 1) grudgingly, they think they ought to, or 2) because they have no choice, it's just part of who they are. For those latter, there's no way around it. Their minds are reaching out for the new, never satisfied with what they've got. In that way, they embrace Schuppanzigh and what he did, but like Bill Clinton working a crowd, they constantly move on, shaking more hands, exchanging more greetings. (And like Clinton and most every other politician these days, the musicians constantly return to their big donors – Beethoven, Bartók, Haydn and Mozart – who always provide them with the sustenance they need to survive.)
Here's Jessica Thompson, violist of the Chester String Quartet, fitting that mould: "It's crucial to take part in brining new works into the repertoire, to make chamber music a living, breathing thing. And it's always exciting to do something new that no one's heard before. They can't say, "Oh, when so-and-so played it, it was…" To present something totally fresh to an audience is liberating."
String quartets can form long-term relationships with composers. The Cassatt String Quartet, for example, has worked with the same composers over two decades, watching and even helping their writing evolve. Others, like the Colorado String Quartet, have long-term relationships with presenters, agreeing to play a new piece on a series every two years or so.
What the composers get back, simply, is the immediacy, intimacy and expressive possibilities of the string quartet. The variability and depth of this canvas have never failed the imagination. Just the same way, painting will never die either.
Contemporary observers are only recently remembering this. Aaron Jay Kernis's String Quartet No. 2, commissioned by the Lark Quartet, won the Pulitzer Prize in 1998. It had been twenty-five years since a string quartet had won the prize, Elliott Carter's String Quartet No. 3, in 1973.
Some composers don't get the benefit of recognition in their lifetimes, requiring the advocacy of quartets like the Marian Anderson String Quartet to make their names known.
How does a string quartet know what new music to play? Here's one answer. When the venerable Guarneri Quartet was forming at the Marlboro Festival in 1964, pianist Rudolf Serkin told them, "Follow the love," according to first violinist Arnold Steinhardt in his book on the Guarneri, Indivisible By Four. If somebody really loves a piece, it will be stronger than someone who rejects it, Serkin said. Find out what's behind that passion.
Following Serkin's advice, the brand new Elements Quartet based in Hoboken, New Jersey, is going through the initial phases of defining what it is they love. Three of the four members love Webern, but not violinist Evan Mirapaul. "It doesn't do it for me, but I keep trying because greater musical minds than mine think it's the greatest music to develop," he says. "But as a visceral response, it's not music I want to hear." Then cellist Peter Seidenberg comes back with another of his favorites, John Cage's first string quartet. So Mirapaul listened to a recording and turned to Seidenberg and said, "Um, when does it start? I'm open to it, but there's not a think that hits me back."
It's not always like that for this eighteen-month-old quartet. They often agree.
Take John Zorn's Dead Man, a collection of 13 short "specimens" (Zorn's word) that lasts just under 15 minutes. "I love haiku kind of music, things that are super-condensed, neutron stars of music, and this was that," says Mirapaul. "Zorn packed a lot of information into a tight space. There's an incredible tonal range that's interesting to my ears, that goes from slapstick to very, very serious."
The Elements has also agreed on music by Peter Schickele, is commissioning David Sampson to write "The Elements" for them and is working with David Del Tredici on a new piece. Mirapaul is an optimist about new music, giving credit to the generation of minimalists who have brought audiences back. "While I'm not particularly a fan of a lot of the minimalists, I think they have done the job of reopening people's willingness to listen," he says. "Right now is kind of a cool time for new music because you can program it and have people willing to give it a fair hearing."
And that's as true in the shadow of New York skyscrapers as it is on the edge of the middle of nowhere, as the Harrington String Quartet is finding in Amarillo, Texas.
With an audience willing to listen, argues Mirapaul, the players of a string quartet have a heavy burden to shoulder. "Can we be effective advocates for it in the same way we are effective advocates for Beethoven?" he asks. "That is, can we evoke the thoughts and emotions that make audiences want to hear more music? We don't have the evangelical mission that people needed to have until recently. There were some tough days. But right now, at least as a string quartet, if you play music from Monteverdi to something written yesterday as something worth being heard, audiences will listen to it fairly, and not as "new music" that they have to be defensive about. And I think that's great."
Inside Pages: