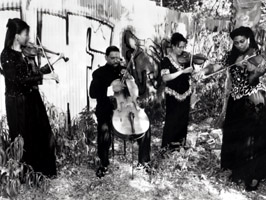 Marian Anderson String Quartet
Photo by Rudy Flores Jr., courtesy MASQ Music Management
The members of the Marian Anderson String Quartet are quite clear about one thing: first, foremost and of paramount importance, they play great music. Period. That's why they're musicians. That's what motivates them. That's why they're in a string quartet. All of the innovative and forward-thinking ideas, programming and audience-building efforts that are detailed below must not be read without remembering that it's quality music first. So don't think of the Marian Anderson String Quartet as an ensemble of African-American musicians who play African-American music. It's not about that.
With that disclaimer fully understood (and if you didn't get it the first time, go back right now and read it again), the Marian Anderson String Quartet is on the battlefront of building new audiences and is using an arsenal of new music.
Right now it's Nicole Cherry, the quartet's second violinist and designated researcher and librarian who is leading the charge. Cherry joined the eleven-year-old ensemble in August with a formidable love of music by African-American composers. Her doggedness may become legendary. The stories of her prying open graves in search of lost scores are untrue, but those of her pulling them out of the hands of 90-somethings are closer.
Take for example, the first string quartet by Coleridge Taylor Perkinson. Perkinson, a composer now in his 60s and living in Chicago, wrote the piece as a student exercise at the Manhattan School of Music when he was 16 in 1951. The neglected score borders on a masterpiece, Anderson members say. It is based on the spiritual "Calvary" and written in a bright style infused with jazz. But it's not widely circulated. One of the members just happened to have it in their private collection. "You'd never know it was a work written by a student unless you know the background," said the Anderson's cellist, Michael Cameron.
But all of the Anderson's audiences do because the quartet tells them. At lectures, outreach concerts and even in the formal concert hall, an Anderson member will speak about the piece, its history and convey the ensemble's enthusiasm.
The Marian Anderson String Quartet is constantly pulling unpublished manuscript scores out for its middle program piece bookended by the likes of Beethoven and Haydn.
After the quartet moved to Houston's Shepherd School of Music in 1999 to be the school's outreach ensemble after a five-year California State University at Los Angeles residency ended, a nearby musicologist named Lucius Wyatt approached the players. It turns out that Wyatt is a specialist in African-American music and proposed a series of lecture-demonstrations with the Marian Anderson String Quartet on his (and their) favorite topic. He played them some tapes of music they'd never heard of and nearly knocked their socks off.
"It's always exciting to hear great music," said Cameron. "These are things I felt I should have known about being an African-American musician, but I didn't know. It was a really great experience." The first concert is scheduled for February 1 at Prairieview A&M where Wyatt teaches, followed by a Houston repeat on February 12. The program includes Minnesota composer William Banfield's String Quartet No. 1 based on the spiritual "Let Us Break Bread Together," the Perkinson piece and music by Chevalier de Saint-Georges, an 18th century black composer born in the Caribbean who lived and worked mostly in France. ("It's great to know that contributions were being made by black people even in that period in history," Cameron said. "It's music that's challenging and is quite beautiful.")
Sometimes the music can be frustrating. Take Ulysses Kay's String Quartet No. 3, written nearly 50 years ago for the Stanley Quartet then in residence at the University of Michigan. It's a highly rhythmic, dense, orderly piece by the New York composer, opening with a satiric waltz followed by a lyrical adagio and concluding with an angular allegretto. It resembles music by Elliott Carter and Morton Feldman. But there's something not satisfying about the ending. The resolution isn't right. It's too abrupt. So the Marian Anderson String Quartet made a difficult approach: go back to the composer and ask him to rewrite the end. The old man was reluctant and basically said no. Then he died in 1993, so the Anderson was stuck. That is until earlier this year. During a week-long residency in Raleigh, N.C. this January, a man went backstage after a concert and identified himself as the cellist from the old Stanley Quartet. After they'd premiered the piece in the 1950s in Ann Arbor, the Stanley members weren't too happy with the ending either and made the same suggestion to Kay. That time, however, he did write something new and the cellist still had it. Eureka, the Anderson members shouted to each other across the reception, and they're eagerly waiting to see the new ending to see if it's better.
Therein lies an underlying frustration for Cameron and the others. As a way of explaining, he tells the story of a musicologist friend defending his dissertation on African-American music who was asked the softball question, "So, how do you feel about this?"
The student was taken aback, became a bit flustered and blurted out, "I feel furious. Why do I have to do all this research to learn all of this? It should be readily available."
(The Quartet's name, of course, is in honor of the contralto Marian Anderson. While at the Eastman School of Music after winning the Cleveland Quartet Award, the quartet was searching for a new name. Frederick Douglass was one. The abolitionist who lived his later life in Rochester had played the violin. But Marian Anderson was more inspirational. "In midst of racial strife, her antidote was to open her mouth and sing. That's deeply about what the quartet is all about," Lawrence said. "It would be a life goal of mine to live up to her name." The quartet went through Anderson's nephew, the conductor James DePreist and won Anderson's permission. As a thank you, the quartet traveled to Portland where Anderson was living her final days with DePreist and played a salon concert for her in his living room. She applauded and put the quartet's picture on her piano.)
This new music must enter the repertoire, Cameron says, because audiences hate the classics from the recent past. The diehards are dying. Hard. "I'm not the first person to say this: The people who have been going to concerts for the past fifty years are starting to die off. We have to keep a pulse on what kind of people we want to bring in as audiences. Our new audiences don't warm to as they once did, so new avenues have to be investigated."
What could be an easier, more meaningful means of entry than a string quartet based on a spiritual? It's a means that can't be looked down on. Dvorak did it. Beethoven did too.
There's a side that be true to the art, too. The players became professional musicians because they love the Schubert "Death and the Maiden" quartet and late Beethoven. They still play that music and always will. Says Cameron, "The responsibility is to our own artistic curiosity first. It's for us first. We share this passion with our audience. If we don't feel a connection with the work of music, the audience will sense that. Then, as an all African-American ensemble, it's our absolute duty to present music of this kind. It's one thing to play Beethoven and Brahms — great music, no doubt about it — but we should look to our own heritage."
Adds violist Diedra Lawrence, "A lot of people look at us and are happy to see us, to feel represented. At our concerts you will see everything, you'll see the tried and true blue hairs, the young mother who's worked all day and went home and picked up her 19 children and dressed them just so they could see us, and everything in between from the stage of Alice Tully Hall to the neighborhood soup kitchen. There are no social stratas in the human experience."
The sincerity and heart comes through. Once the quartet was playing Beethoven's Op. 18, No. 4 at a soup kitchen, one of the quartet's 150 annual public events. Lawrence picks up the story: "Beethoven is out of his mind when it comes to changing keys, no set up, no nothing. In one measure, he switches to E-flat too soon. It's a shocking, thrilling movement. At that moment somebody listening started to shout, like you shout in church. They couldn't explain it, but they got it! I spend the whole concert, thinking: 'Yes! Yes! Yes! You don't need a master's degree to understand it.' "
When audiences see themselves represented on stage playing music by composers they can identify with, that same "Aha!" moment happens many times over. That's what new music does for the Marian Anderson String Quartet.
At the same time, that audience is also experiencing a community experience unlike most others because the quartet doesn't just tour and play a concert. It spends time, pounding the pavement visiting community centers, schools and other places to build its audience. By the time of the concert, most of the audience has seen the quartet before, heard its members speak and listened to some of the music slated for the concert.
"At the formal recital you have these connections, the staff of a correctional facility sitting next to Hispanic inner city kids in a string program sitting next to white suburban kids. It gives the community a chance to come together," Lawrence said. "This is a quartet that serves a variety of functions on a variety of levels. We're committed to playing great music on a high level, making a visual statement about diversity and race relations and pulling together different factions of the community and giving them a central meeting place – us and the music we represent.
"Underneath it all, under all the social obligations, is a quartet that just wants to play music and play music well. It's blossomed into something more beautiful than I could have envisioned."
Four Quartets
By Frederick Kaimann
© 2000 NewMusicBox