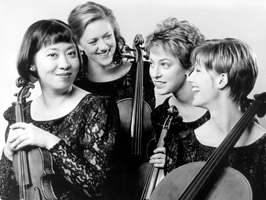 Cassatt Quartet
Photo by Peter Schaaf, courtesy STEORRA
Before most people's collective memory registered it, way before the interstate highway system, and back when the railroads were still in their ascendancy and the Erie Canal meant more than a children's song, there was Buffalo.
A grand city that was the gatekeeper to America's heartland, just before the year 1900, Buffalo, New York, was the country's sixth largest city and a bustling capital of commerce and industry. It was a cultured place with fine galleries, music series and public institutions. It raised its people right.
One of those citizens, a prosperous lawyer and amateur violinist who had a controlling sense of civic duty, endowed his city with one of those quirky traditions that makes natives smile and non-residents raise an eyebrow and say, "Really?"
Frederick C. Slee was his name and when he died in 1954, he left a sum to provide the citizens of Buffalo with music. Chamber music or be more narrow, string quartets to be specific, and Beethoven's to be exact.
Slee was very particular. The series shall open with Beethoven's Quartet in E-Flat Major, Op. 127 and end with the Quartet in E Minor, Op. 59, No. 2. Slee carefully outlined what should be played in what order at each of the six concerts.
And so it has been. Every Beethoven quartet. Every year. For decades.
It's almost a rite of passage for quartets now. The Budapest String Quartet played the first cycle. A who's who has followed: the Cleveland, Tokyo, Guarneri, Juilliard, Emerson, Muir…the list goes on and on.
Into this environment entered the Cassatt String Quartet, an ensemble that had played a lot of new music but found itself facing an audience that knew every note of the Beethoven cycle. More than a few brought their scores. And a few somebodies over the generations of listeners has committed a collective no-no by jotting down inside the library's score the names and dates of each ensemble that's played each work in the series.
The women in the Cassatt were met backstage greetings such as, "I remember the Budapest…" or "I remember the young Cleveland…"
Almost sheepishly, admits the Cassatt's Jennifer's Leshnower, the quartet's new music quotient has dropped as it has played the Beethoven cycles in each of the past three years. What used to be a nearly fifty percent load has fallen for the New York-based ensemble. But that doesn't mean it's ended.
Hardly, for these new music mavens have redirected some of their new music energies to residencies and festivals while continuing to keep a new music presence on their touring profile. New music is as natural to the Cassatt String Quartet as eating Chinese food, which is something these quartet members seem to eat regularly with composers, talking about new pieces and working out commissions at their Upper West Side haunts.
"Music is a living art, one which we enjoy being a part of creating and helping to blossom," Leshnower says.
As recent chamber music surveys are finding, string quartets are increasingly turning to residencies to provide their members with income stability and a base of operations. The Cassatt String Quartet has three: the University of Buffalo, the University of Pennsylvania in Philadelphia and Syracuse University. That means university concertizing, teaching students and educational outreach. The Cassatts also use the residencies to get closer to some of their favorite composers: Jay Reise and Anna Weesner at Penn, Andrew Waggoner and Daniel S. Godfrey at Syracuse and David Felder at Buffalo.
To pick a favorite, the Cassatt has commissioned Waggoner several times, most successfully with I Want To Go With The Wolves, a musical fairytale from a native American legend told with the help of the audience.
Leshnower almost sounds like a kid who lovew the piece when she describes, "It's a lot of fun to play. We get the opportunity to make howling sounds on our instruments." I Want To Go With The Wolves tells the story of a little boy wondering in the woods. He gets separated from his family and stumbles upon a pack of wolves. They don't see him spying on them as he drinks their water and eats pieces of their food. Little by little he becomes more wolf-like. Eventually his siblings spot him and in that moment of recognition, he magically transforms into a wolf and runs off with the pack. The audience is cued to make the sound of the wind and howl like the wolves while the quartet performs. "It's a way to engage young audiences to participate but also teach them how to learn and interact with the quartet," Leshnower says. "We carry that piece with us often. Ninety percent of the performances are with young audiences, however, the other ten percent of the time that we have performed it, it has been wildly successful with the big listener as well. The beauty of the piece is that it can stand on its own as a piece with or without audience participation."
Waggoner also wrote his Quartet No. 2 for the Cassatt String Quartet. The 1993 piece is a finger buster full of rhythmic complexity. Waggoner is a violinist fascinated with polyrhythms and crossrhythms. "He put them all over the place, one on top of another like a giant pyramid," Leshnower says.
More recently, though, Waggoner's music for the Cassatt has taken a different turn. In 1997 he wrote a piece, Legacy, to commemorate the opening of a new building for the Syracuse Planned Parenthood Society, a cause he champions. The energetic piece is inspired by the women's rights movement (it's tempo is marked "fast and determined") and infused with some of Waggoner's native New Orleans harmonies and R&B sounds. But the Cassatt heard something different in this later writing in contrast to his earlier second quartet. It was simpler, not trying to everything at once.
"His music has evolved and become less complex rhythmically speaking and perhaps technically as well," Leshnower says. It reminds the Cassatt members of something the Manhattan School of Music's Ursula Mamlok once told them about her own music (which the Cassatt commissions too). She's noticed that her later quartets are far less difficult technically because when she started composing string quartets, she had all sorts of ideas and tested herself to see if they could all fit into one piece. Later, she realized that she could do it, but chose not to, paring down the complexity to focus on a few points of expression.
And there's a benefit of long-standing relationships with composers. The players see their friend grow and change, and may play a part in that evolution.
"We tend to work with people we know," Leshnower says. "It's an extension of the notion of chamber music, to sit down together with friends and play fabulous music for friends. Collaborating with a composer who is a friend/colleague just adds to that experience."
But commissions for the Cassatt don't always come from these close personal bonds on the east coast. For years the McCall Chamber Music Festival in McCall, Idaho, has brought in the Cassatt for concerts. Organizer Jim Cockey, a composer, wanted the Cassatt to play more new music, and he almost jumped out of his skin when the quartet played Henryk Górecki's String Quartet No. 2 for an educational workshop at a middle school. ("Just because it's a young audience, we don't pander or speak down to them," Leshnower says. "Often the young audience is the most receptive to new music because there are no preconceptions.") So Cockey took to pressing the quartet to play one of his pieces. He sent them tapes and scores to show his output. The quartet liked what they say and after nearly seven years of back and forth, they've commissioned a piece. Cockey is writing for the quartet and children's choir music based on another Native American fairy tale.
A commission isn't always as easy as just playing through something a foundation pays for and a composer mails off something all set to go. Sometimes a piece only looks finished. Take one by Syracuse's Daniel S. Godfrey, a perfectionist composer. The Cassatt String Quartet commissioned his third quartet in 1998 and premiered it in the spring of 2000. After the premiere he told the Cassatt that the third movement was a rush job, getting short shrift because of another compositional deadline. So he reworked passages, four times in all, before he threw the whole movement out and started again. And the Cassatt had been playing each version during its touring. But Godfrey wasn't done, and the decision to do the major rewrite came just before the Cassatt String Quartet had a December 2000 recording session scheduled to tape all of Godfrey's quartets. So they canceled the studio time, rebooking for June, and now hope the new score arrives soon.
"It's good for the piece ultimately," Leshnower says without a hint of frustration. "Perhaps the only downside, which is temporary, is that you've learned your fingerings and bowing, and then he wants to add 60 bars and you have to redo your page turns and your bowings, and he takes away 20 bars. But I'm exaggerating. It's unquestionably good for the piece."
"It's a working process. It's nearly impossible to know precisely what you're going to get until it's been performed. It's the actual performance that gives it its birth, its life. If there's fine tuning, that may be necessary, which is fine. Who knows, maybe the Schuppanzigh Quartet did this with Beethoven."
Four Quartets
By Frederick Kaimann
© 2000 NewMusicBox