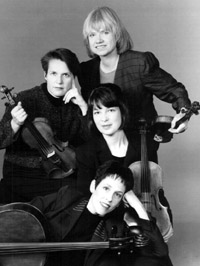 Colorado Quartet
Photo by Marian Goldman, courtesy Arts Management Group
There's a trend to spot among some of the recent premieres by the Colorado String Quartet. See if you can pick anything out from this list of titles:
String Quartet by Jan Krzywicki
String Quartet by Ingrid Arauco
String Quartet by Yinam Leef
"Transformations" by Laura Kaminsky
String Quartet by Katherine Hoover
If you're thinking that Laura Kaminsky is the only composer who came up with an original name, Sesame Street trained you well. Yes, that's the one that doesn't go with the others, but there's more. All these pieces are their composer's first string quartets. None is called something like String Quartet No. 2 "Intimate Letters" or Op. 18, No. 4.
Even though the Colorado String Quartet has premiered some 50-odd pieces during its twenty-two year life, most recently the quartet has been working with a lot of composers new to the form. The quartet gets a lot of energy and collaborative flexibility from the composers but also some beginner's mistakes.
"Most composers aren't string players and string technique is very specific," says Julie Rosenfeld, a Colorado violinist. "They think that because the instruments are tuned in fifths, they should write in fifths. But it's a really horrible idea because playing fifths on the instruments, once you get past first position, is really hard to do. It tends to not be in tune.
"Composers are usually pretty open to changing things."
The Colorado's approach to new music is an enviable one. An established, well-regarded ensemble known for playing new works, presenters come to the quartet members with commissions in hand. "Will you appear on our series and play a piece we'd like to ask a composer to write for you?" presenters say. The quartet answers with an unsurprising, "Yes."
"Frankly, doing the commissioning takes a lot of time," Rosenfeld says. "We're more interested in rehearsing and practicing than in doing paperwork."
This relationship started with the quartet more involved in the process, going through tapes and selecting composers. Now the members have established long-term relationships with, among others, the Philadelphia Chamber Music Society, to play a new piece on its series every other year. The society selects the composers, pays them and does all the other arranging. The quartet can veto the choice, but rarely does.
"Sometimes the results are more satisfactory than others," Rosenfeld says without wishing to name names. She mentions Jan Krzywicki's String Quartet as a rewarding piece despite obstacles. It arrived in six movements without pause and as dense as it could be.
"It was one of the hardest pieces to learn, and it was very exhausting to play," Rosenfeld says.
"Technically, it was very expressionistic. It was written on his father's death, full of anguish, full of pitfalls. There were a lot of rhythmic things that had to be worked out correctly. Even the notes were hard. I had some really high licks."
The 1994 piece took the Colorado String Quartet two months to learn, "but you spend that much time learning the Schoenberg third, the Lyric Suite or Op. 131," Rosenfeld adds.
The Colorado String Quartet plays new music because it fits the quartet's programming and out of responsibility.
"There's a lot of classical repertoire, only some romantic music, then this great new repertoire," Rosenfeld says. "Some great music is being written for string quartet now. That's why we're playing it. We shouldn't be a dead ensemble, playing only dead stuff. There's still a lot that composers have to say."
Composers also get a good deal from a quartet. Unlike a symphony orchestra that has conservative tastes, huge production budgets and rules that can restrict rehearsal time, quartets can throw everything they have at new music. "We'll rehearse a piece until it's really good. We don't have a union or a contract that tells us when to stop rehearsing," Rosenfeld says. "Composers like writing for a string quartet because they know they're going to get a good performance out of it. Also, we really care about what it is we're doing. I'm not sure an orchestra cares about what its doing. They certainly don't have anything to do with what they're playing, the players they don't decide."
Despite its name, the members of the Colorado String Quartet live in New Jersey and Connecticut, having settled there after the quartet was took its name while in its infancy in residence at the University of Colorado. The quartet began in 1978.
The Colorado's shies away from experimental and minimalist music. The quartet doesn't like electronic tapes, speakers, amplification, soundboards or light shows. "It's so hard to tour with pieces like that. There's too much pain-in-the-ass factor," Rosenfeld says. "I have enough schlepping with my own instrument and suitcase."
A recent Colorado favorite is Karel Husa's Quartet No. 4, a piece with a lot of harmonics, pizzicato effects, glissandos, ponticello playing and other extended techniques, because, "it has a very Bartók influence, but in the final analysis it's quite tonal. It uses the instruments in an inventive way, but gives the listeners something to grab onto," according to Rosenfeld.
The quartet has also found great audience reaction recently from Katherine Hoover's quartet, which has an incredibly tonal third movement built around a Hopi lullaby. "It's not the most complex music –it's not nearly as hard as the Krzywicki – but there's an emotional bond with the audience. The pieces that we tend to be attracted to have an emotional resonance, a la Shostakovich or Janacek – pieces with that kind of emotional depth. I don't know what that means stylistically, but they tend not to be pieces that are lightweight."
This season the Colorado plays forty concerts on tour in North America, offering presenters three different programs. Because a New Orleans presenter is hosting the Colorado for a Beethoven cycle, one program in all-Beethoven, otherwise the quartet offers presenters the following choices:
I:
Haydn: String Quartet in F Major, Op. 55, No. 2 "The Razor"
Hoover: String Quartet
Schubert: String Quartet in G Major
II:
Mozart: String Quartet in B-flat, K. 589
Shostakovich: String Quartet No. 15
Mendelssohn: String Quartet in E-Minor, Op. 44 No. 2
III:
Beethoven: String Quartet in c-minor, Op. 18, No. 4
Beethoven: String Quartet in F Major, Op. 135
Beethoven: String Quartet in F Major, 59, No. 1
The presenters have picked the programs almost equally. Several interested by the first option with the new piece by Hoover have asked for a tape of it before deciding. Several others, including in Grand Rapids (which did the commissioning), Seattle, Albany NY, and Utica NY, chose the program sign unseen.
Many of the Colorado's other new music opportunities come through special concerts such as at the SoundFest Institute of String Quartets which the Colorado runs in Falmouth MA. Other chances come at events including a Kennedy Center retrospective of the music of Mel Powell or a potential 2001 Library of Congress series devoted to Irving Fine.
New music for the Colorado String Quartet is about obligation, not establishing a legacy of premieres. "How much of the music from the classical era gets played these days? I don't know, 30 percent? The music written today might have the same fate," Rosenfeld says. "But we as performers have a very poor view of what will survive. Audience reaction is different from the reaction that we have. But maybe Schuppanzigh had a better idea what would survive. Or maybe he played a lot of Boccherini and Spohr."
Four Quartets
By Frederick Kaimann
© 2000 NewMusicBox