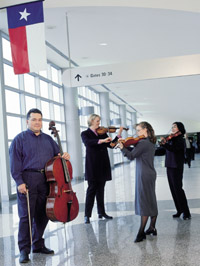 Harrington String Quartet
Photo by Shannon Richardson, courtesy Fellers Marketing & Advertising
If you think the new music centers for the string quartet are in the obvious big cities – New York, San Francisco and even Houston – the small town of Amarillo, Texas, has one word for you, Harrington.
As in Sybil B. Harrington, oil magnate, music patron.
Nineteen years ago the late Mrs. Harrington, as she is reverently called, decided to do something about the musical woes in her hometown (pop. 200,000), a place many describe as 400 miles from anywhere. Although she wasn't so wealthy as to endow a whole symphony orchestra, which she'd been a big contributor to, she did set aside a pool of money to give it a high-flying core. She funded the principals players within arms' reach of the conductor for full-time positions shared by the orchestra, the music faculty at West Texas A & M University and a new string quartet, uncreatively named the Harrington String Quartet.
With an endowment that now reaches $3.2 million, the Harrington String Quartet is an ensemble woven into the cultural life of Amarillo, beloved by the chamber music fan, respected by the symphony-goer and satisfying the new music listener. That's right, even in an environment that some musicians describe as a wilderness, the Harrington String Quartet is premiering new music and spending some of that fat endowment by commissioning new works by composers from nearby and far away.
"We have a loyal audience, and they really do enjoy hearing contemporary music," says violinist Annie Chalex.
Recently the quartet played George Crumb's Black Angels, complete with the wine glasses for bowing, cymbals to rub against the strings, in addition to various glass rods and a host of percussion instruments.
The quartet members were completely psyched about the event, brimming with such excitement that they told everyone they knew. So without a fancy marketing plan, the word of mouth buzz drew 400 people, the ensemble's largest audience in years, including one 10-year-old girl who was so inspired she wrote a short story about the event for school, sending the touching tale back to the quartet.
In fact, the Harrington String Quartet has become so popular in Amarillo that it is expanding a three-concert subscription series to four next year. (The ensemble plays between fifteen and twenty times in Amarillo, total, including outreach events and that increasingly popular Amarillo concert venue, the Barnes and Noble where the quartet is launching a series of children's programs including storytelling and performance.)
"Because we have an endowment, we have more flexibility so we don't feel as pressed to make a big fee from everything," Chalex said. "We're lucky in that way."
During the 2001-2002 season the Harrington String Quartet will play a new piece by Joe Nelson, the favorite son composer-in-residence at West Texas A&M. But the Harrington gets off campus too, commissioning a work by Samuel Jones, the Seattle Symphony's resident composer, for string quartet and orchestra. (Jones got his start as a music student at Rice University, so the Texans feel a bond.)
The quartet's goal is to give the world premiere of a new work every year.
While the Harrington String Quartet has had trouble keeping a stable membership (after frequent annual departures, the membership has now settled down with one member holding a nine-year tenure and another pushing four), the players have always had talent. As in years past, all four current players are Juilliard grads.
About three of the four players, Chalex says, "If we hadn't joined the quartet, we'd be members of new music ensembles. We have the spark in us. I don't know where it came from. I guess we went to schools that made it interesting and accessible. People say you have to be careful with your programming. I think that has nothing to do with it. It only matters how you present it. If we let our audience know how much we enjoy the piece, or certain aspects of it, they're going to like it too. (The Harrington String Quartet gives verbal program notes from the stage.) For example with the George Crumb, I was so into the amplification and keeping the cymbals on my fingers when I pressed down the strings. I loved the piece and gave the audience a sense of how I liked it. In a town like this, it's pretty easy to stick to Brahms and Beethoven, but we've had people ask for more contemporary music. We're thinking about making one concert all contemporary music."
And the quartet isn't too narrow about what it plays. "We've been experimenting with everything we can get our hands on," Chalex said. "We're not making judgment calls."
They've premiering Houston composer Charles Fitts's String Quartet No. 3 at the International Festival-Institute at Round Top this August. The quasi-minimalist composer is a former computer programmer who writes mostly in rhythmic patterns and variations. Contrast that spare sound with the lyricism of Samuel Jones or the electronic, passionate sound of Los Angeles-based Donald Crockett, Chalex's former teacher at the University of Southern California. (His String Quartet No. 2 is on Harrington's 2001-2002 season.)
To find out about new music the players travel some, but don't regularly get to many new music concerts other than their own. Instead they rummage through CD racks and see if they're turned on by what they hear, which is what happened with Black Angels.
But in that isolation, the Harrington String Quartet finds openness. When they tour with new music, the audience squints its eyes, looking for familiar names on the program. Locally, Amarillo ticket buyers are more forgiving, more willing to take chances.
Like a second hand clothing store with a sign reading "new to you," the Harrington four introduce new music and even lead the performance of music unfamiliar to the regular symphony audience. A few weeks ago the Amarillo Symphony played Beethoven's Symphony No. 9 "Choral," a piece unknown to some in attendance who leapt to their feet, crying with joy.
The orchestra only plays fifteen concerts a year. The Harrington String Quartet members lead sections populated by nurses, music educators and stay-at-home moms. The pros help with sectional rehearsals and in exchange learn a different side of musical life, building friendships with musically inclined people who don't live a full-time musical existence. The Harrington String Quartet grows deeper and deeper roots into Amarillo.
It goes back to advice Juilliard founding first violinist Robert Mann gave some of these players when they contemplated moving somewhere most of their colleagues had never heard of. "The future of quartets is not touring all over the place, but making an impact in a community," he said.
New York snobs recently told quartet members at a musicians' conference, "You can't stay in Amarillo. How can you get the exposure you need being in the middle of nowhere? How can you be fulfilled as an artist without hearing other concerts?"
Chalex smiles and responds patiently and more than a hint of personal and professional satisfaction: "We travel whenever we can, we talk to other groups, but we're making it. I have health insurance and a retirement plan. I have dogs, a house and a back yard. We're not in a rural residency. Amarillo is not rural. It's a smaller city. But we are the chamber music in this town. The community support is fantastic. We have no reason to want to leave. If anyone says we can't do it Amarillo, we're going to show them."
Four Quartets
By Frederick Kaimann
© 2000 NewMusicBox