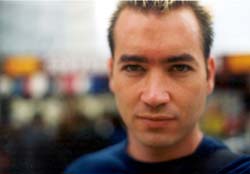 Randy Nordschow
The contemporary art world is always abuzz this time of year. This month will bring New York's Armory Show, an international art fair that collectors and curators swarm like moths to a flame, the always-anticipated Whitney Biennial, a sort of State of the Union address regarding America's contemporary art scene, which in 2002 was particularly sound art heavy thanks to Debra Singer, the museum's associate curator of contemporary art, as well as a slew of shows featuring sound-based work coming up right around the corner.
We figured this would be the perfect time to examine the parallels and connections between art and music, as well as that nether-place where all the lines seem to blur—this is the area that has preoccupied my own development as a composer and sound artist. From my first encounters through classes at Massachusetts College of Art and my subsequent discovery of their SIM (Studio for Interrelated Media) Department, which already had a helter-skelter history of its own spanning longer than my lifetime, I was fascinated by this new world waiting to be unearthed. By collaborating with filmmakers and installation artists I learned through osmosis what my art history classes didn't teach… I started to learn the ropes of the contemporary art scene. With just a little bit of investigation I quickly discovered that this type of creative work—where disciplines intermingle—had a long, rich history under its belt. For those not quite initiated, we asked Kenneth Goldsmith to plot out the lay of the land where too few maps exist.
For as long as I can remember, like some elaborate yoga pose, I've always had one foot in the music world and the other in certain art circles. After leaving the insular world of undergrad school and feeling rather reactionary, I decided that my work should be called "sound performance" rather than music—try pitching that to your local new music ensemble. Well, of course I didn't bother. Instead I culled my way through the syndicates of alternative galleries and performances spaces that at one time peppered the landscape of San Francisco's Mission District and South of Market area. As I continued to present work in these venues I noticed, thankfully, that my split-planted feet were slowly but surely moving closer together—not a moment too soon, I'm not nearly as fit and flexible as I used to be—and in the late '90s a boom of sound art inside museums and galleries across the country ushered in a new era that brought into question whether it is indeed better to been seen rather than heard.
I just returned from San Francisco where between getting my fill of burritos, chugging margaritas at my favorite haunt Puerto Alegre, and waving my "We all deserve the right to marry!" sign at City Hall, I performed at The LAB's 20th anniversary sound series Sound Rewound, a testament to the gallery's dedication to sound, new media, and the pluck to survive hard economic times by continuing to present work that falls between the cracks. I had nearly forgotten the breezy laissez-faire attitude permeating typical San Francisco life and art—anything goes, or at the very least anything is tolerated, if not appreciated or even celebrated. One of the Bay Area's most treasured conceptual artists, Tom Marioni, happened to be having an exhibition while I was out there. In predictable San Francisco fashion the artist himself was in the gallery tending to his ongoing project, The Act of Drinking Beer with Friends is the Highest Form of Art. Over a bottle of Pacifico (chosen for the longneck bottle's musical qualities, handy for the artist's Beer Drinking Sonata for 13 Players) we had a short discussion about the music he listens to and how it impacts his artwork—read what he and some other visual artists had to say on the subject.
This trip took me back to a time when labels and definitions used to roll off my back, and a place where nobody even cared whether you called yourself a composer or a sound artist—you could be both or neither. But make no mistake, for better or for worse there are definite differences between these distinctions. I can't think of two better people to help illuminate the sometime subtle differences between composers and sound artists than Marina Rosenfeld and Stephen Vitiello, both rising talents on the scene.
New music composers are starting to resemble fashion junkies, a tad bit label-obsessed. Okay, we're not the only ones… just try to spot a visual arts curator without Prada shoes! Of course in the commodity-driven world of contemporary art all the heavy players can glibly afford to be outfitted by Prada. I don't want to claim that the grass is greener on the other side, but for some reason composers can't seem to escape their own categories: neo-romantic, neo-classic, new complexity (assuming Ockeghem is old complexity), totalism (a summation of all that has come before). But let's face facts, when an artist gets tagged as, say, a post-minimalist it's usually just lip service. Of course curators and critics need these shorthanded pigeonholes in order to communicate and relate artists and their work within a complicated canonical evolution, but at the same time the art world at large seems to have the ability to disregard any baggage such a label might connote, regardless of how powerful or influential the proclaimer might be. On the other hand, composers will fight tooth and nail to dodge or achieve the mantle of "post-minimal composer" bestowed upon them. In contemporary music we tend to genuinely define ourselves and each other with these labels, accepting them as gospel and suffocating under their weight, rather than taking the grain of salt approach used by our visual art counterparts.
So why call yourself a composer these days? Perhaps for these very same reasons… to engage in a highly specialized, codified dialogue with music itself, including all the peripherals of fads, trends, labels, and what have you. For decades visual artists have been immersed in their own emblematic dialogue, overtly contextualizing their work through the prisms of politics, fashion, and everything in between, all this while composers were toiling with systems and theories—you know what I mean. John Kennedy concurs that composers tend to accept technique as content, which is a fair assessment in my opinion. What do you think?
It's right now, at this very moment, that this vast dialogue is cross-pollinating further than ever before—more and more visual artists are creating music and more composers are working outside the concert hall. So what's your next move?