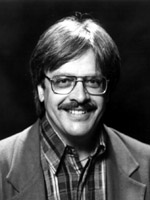 Fred Lerdahl
Photo by John Sheretz
Columbia University Professor Fred Lerdahl composed Time After Time in the summer and fall of 2000 for the Washington Square Contemporary Music Society and for Collage New Music. The two-movement work is approximately eighteen minutes long, and it is scored for flute, clarinet, violin, cello, percussion, and piano.
"Both movements employ my method of expanding variations, in which a simple and stable musical idea proliferates, becoming longer and more complex with each cycle," the composer has written. "As an idea expands, new ideas emerge at the interstices. Gradually unity turns into multiplicity." This process is "unbroken and fast" in the first movement. In the "more reflective" second movement, the process unfolds in two gradually converging streams. Dr. Lerdahl describes his use of "two opposing kinds of music" simultaneously as something new. "I have never composed anything that way before, and getting it right–making it sound "natural" and inevitable–took a lot of effort." According to the composer, "the title refers to the way in which the same elements return again and again, progressively differentiated and rearranged."
Dr. Lerdahl is a prominent music theorist as well as a composer. He feels that his two occupations are closely interrelated. "I got into theory because I wanted to make foundation for myself as a composer," he explained. "Thirty years ago, I went through a crisis over the issue of my musical language. I found that there were all these methods by different composers, each based on some kind of historical influence. None of this was very convincing to me. I realized that the foundation for my composing had to have some basis in an understanding of the musical mind."
Dr. Lerdahl has made it part of his life-work to explore "how we hear music." He has collaborated with cognitive scientists in "developing a number of detailed theories," which have been published in Current Musicology, Music Perception, and Perception and Psychophysics, as well as other scholarly publications. These theories have influenced his composing; sometimes, however, the process of composing has sparked the theories. "It goes both ways," he commented.
About twenty years ago, he remembers, he worked out a harmonic syntax within his first string quartet that he particularly liked, but didn't understand. "I was hearing harmonies as having a certain position within a phrase or a section, but I didn't have any theory of it at all." This month, Oxford University Press will unveil Dr. Lerdahl's Tonal Pitch-Space, his complete theory of harmonic functionality. "My whole theory of functionality is coming out twenty years after I composed it," he concluded.
Despite the great esteem in which he is held as both theorist and composer, Dr. Lerdahl worries that his work as a scholar has led some listeners to judge him in advance. "I have sometimes been relegated as the 'brainy' type," he commented. "This is misleading because I am also the 'heart' type. Indeed, the supposed antagonism of heart vs. brain (intuition vs. intellectuality, spontaneity vs. calculation, warm emotion vs. cold reason) seems to me to be a false opposition. Really good theory virtually disappears for the listener if it is employed in an intuitive way; this is what I hope to have achieved."
Dr. Lerdahl recently finished a piece, Imbrications, to commemorate Andrew Imbrie's 80th birthday. The Berkeley Contemporary Chamber Players, under the direction of Linda Bouchard, gave the premiere at UC Berkeley on April 2, 2001. At the moment he is revising his 6 Etudes for Flute, Viola, and Harp (the title may change). The piece, which was commissioned by the Orpheus Trio, "is just too hard for other groups to play," he commented. He is also writing a large chamber work for Speculum Musicae that will be performed next season.
Dr. Lerdahl has plans to record a new CD of his music, and Time After Time would be one of the pieces on the disc. On the question of whether or not the Pulitzer honor will affect the fate of the piece, he is noncommittal. "I don't know how many people know about [Time after Time being a Pulitzer finalist]," Dr. Lerdahl mused, "but I think it will be played around anyway."