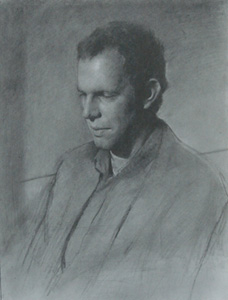 Portrait of the author by Michael Grimaldi, Affiliated Fellow, AAR
A couple of days ago I received an email written in Italian, with the subject "Good News!". The email was from a rather important Roman new music society, and it was telling me—using the imperative tense, rather than asking me—that I will be writing a piece for next year's season.
"Il pezzo che dovrai scrivere non dovrà superare i 7-8′ e dovrà essere inviato agli esecutori […]"
No commission fee or travel expenses paid. Nothing. Just the "honor" of having the opportunity to write a piece. The musicians happen to be very well-known Americans.
Do I accept this so-called commission, or do I turn it down in protest? Should I contact the performers and ask them if they, too, are "volunteering" their services?
At what point in your career can you afford to turn down a non-paying request for music? As someone who is trying to make a living through music, I find it rather humiliating to accept this work: It makes me feel like an amateur. But on the other hand, it would most likely receive a really wonderful performance, and it may begin an important relationship with good musicians.
If I turn it down, and another composer accepts it, this new music society may never adopt a new composer-paying policy.
***
In an aside, it turns out we have una piccola anti-semitic drama in our midst at the AAR. An affiliated fellow, here for a couple of months from Latvia, told one fellow that the war in Iraq and 9/11 are due to "the Jews," and that the four or five fellows who happen to be Jewish "bought" their Rome Prizes. Kudos to the playwright John Guare's suggestion that we all get up at dinner and inform everyone how much we each "paid," topping off the evening with hearty l'chaims.