NewMusicBox is pleased to welcome composer Anne Kilstofte to these pages to share her perspectives on the world of spiritual music. She recently completed her second Faith Partners Residency in 2008 with the American Composers Forum and has written more than 30 sacred works for ensembles from her two residencies alone. Kilstofte holds a Ph.D. in theory/composition and masters and bachelors degrees in composition and music technology. She is president of the International Alliance for Women in Music and presided over the recent Beijing International Congress on Women and Music in April 2008.—MS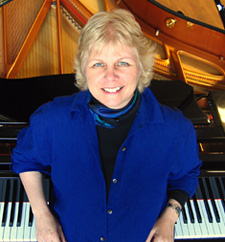 Anne Kilstofte

The first chords wheeze to life as an electric organ, set on full vibrato by a "Left-foot Lucy" begins the worship service. Talk about suffering. But then, for many, religion is about suffering, and some of that suffering comes from the music that must be endured.
Virtually all cultures have music in their spiritual worship. In some cultures, that is the only music they have. I've been invited to create a blog where we can discuss the issues of composing sacred music. Although I don't intend to discuss beliefs specifically, I do believe sacred music doesn't have to be about suffering—or guilt. Of course I didn't mention the thrill of hearing a truly great organist on the "king of instruments," or even the transcendence that a choir can attain. There are a lot of reasons to compose sacred music, hopefully realizing some of the more recently mentioned aesthetics rather than the former.
There are many composers writing sacred music out there, and it would be interesting to hear about your experiences, difficulties, and the trends you are seeing or think you're seeing—basically all of the things that you as a composer have been up against while composing for sacred ears.
I have heard from many church musicians, both those trained in sacred music, as well as those more generally trained, that certain styles are now being dictated. In some cases, separate services are being created for separate styles of music. Does style matter? And if it is does, does it come at a price? Do composers have to compromise in writing sacred music?
I hope that we can have some lively discourse on this and other topics revolving around sacred music. Please give us a snapshot of your experience in sacred music when you initially enter the conversation.