At a private reception held in their New York offices, the American Society of Composers, Authors and Publishers (ASCAP) honored 23 jazz composers—the eldest born in 1897 and the youngest born in 1987. The event marked the induction of 7 jazz giants to the ASCAP Jazz Wall of Fame, but also presented the first annual ASCAP Foundation Young Jazz Composer Awards to 16 up-and-coming voices in jazz. The juxtaposition of old and young, established and emerging, reflected on the rich jazz tradition in the United States and seemed to indicate that each young composer was capable of one day garnering a spot next to their heroes on the Wall of Fame.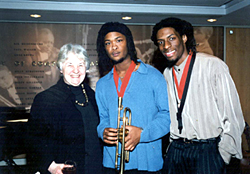 Frances Richard poses with the future of jazz
(l to r) Richard, Maurice Brown, Quamon Fowler
The ASCAP Foundation's Young Jazz Composer Awards competition invites any jazz composer in the United States under the age of 30 to submit their original compositions for review by a panel of ASCAP jazz composers. This year's judges, Cecil Bridgewater, Billy Harper, and Maria Schneider, selected 16 composers who were awarded cash prizes and 9 others were singled out with honorable mentions. ASCAP Vice President of Concert Music, Frances Richard introduced the 11 winners that were present at the ceremony.
Javier Arau, northern California native and Brooklyn resident, was enthusiastic about being honored by ASCAP. "Award winning is always kind of shocking and the way it works for me is that I'll send something out and it's like sending it out into this abyss and you never know when something might come back." His piece, Inside In, Inside Out, was the only piece for vocal jazz ensemble to be honored. Another winner, Ben Wendel from Santa Monica, pointed out the practical implications of such an award. "As a musician just starting their career, it's just great to be given the recognition and the cash…I was able to buy a Fender Rhodes, which allows me to compose, and then the news of the award has spread through my circle of friends, giving me a little more clout."
The ASCAP Jazz Wall of Fame:
William "Count" Basie
Sidney Bechet
Bix Beiderbecke
Benny Carter
Charlie Christian
Al Cohn
Nat "King" Cole
Miles Davis
Harry "Sweets" Edison
Roy Eldridge
Edward Kennedy "Duke" Ellington
Bill Evans
Ella Fitzgerald
Erroll Garner
Stan Getz
Dizzy Gillespie
Benny Goodman
Coleman Hawkins
Earl "Fatha" Hines
Milt Hinton
Johnny Hodges
Billie Holiday
Hank Jones
Jo Jones
Gene Krupa
Peggy Lee
Gerry Mulligan
Red Norvo
Charlie Parker
Bernard "Buddy" Rich
John "Zoot" Sims
Billy Strayhorn
Arties Shaw
Art Tatum
Dr. Billy Taylor
Fats Waller
Ben Webster
Joe Williams
Teddy Wilson
Lester Young
After looking into the future of jazz, the event turned to the past to honor the newest inductees to the Jazz Wall of Fame, which was inaugurated in 1997 and now has 40 names on it. ASCAP CEO John LoFrumento called the Wall, "our way of giving permanent recognition to the greatest exponents of our country's truly indigenous and unique musical art forms." ASCAP Board President Marilyn Bergman, who was not able to attend the event, nonetheless shares LoFrumento's sentiments. "Jazz is truly the music of America," she wrote, "and like the movies, one of our greatest home-grown art forms. The sheer diversity and magnitude of the individuals we honor this year—among them are composers, instrumentalists, and vocalists, each one an innovator—speaks to the richness of this living and endlessly evolving musical genre."
This year, a committee formed of ASCAP composers John Clayton and Johnny Mandel, and lyricist Alan Bergman selected the 7 honorees: Sidney Bechet, Al Cohn, Nat "King" Cole, Peggy Lee, Teddy Wilson, and Lester Young, plus "Jazz Living Legend" Hank Jones. The first six were all posthumous honorees. Clayton, the only committee member present at the reception, outlined the careers of each musician before inviting family members to come and speak on behalf of their relatives. Clayton handed over the reigns to legendary jazz pianist Dr. Billy Taylor to present the "Living Legend" honor to his longtime friend, Hank Jones. Both in their mid-80s, they joked about the past, reminiscing about when they were playing at clubs across the street from each other in 1940s New York.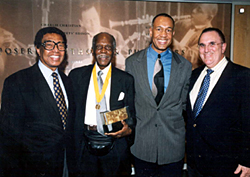 ASCAP honors "Jazz Living Legend" Hank Jones.
(l to r)Dr. Billy Taylor, Jones, John Clayton, John LoFrumento
But jazzers aren't known for their speaking, and although the impetus for the event was the presentation of these awards and honors, the highlight of the afternoon was definitely the musical performances by Jones and a pair of Young Composer Award winners, Maurice Brown and Quamon Fowler. The latter two, a trumpet player and saxophonist respectively, had attendees tapping their feet and nodding their heads as they performed their original, award-winning compositions. Jones and his ensemble added to the vibe and these performances temporarily transformed the drab office setting into the hottest jazz club in New York. "To me, that was the highlight of the awards ceremony, when those guys played and when Hank played," said Wendel, who admitted that awards ceremonies in jazz can be a bit awkward. "That's why we're here!"
But it was Teddy Wilson's son, James, who articulated the weight of the occasion best, when accepting his late father's induction onto the Wall of Fame. "Our father was also an educator," he began. "He taught at Juilliard and if he could be here this evening, I think he would have some words to say and it wouldn't be for the people up on the wall, and it wouldn't be for us, but it would be for the young jazz musicians over here who we saw earlier. Without you, this wall would end one day, but you keep the spirit alive, you carry the torch. So stay true, keep composing. It's up to you to keep the wall going."
The Winners of the ASCAP Foundation first annual Young Jazz Composer Awards are:
Javier Arau, 27, Brooklyn, NY
Inside In, Inside Out (4 Voices [S.A.A.T], Guitar, Bass, Drums)
Maurice Brown, 21, Ashland, IL
Rapture (Trumpet, Tenor Sax, Piano, Bass, Drums)
Quamon Fowler, 22, Ft. Worth, TX
The Reinforcement (Tenor Sax, Trumpet, Piano, Bass, Drums)
Ross Garren, 17, Carmel, CA
Smithomaniacs (piano)
Gordon Haab III, 26, Los Angeles, CA
Urban Transformation (Chamber orchestra & Jazz Quartet)
Jeremy Pelt, 26, New York, NY
Inner Sanctum (trumpet, tenor sax, piano, bass, drums)
Greg Reitan, 29, Los Angeles, CA
Man Overboard! (piano, bass, drums)
Bob Reynolds, 25, Astoria, NY
Where Did You Come From? (soprano sax, piano, bass, drums)
Sherisse Rogers, 24, Long Island City, NY
Waiting (Big Band)
Scott Routenberg, 23, Roswell, GA
The Leonids (violin, alto sax, guitar, piano, bass, drums)
Jeremy Siskind, 16, Irvine, CA
Infinity (tenor sax, piano, bass, drums)
Maxwell Snyder, 25, Mooresville, NC
Queen Anne's Revenge (alto sax, guitar, bass, drums)
Nicholas Urie, 17, Santa Ana, CA
Neo (flute, alto sax, 2 flugelhorns, trombone, guitar, bass, piano, drums)
Brian VanArsdale, 23, Roswell, GA
The Beginning and the End (Big Band)
Ez Weiss, 23, Portland, OR
I Regret (trumpet, alto sax, tenor sax, piano, bass, drums)
Ben Wendel, 26, Santa Monica, CA
Touché (tenor sax, electric piano, electric bass, drums)
Honorable Mentions:
Dustin Drews, 23, Miami, FL; Miguel Zenon, 25, New York, NY; David Stansbury, 22, New York, NY; Jason Goldman, 27, Glendale, CA; Mark Lemstrom, 29, Milpitas, CA; Hamilton Hayes, 25, Dallas, TX; Colton Weatherston, 29, Detroit, MI; Irvin Mayfield, 24, New Orleans, LA; Pascal LeBoeuf, 16, Santa Cruz, CA; Michael McMahon Webb, 16, Glen Mills, PA; and Thomas Cole Gardner, 16, Washington, DC
Wall of Fame Inductees:
Sidney Bechet (1897 – 1959)
Al Cohn (1925 – 1988)
Nat "King" Cole (1919 – 1965)
Peggy Lee (1920 – 2002)
Teddy Wilson (1912 – 1986)
Lester Young (1909 – 1959)
JAZZ LIVING LEGEND: Hank Jones