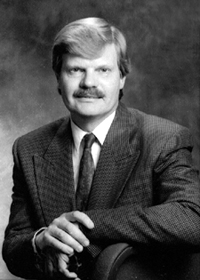 George Arasimowicz
Photo courtesy ASCAP
George Arasimowicz has been awarded the Nissim Prize to for his piece Encomia for ?, a 26-minute work for orchestra. The prize, given to a work requiring a conductor that has not been professionally performed, includes a cash award of $5,000.
Arasimowicz is the dean of the Division of Arts, Media and Communications, and a professor of music, at the Wheaton College Conservatory of Music in Wheaton, Illinois. He earned his doctorate at the University of California, San Diego and holds degrees from McGill University, the University of Toronto, and Carleton University. Along with having received numerous fellowships and awards for composing, he also has been commissioned by PBS, NPR, and CBC broadcasting networks.
The Nissim Jury recognized five composers for Special Distinction:
Jeremy Cumbo of Austin, TX for Tenchi (Heaven and Earth) for Orchestra
Peter Knell of Pasadena, CA for Rhythm Changes for Violin and Chamber Orchestra
Andrew Norman of Modesto, CA for Sacred Geometry for Orchestra
Tracy Scott Silverman of Nashville, TN for Electric Violin Concerto
Orianna Webb of Akron, OH for Xylem for Orchestra
The Jury recognized the following composers for Honorable Mention:
James Croson of Mount Dora, FL for Concerto for Piano, Percussion, and Orchestra
Jocelyn Hagen of Valley City, ND for Ashes of Roses a Requiem for Choir and Orchestra
Robert G. Hutchinson of Tacoma, WA for Dancing at the Strand for Wind Ensemble
Adam Levowitz of Katy, TX for The Tell-Tale Heart for Tenor and Orchestra
John Fitz Rogers of Columbia, SC for The Arc of Winter for Clarinet and String Orchestra
Judith Lang Zaimont of Edina, MN for Symphony for Wind Orchestra in Three Scenes
Now in its 24th year, the Nissim competition is open only to ASCAP composer members. Nearly 300 submissions were received this year. The judges for this year's Nissim Award were: Paul Lustig Dunkel, Music Director and Conductor of the Westchester Philharmonic; Paul Haas, Music Director of the New York Youth Symphony; Barry Jekowsky, Founder and Music Director of the California Symphony; and Mark Laycock, Associate Conductor of the New Jersey Symphony Orchestra, and Music Director of the Princeton Symphony Orchestra (NJ).