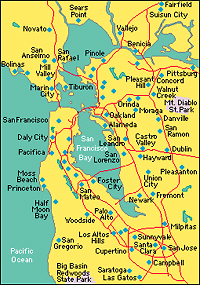 The hills of the Bay Area are alive with new music
The Wallace Alexander Gerbode Foundation commissioned 6 Northern California composers to create works for six nonprofit performer and producing organizations based in the San Francisco Bay Area. Originally intended to be for $25,000, additional funds provided by the William and Flora Hewlett Foundation doubled the amount of the grant to $50,000. The intent is that $25,000 will go to the composer as a commission and the other $25,000 is to be used for the production, presentation, and documentation of the work's premiere.
The six composers range from established Bay Area heavy-weights like Terry Riley, Paul Dresher, and the Pulitzer Prize-winning composer Wayne Peterson to emerging artists on the scene such as Keeril Makan, Miya Masaoka, and Pablo Ortiz. Performers and presenting organizations include the Kronos Quartet, the Pacific Chamber Symphony, the San Francisco Chamber Orchestra, the San Francisco Contemporary Music Players, the San Francisco Friends of Chamber Music with the Del Sol String Quartet, and the Yerba Buena Center for the Arts.
The grant recipients were chosen by the Gerbode Foundation staff and trustees advised by a 5-person panel that included pianist Gloria Cheng, composer/saxophonist Oliver Lake, Artistic Director of the Cultural Affairs Department at Florida's Miami-Dade Community College Georgiana Pickett, composer Rand Steiger, and Artistic Director of Seattle Pro Musica/composer Karen P. Thomas. Most of the premieres will take place during the 2003-04 season with the exception of Terry Riley's piece, which will be premiered in June 2005 to mark his 70th birthday.
A complete list of the winners:
The Kronos Performing Arts Association (a.k.a. Kronos Quartet) and Terry Riley
Sextet for Kronos, Riley (voice/piano), and Wu Man (pipa)

Pacific Chamber Symphony and Wayne Peterson
Chamber Orchestral Work

San Francisco Chamber Orchestra and Paul Dresher
Orchestral Work

San Francisco Contemporary Music Players and Pablo Ortiz
Choral and instrumental setting of sonnets by Chicano poet Francisco Alarcon for SF Contemporary Chamber Players and Chanticleer

San Francisco Friends of Chamber Music & Del Sol String Quartet and Keeril Makan
Work for strings and percussion

Yerba Buena Center for the Arts and Miya Masaoka
Work for "vocal orchestra" of over 100 singers