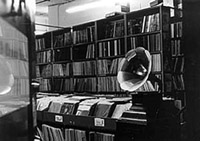 When I was 20 years old I, like generations of American college students before me, packed a suitcase and got on a plane for my junior year abroad in Paris. I had never been to a country where English wasn't the primary language and I remember in my post-departure panic saying to my French professor: "If you don't think I speak French well enough and that I'm going to be an embarrassment to my country, be honest with me and I won't go!" Of course, when I realized that most Americans in France practice what David Sedaris calls "Easy French" (simply speaking English louder), I eased into my new culture without a problem. When the cab driver dropped me off at my apartment, I knew I was at home. I have never been as comfortable in my life as when I was in Paris. I wanted to be Parisian, whereas I am not quite sure that I want to be considered a New Yorker. I believe strongly that every person has a corresponding place that feels like home and this is not necessarily (or even usually) where they are born. I was fascinated this month to find so many artists among the stack of new recordings who have moved away from their roots and ventured into the unknown to find their mental and spiritual homes.
Across the Ocean
It makes sense that many composers and musicians would have a desire to live in Europe. After all, many of our American musical traditions come from European roots and academic ties to European institutions are plentiful. Barney Childs took a break from the American West when he was invited to attend Oxford as a Rhodes Scholar and George Walker, like dozens of American composers before and after, sought the tutelage of Nadia Boulanger in Paris. Before this he had been studying in Fontainebleau about 45 minutes southeast of the grand French metropolis. Film and television composer extraordinaire Danny Elfman escaped from his native L.A. at age 18 to join a theater troupe in Paris with his brother and soon pushed off to Africa. Only a bout of malaria convinced him to return to the States! And bassist Andy McKee continued a long tradition of ex-patriot jazzers in the City of Lights, living in Paris in the mid-1980s.
The bustle of Rome (not to mention the American Academy there) has also attracted many American deserters throughout the past century such as Samuel Barber, Frederic Rzewski, and Alvin Singleton. Both Singleton and Rzewski extended their stays in Europe for a couple of decades!
As the Cold War came to a close, many artists started to explore the artistic resources of Eastern Europe and soon after the collapse of the Soviet Union, the Czech Republic has become a sought-after destination for young artists of all shapes and sizes, thanks to its ridiculously low prices, the legality of absinthe, and the Czech people's deep appreciation of serious music. Conductor Paul Freeman, who is an avid champion of American composers, it currently on the podium of the Czech National Symphony, and composer/flutist/conductor Daniel Kessner honors the beautiful nation with a recording of his chamber works that were created and/or performed at the Forfest annual music festival.
Some artists have venture farther afield in search of inspiration. Larry Polansky's time spent in Central Java continues to inspire his output as is evident on his newest recording. And although they hail from all over the US, Keith Jarrett, Gary Peacock, and Jack DeJohnette joined forces in Tokyo for a live recording. Due to the improvisatory nature of their music, one can't deny the impact of location on the performance.
Road Trip!
Because the United States is so vast, many artists are continually inspired by the variety within their homeland. Most composers seem to follow in the path of the pioneers and settlers moving from east to west. MIDI-raga composer Michael Robinson left New York City for Maui in 1989, backtracking a year later to land in Los Angeles. Jazzers Skip Heller, Mike Fahn, Terri Lyne Carrington, and contrabassoonist (whom I've also heard called "contra-nut") Allen Savedoff left their northeastern abodes for the palm trees of L.A. Improv artist Adam James Wilson stopped halfway west from New York in Ohio and Illinois for university, and legendary tenor saxophonist Charles Lloyd along with the funky tin hat trio both opted for the northern vibe of California. Composer Daniel Adams who specializes in percussion music took the southern corridor westward moving from Miami to Texas via Louisiana (and Illinois).
Although it appears that most movement among musicians seems to re-enact some kind of musical manifest destiny, many go against that grain. Some westerners have opted for East Coast attitude such as jazz old-timer Chico Hamilton who split time between Los Angeles (his hometown) and New York. Composer Phillip Schroeder left his northern California upbringing behind for an education in the East (he is now working in Arkansas) and classical saxophonist/Californian Jeremy Justeson slowly worked his way from West to East via his studies making stops in Chicago, Texas, and Pennsylvania. Chamber music composer Robert Baksa returned to his birthplace, New York City, after growing up in Arizona and conductor Jo-Michael Schreiber left his California home to lead the University of Miami Chorale, which is featured on a recording this month performing contemporary works for mixed chorus.
A few other folks made the trek from South to North. For example, North Carolina-native Billy Taylor arrived in New York City in 1942 at the age of 21 and soon was playing with all the big names. Meanwhile, academic composer Ezra Laderman inched his way up the East Coast from Brooklyn to New England.
Still others longed for the warmth of the South like pianist/composer and Doors fan George Winston, who made homes in Mississippi and Florida after his childhood in eastern Montana and, from what I can tell, Camelot composer and creator of musical soul portraits Richard Shulman headed to Asheville, North Carolina, after doing his university work in Western New York. And probably one of the most fascinating recordings for fans of folk music is one called I'm On My Journey Home, a collection of field recordings made by ethnomusicologists (mostly from the North!) of vocal traditions and techniques of southern Appalachia. My favorite has to be the recording of the tobacco auction!
And finally, winner of the Continental United States Jetsetter Award has to be Colorado-born, neo-romantic orchestral composer Frank Graham Stewart who has made homes in New York City, upstate New York, California, and Michigan!
Destination: U.S.A.
Now let's turn the tables for a moment and recognize the fact that the United States is also a prime destination for musicians and composers from all over the world. Composer Michael Gordon was born into an Eastern European community in Nicaragua before attending Yale University where he met the other two founders (David Lang and Julia Wolfe) of Bang On A Can, the new music ensemble whose most recent recording is a greatest hits compilation. The late Leo Ornstein was brought to the U.S. from the Ukraine by his family and then moved around the country elusively during his later years (including a stint in a trailer in Texas!) and MacArthur award-winning composer Bright Sheng, who lived through the cultural revolution in the People's Republic of China, came to New York City in 1982, and started teaching at the University of Michigan in 1995. On the newest recording from the Society of Composers, Inc., two of the featured composers, Maria Niederberger and Emily Doolittle, left their native countries (Switzerland and Canada respectively) to work and study in the U.S.
In addition to the ex-patriot composers that now call the United States home, many performers have done the same. New Age, multi-cultural violinist Farzad, who is originally from Iran, came to study in Indiana and Texas before becoming an orchestral musician in Ecuador. Pianist Sahan Arzruni, born in Istanbul to Armenian parents, is currently a resident of the U.S. and a key member of the ethnomusicological community. A recording of vocal music released this month is an ode to another ex-pat, the poet W.H. Auden, who left England for the United States in 1939 and subsequently split his time between New York City and Vienna.
I Ain't Goin' Nowhere
Ironically, some of the most adventurous music being made is by people who are relatively uninspired by the lure of a new setting. It seems that many native New Yorkers have no desire to reach past their own urban safe haven for more than a vacation here and there, but they make the most of their lush multi-cultural surroundings. Latin jazzers Bobby Sanabria and Steven Kroon have gleaned their inspiration from the outer boroughs while jazz maverick Dom Minasi proudly proclaims New York as his home. Avant-garde pop artist David First has the New York Metropolitan area running through his blood and the improvising quintet of Jimmy Williams, Michael Jefry Stevens, Joe Fonda, Herb Robertson, and Harvey Sorgen uses New York as their base. Meredith Monk and Leonard Bernstein are the face of the New York musical sensibility for me. Despite the Grove Dictionary's claim that she was born in Lima, Peru, Monk was born and raised in the NY metro area, but Bernstein is actually from Massachusetts. Although tell me—who is more New York than Leonard Bernstein??? This perhaps supports my point that where your spirit belongs isn't necessarily where you were born! Some Californians also seem pretty content with their setting such as "swamp rocker" Lisa Haley and improv-oriented trumpeter Jeff Kaiser, who has two new albums out this month, one with Brad Dutz and the other with his ockodektet. At the same time violinist (a simplification, I know) Mat Maneri continues to rock the New England improv scene.
All this talk of exploration, new places, and new sounds has inspired me. So I am going to leave you now, as I am catching a flight to Istanbul tomorrow to get some perspective. Happy travels and happy listening.