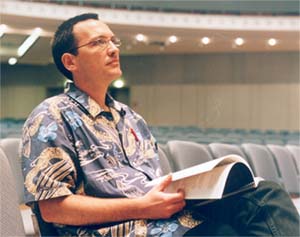 Osvaldo Golijov
Photo by Michael Krasser
Composer Osvaldo Golijov has been named one of 24 new MacArthur Fellows for 2003, The John D. and Catherine T. MacArthur Foundation announced October 5. He will receive $500,000 in "no strings attached" support over the next five years.
Announcing the awards, Daniel J. Socolow, the director of the MacArthur Fellows Program, noted that although the 24 winners are engaged in vastly different areas of work, from—biophysics to blacksmithing—"each is highly focused, tenacious, and creative. As in past years, these Fellows are not only very good at what they do, their work is distinctively bold and original."
On top of the breath-catching size of the financial award, there is an intriguing veil of mystery surrounding the award—there's no application and no interview. A 12-member anonymous selection committee and the Foundation's board of directors make their decision based on the recommendations of several hundred anonymous nominators. Award-winners are notified by phone the week before the public announcement.
The MacArthur Fellows Program is structured "to emphasize the importance of the creative individual in society." There are no restrictions on how recipients may use the money and no reports are required. Jonathan F. Fanton, president of the MacArthur Foundation, explains that the Fellowship simply "offers highly creative people the gift of time and the unfettered opportunity to explore, create, and accomplish."
MacArthur Fellows 1981—2003: Music
(Courtesy the MacArthur Foundation)


Babbitt, Milton
Blake, Ran
Braxton, Anthony
Coleman, Ornette
Eaton, John C.
Golijov, Osvaldo
Harbison, John
Hough, Stephen
Khan, Ali Akbar
Lacy, Steve
Lewis, George
Meyer, Edgar
Nancarrow, Conlon
Perle, George
Reagon, Bernice Johnson
Roach, Max
Russell, George
Schuller, Gunther
Shapey, Ralph
Sheng, Bright
Taylor, Cecil
Vandermark, Ken
Williams, Marion
Wuorinen, Charles

Theater and Performing Arts
Monk, Meredith

Golijov, 42, is currently associate professor of music at College of the Holy Cross in Worcester, Massachusetts. Greatly influenced by his Jewish heritage and Argentinean upbringing, Golijov is known for his ability to synthesize cultures and genres. His Pasión Según San Marcos (2000) was met with a flurry of international critical and audience acclaim. A decade-long association with the Kronos Quartet has resulted in the creation of some 30 works, as well as the Nonesuch releases Caravan and the Grammy-nominated Nuevo. In addition to Kronos, Golijov's work has been performed by ensembles such as the Boston Symphony, LA Philharmonic, Minnesota Orchestra, New World Symphony, London Sinfonietta, and the Birmingham Contemporary Music Group.
Golijov studied composition at the Rubin Academy in Jerusalem and received his Ph.D. (1990) from the University of Pennsylvania. He was a Fellow at the Tanglewood Music Center (1990) before joining faculty of the College of the Holy Cross in 1991. Golijov also serves on the faculties of the Boston Conservatory and the Tanglewood Music Center.
When I spoke to Osvaldo Golijov a few days after the announcement, he was still reeling with excitement over the award. He turned out to be not only the dedicated and talented composer the MacArthur Foundation identified him as, but also a charming and humble man. He had this to say about the honor:
Molly Sheridan: I know you find out you've won a MacArthur awards with just a phone call, pretty much out of the blue. Tell me a little about yours—when you got it, what your first reactions was…
Osvaldo Golijov: I guess my reaction was like everybody else—totally stunned. I think that they expect that reaction because the second thing they say is that they are sending you also a FedEx letter to confirm that this is not a joke. So yeah, I mean I was completely…and still, it's a major readjustment in life—from chasing the carrot and trying to do what you love but also to put the food on the table for the children and so forth, to saying, 'Oh, wow, I can do whatever I want and they will still eat.' [laughs] That's very nice.
Molly Sheridan: Obviously it's a lot of money. Do you have any idea what you might do with it yet? I know it's very soon, but are there any projects you've been thinking about that you just haven't known how you would fund?
Osvaldo Golijov: Yeah, well there is one kind of piece that I wanted to do and I hope that maybe as a large instrumental piece I can make it work, something based on music of the Middle East with pre-recorded voice and instruments and maybe an orchestra. I mean something big with that kind of material.
Molly Sheridan: What made you interested in the Middle East for this. I mean, is that influenced by current politics or is it more personal?
Osvaldo Golijov: Well, yes, but also with history and with my own life. I lived there. It's something that I feel, in the same sense that I did the Pasion before. This is something that I feel brewing inside and this is an opportunity to let it out.
Molly Sheridan: I know a lot has been made of your Jewish heritage and your Argentine upbringing. But you've been working in the U.S. and teaching here for quite some time now. How does that impact the music that you write now?
Osvaldo Golijov: Well, of course it has a huge impact. As you said, I am living here. I've been living here for almost 20 years. Living in Argentina I wasn't in contact with people in Cuba. Living here I am [laughs] or with Japanese. So it's amazing. I think that most of the places that we consider to be very colorful in the world are very provincial when you compare them to the big cities in the U.S. in terms of the diversity, of the richness. Just to see the classrooms of my children is an experience that I wouldn't have had either in Israel or in Argentina.
Molly Sheridan: I know a big part of the MacArthur is the trust that you will spend the money wisely. No one ever went to Las Vegas and blew it all.
Osvaldo Golijov: Yes, I was wondering if I would spend it faster than Mike Tyson or slower.
Molly Sheridan: I think they feel that the winners are so dedicated to the work already that you probably wouldn't even think of spending it any other way. Do you feel that's accurate and do you know how that sense of commitment to the music developed in you?
Osvaldo Golijov: Oh, yeah. I wouldn't know what to do with myself if I didn't write music. I mean I don't play golf. [laughs] The interesting thing is that I still have insomnia. I thought sometimes that the insomnia was because of the lack of money, but obviously it's built in. So I love to work, to wake up early and work. It's what makes me happy. And it makes me much happier when I know that my children don't have to suffer because of my own pleasure, so to speak.
Molly Sheridan: You devote part of your career to teaching other composers. How do you think that adds or takes away from the music that you are able to write?
Osvaldo Golijov: Well at the moment I'm teaching what is ideal for me which is just one day a week. And I love having the feedback of young people and learning from them. I mean, being in touch with the young generation can only be good for you. In my specific case if I did it any more it would be at the expense of my writing. So this is a nice balance but every person is different. For me it is a nice combination, but my primary love is writing.
***
On an unfortunate aside, performances of Osvaldo Golijov's new chamber opera Ainadamar, which were to have taken place the last weekend of October at the Brooklyn Academy of Music, have been cancelled due to the illness of soprano Dawn Upshaw. "Performing as part of Osvaldo Golijov's Ainadamar was a great joy for me at the world premiere in Tanglewood this summer," said Upshaw when the cancellation was announced. "I regret not having the chance to share this remarkable work with the New York audience now and very much hope that efforts to reschedule the performances will be successful."
Ainadamar was commissioned by the Boston Symphony Orchestra for co-production by The Tanglewood Music Center, Lincoln Center for the Performing Arts, and the Los Angeles Philharmonic. It was to have received its New York premiere as a co-presentation of Lincoln Center's Great Performers "New Visions" series and BAM's Next Wave Festival. Lincoln Center and BAM hope to present Ainadamar in a future season in New York. The next scheduled performance is at the Los Angeles Philharmonic on February 29, 2004.