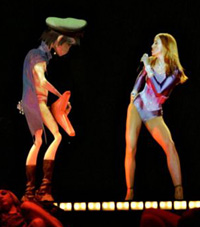 Gorillaz and Madonna virtually together at last
East Coast music fans had a tough decision to make last night: Tune in CBS for "music's biggest night," a.k.a. the 48th annual Grammy awards show or gamble on catching a glimpse of the next big pop star on American Idol, which aired on FOX at the same time. Grammy viewers were treated to a rather bizarre opening number by the Gorillaz, with the band rendered in 3-D computer animation that was not quite up to Pixar standards performing their multi-nominated underground hit "Feel Good, Inc." Things got even weirder when real-life hip-hop act De La Soul joined the caricatures on stage then leaped into the virtual crowd, consisting of piles of corpses several layers deep—you could feel the giant collective huh? all of this unleashed in living rooms across the country. And just when the jockstrap-clad mutant guitarist's pelvic thrusts went from funny to downright creepy during the song's instrumental section—the cartoon singer appeared bored and started sending text messages on his cell phone—Madonna butted in with her Hi-NRG retro single "Hung Up." At 47-years-old, Madge was all legs and golden feathered hair, proving yet again she still knows how to work a living and breathing crowd while wearing a corset.
Green Day took home the coveted record of the year honor for "Boulevard Of Broken Dreams," confirming that last year's win for best rock album with American Idiot wasn't just a fluke. Last night's big winners were U2, scoring song of the year for "Sometimes You Can't Make It On Your Own" and album of the year for How To Dismantle An Atomic Bomb. Mariah Carey made a comeback, winning three Grammys in the pre-televised ceremony, including best contemporary R&B album for The Emancipation Of Mimi. Back on the air, past American Idol winner Kelly Clarkson got teary-eyed accepting the award for best female pop vocal performance for the ubiquitous "Since U Been Gone."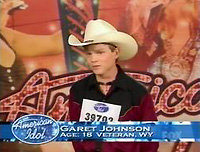 The next American Idol?
Luckily she managed to keep her composure when she won again; this time Breakaway won best pop album. Worry not American Idol fans—channel surfing during commercials revealed that Garet Johnson, a.k.a. the crying cowboy, got through to the next round. So, unless you're an insane Bob Barker fan with a Price Is Right addiction, or actually have a date on Valentines, the airwaves are free and clear for the next American Idol episode. Program your TiVo now.
Alright then, let's get to the stuff we actually care about. Sure, they're awarded in a ceremony prior to the glamorous red carpet celebrity fest, but nevertheless that little gold statue is already on its journey home to the mantels of yesterday's classical music winners and their statues are just as sparkly. Hey Mariah, we know how you feel. Anyway, going into the race, William Bolcom's Songs of Innocence and of Experience was lauded by critics even more than Brokeback Mountain, receiving a total of five nominations. In the end Songs managed to take home three trophies: best classical album, best choral performance, and best classical contemporary composition. The album's producer, Tim Handley, was even awarded producer of the year in the classical category. However, the Naxos breadwinner lost in the categories of best engineered album, classical and best classical vocal performance to Deutsche Grammophon releases—the Emerson String Quartet's complete Mendelssohn set and cantatas by Johann Sebastian Bach, respectively. Deutsche Grammophon also stomped over other contemporary music hopefuls, such as Michael Daugherty (trounced by Beethoven) and John Harbison (passed over for Boulez—are there four B's now?).
Winners in the jazz categories were somewhat middle of the road for my tastes. Best contemporary jazz album went to Pat Metheny Group's The Way Up. Overtime by the Dave Holland Big Band took home the best large jazz ensemble album and Wayne Shorter Quartet won best jazz instrumental album for Beyond the Sound Barrier. Best Jazz Instrumental Solo was awarded to Sonny Rollins for "Why Was I Born?" from Without A Song: The 9/11 Concert. Rounding out the list is Eddie Palmieri's Listen Here! voted best Latin jazz album and Good Night, And Good Luck by Dianne Reeves won best jazz vocal album. Granted, all of this stuff is good, if not safe. And it's not like Kenny G swept the awards—fact is, the way in which categories are set up, there's no chance for a sweep in jazz, much less multiple nominations. But overall it seems only 100 percent scronk-free jazz gets represented. It boils down to this: Toni Braxton, yes, Anthony Braxton, no.
Grammy viewers who tuned in to see the jazz and classical music results had to pay very close attention to their screens as these periphery awards were discretely flashed in a CNN stock quote-style throughout the broadcast. As usual, despite some excellent performances, the ceremony seemed really, really, really long. But for those who like their 11 o'clock news sometime after 11:30, there's only a few more weeks to go until we find out if John Williams wins best film score for Munich or Memoirs of a Geisha. I'm holding my breath. And, the next American Idol—uh, I mean—the Oscar goes to…