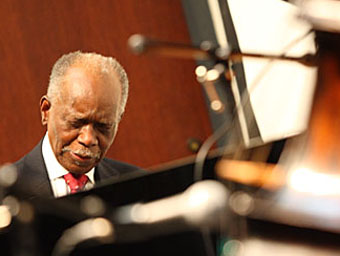 Hank Jones
Photo by Eric Manacsa
Composer, pianist, and jazz legend Hank Jones died May 16, 2010, in New York City after a brief illness. He was 91 years old.
Jones remained remarkably active in the final years of this life. His most recent album, Pleased To Meet You, a session co-led with pianist Oliver Jones, was released last October. He was also a guest artist on a duets album with vocalist Hilary Kole which is scheduled for release in August. His final recording was an album of duets with bassist Charlie Haden, which will also be issued later this year. Jones was scheduled to appear at Birdland in New York City next week and had performances booked into next year.
Jones was born in 1918 in Vicksburg, Mississippi, and grew up in Pontiac, Michigan, the eldest of the acclaimed Jones family, which included trumpeter, composer, and bandleader Thad Jones and drummer Elvin Jones. He started playing in local bands in Michigan, Ohio, and Buffalo, New York, before moving to New York City in 1943. His first job was with Hot Lips Page at the Onyx Club on 52nd Street where in 1945 he joined Billy Eckstine's big band. The following year he joined Coleman Hawkins and from 1947 to 1951 he toured the world with the Jazz at the Philharmonic (JATP) accompanying Ella Fitzgerald. In 1952 he joined Artie Shaw and then worked with Johnny Hodges followed by Tyree Glenn. In 1956 he joined Benny Goodman at the CBS studios as staff pianist in 1959, a position which would last for 17 years. Additionally, Jones accompanied Marilyn Monroe as she sang "Happy Birthday Mr. President" to John F. Kennedy at Madison Square Garden in 1962.
Although the thought of retirement had crossed his mind, at 87, Jones stayed busy playing concerts worldwide, recording and performing at jazz master classes at various schools, such as Harvard University and New York University. Jones was one of the last surviving musicians of an era that helped define jazz. Throughout his career, he played and recorded with a virtual who's who of jazz, performing on over five hundred albums and CDs.
Jones's recent accolades include a Congressional Achievement Award, NEA Jazz Master (1989), induction in DownBeat Magazine's Jazz Hall of Fame (2009), the Jazz Journalists Association's Pianist of the Year Award (2009), and a GRAMMY Lifetime Achievement Award (2009).
(—Condensed from an obituary announcement released by DL Media)