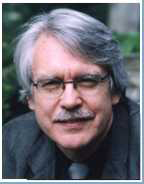 John Harbison
Photo © Katrin Talbot (Madison, WI)
Courtesy G. Schirmer / Associated Music Publishers
On November 19, 2010, from 11 a.m. to noon EST, composer John Harbison will participate in a live, hour-long streaming interview from the stage of Boston's Symphony Hall during which he will answer questions, including those posed by web visitors through the Boston Symphony's free online media center. This event marks the first time the Boston Symphony has streamed an event live over the internet.
The interview, moderated by BSO Assistant Artistic Administrator Benjamin Schwartz, is being conducted in advance of the BSO's performances of Harbison's Symphony No. 1 (November 26-30) and Symphony No. 2 (December 2-4), which is part of a two season initiative to feature a complete cycle of John Harbison's symphonies, including the world premiere of the BSO-commissioned Symphony No. 6.
The live event is part of the BSO's 2010-11 online Classical Companion series, which has had approximately 1.5 million visitors to date. After the one-hour conversation streams online, it will be accessible as a video via the BSO Media Center and the BSO iTunes App.
—Condensed from the press release