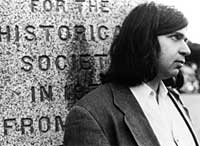 Frank J. Oteri
Photo by Melissa Richard
I have a couple of friends who are as addicted to sports as I am to music. Although for the most part I don't share their enthusiasm, I am able to identify with their defining character trait because I share obsessive fan behavior. And seeing how this behavior translates to the very different medium of sports has been extremely helpful to me as a way to objectively get a grasp on music and how it relates to the general life of its practitioners as well as to its audiences.
For example, many times over the years when making plans to go out to dinner with my sports friends, they insisted there be a television nearby so they could watch a game. "Why don't you just tape it on your VCR and watch it later?" I'd query them with my music-archivist sensibility. They thought I was nuts, but I'm always asking people to send me tapes of concerts I can't attend. "What's the point of watching the game if you know how it's going to turn out?"
That, I was able to translate…
As a new music enthusiast, I've frequently railed against concerts of nothing but standard repertoire. Without a piece of unfamiliar music on the program, where's the suspense?
Of course, in a jazz concert there's always suspense because important elements of the music are created on the spot in the improvisations of the players. (No wonder so many jazz fans I know also love baseball.) But, most jazz players are also quick to point out that few things are left completely up to chance.
So then, what exactly is a jazz composer and what constitutes a jazz composition? I talked with Ben Allison, Frank Kimbrough, Ted Nash, Michael Blake and Ron Horton, the five composers-in-residence of the Jazz Composers Collective and got at least five different answers. Howard Mandel, in his exploration of the composition/improvisation divide in jazz, has even more answers. Free jazz reed-master David S. Ware, bluegrass visionary Tony Trischka, klezmer wizard David Krakauer, and violin improv maestra Regina Carter provide some additional thoughts about improvisation in the performance of many kinds of music. We ask you to offer you thoughts on improvisation, spontaneity and harnessing the random element.
The music world at large, both the mainstream classical music establishment and the popular music industry, which all too often seem to rely on the "tried and true" of performance and repertoire sameness, can learn a great deal from how improvising performers make every event a new experience. That never-ending quest for the new is what connects jazz players and improvisatory musicians in other musical genres to the field of contemporary concert music. This field is constantly reinventing itself, as evidenced by this month's News stories about Bang On A Can's new record label Cantaloupe as well as Starkland's commissioning of 13 American composers to create special sonic environments for the first-ever new music DVD-Audio in 5.1 Surround Sound. The audiences for contemporary concert music and improvised music are kindred spirits, and if I may dare say it, so are sports fans…
Fittingly, many of the recordings featured in this month's SoundTracks include improvisatory elements as well.