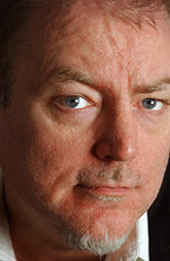 Steve Dollar
Photo by Valerie Trucchia
One day last March, the composer Rhys Chatham found himself seated in the back of a van, rolling down the highway somewhere between Louisiana and Texas, headed to a showcase at the annual South by Southwest Music Conference in Austin. Up in the front, David Daniell, one of the guitarists joining Chatham on a rare American tour, was dialing through the menu on his iPod. The selection could have been filed broadly under "heavy metal"—the 1970s progeny of British bands like Black Sabbath and Led Zeppelin that welded blues-rock to gothic mythologies and reigned over a nation of mullet-headed kids getting stoned in America's high-school parking lots. More specifically, though, the dark materials Daniell was about to unload through the van's stereo came from a later period, beginning in the early 1990s, when one of metal's myriad offshoots began to flourish in California and the Pacific Northwest—parallel to the not-unrelated rise of Nirvana and its grungy peers.
The music was heavier than heavy. It sounded like a slower, spacier, iron-legged inversion of the punk-influenced thrash-metal of Sabbath's latter-day inheritors—wildly popular groups with names like Metallica and Slayer—who combined the form's prize-fighter punch with speedy virtuoso guitar licks and an appetite for destructive imagery. Indeed, compared to such fierce tempos, this stuff felt narcotic. In the world of metal, whose bands are obsessively categorized into hyphenated subgenres that mutate and multiply like exotic viruses, fans had taken to calling it "doom metal." Depending on which band it was, or what phase the musicians were passing through, someone might also call it "stoner metal," "drone metal," "ambient metal," or, more to the point, "sludge." Imagine, if you will, the rhythm of a glacier paving over a Neanderthal village in a blanket of ice or a jackhammer in suspended animation—and the way in which an extremely restricted number of notes might repeat over and over, sour and bleeding with distortion, like a groaning abyss that never stopped swallowing. Think of an endless instant, ripe with distortion, amplified so loudly that the soundwaves induce a physical sensation in the listener. Now hold that thought.
Now 54, Chatham, a one-time La Monte Young student and the founder the music program at the non-profit performance space The Kitchen (when he was only 19), is a crucially important second-wave minimalist. Inspired by his discovery of punk rock and The Ramones at the now-defunct club CBGB in 1977, Chatham introduced the concept of the "guitar army" to the new music canon soon after that. He's no stranger to the power of volume and repetition. Like many of his contemporaries, including Tony Conrad, Philip Glass, and Terry Riley, he was as influential on rock music as it was on him. As the Chicago Reader recently noted, his recordings from the period "sound like the good parts of every Sonic Youth record run together." In fact, Chatham's seminal pieces such as "Guitar Trio" (1977), with their deliriously chiming overtones and propulsive motion, anticipated the harmonic hoodoo of bands like SY and other noisy, arty acts that followed. Indeed, some of their guitarists cut their teeth working with Chatham. But the composer, whose work has intersected with everything from punk to electronica, had never heard anything like what was oozing out of the van's speakers. "What is this?" he asked. As it turned out, the tune was "Dopesmoker," from the 1991 recording of the same name by Sleep, a long-defunct California act that now ranks among the most influential in the always-amorphous metal underground.
The next day, Tony Chatham was joking around with tour mate and fellow new music rabble-rouser, Conrad—whose early 1960s work presaged the Velvet Underground—and proposed the idea of a "minimalist metal" band. But here's the punch line: It wasn't a joke. In 2007, Table of the Elements will issue the debut album by Chatham's new band Essentialist, a five-piece outfit boasting a clutch of young guitarists. Their music applies some of the lessons of heavy metal in its various guises to the amped-up minimalist compositions that have been Chatham's calling card. Though the sound probably owes more to the staccato riffing of vintage Metallica shorn of that band's Wagnerian tendencies, the project also illuminates fascinating connections between already rock-friendly minimalism and the latter-day "stoner"-type metal outfits that sparked Chatham's epiphany.
"Classical composers have always been influenced by 'popular' music," says Chatham, who wryly comments that he turned from guitar to trumpet during the 1980s because he could never play as fast as Black Sabbath's Tony Iommi. "Stravinsky and Copland, Bartók, certainly, not to mention the Queen Elizabethan composers like Giles Farnaby with compositions like 'Bony Sweet Robin.' But here, with heavy metal, we have groups like Sleep and Sunn O))) being influenced by composers like me, Tony and La Monte, Steve Reich, Philip Glass. There is now a real conversation going on, amplified by the record industry mass-releasing all this music, so that everyone can hear it easily."
Recently, in a New York Times Magazine profile, guitarist Stephen O'Malley of the band Sunn O)))—currently acclaimed as the genre's leading exponent—namechecked composers like Chatham, Conrad, and Reich as significant influences. Sunn O)))'s music is commonly filed under the "doom" category, even though O'Malley and his partner in the group, Greg Anderson, eagerly work to blur such distinctions. The name Sunn O))) is pronounced "sun," and is an homage to a brand of amplifiers used by the veteran Seattle band Earth, whose leader Dylan Carlson all-but-patented the drone metal concept on albums like 1991's Extra-Capsular Extraction. (Carlson still records as Earth, and also collaborates with Sunn O)))'s members on projects for the band's Southern Lord label.) Earth was first active in Washington around the time O'Malley and Anderson met and began playing together in more conventional bands with names like Burning Witch and Goatsnake. Though late 1980s European acts such as Cathedral (from Coventry, England) are generally credited with seeding the genre, it found particular root around the same scene that produced Nirvana—Earth recorded for the same local (and now-legendary) Sub-Pop label—and hailed as heroes by an art-damaged trio called the Melvins, who combined Black Sabbath sludge with an attitude that was part punk rock and part Dadaism.
O'Malley and Anderson would follow divergent paths, but came back together in the late 1990s to form Sunn O))). They recorded the first Sunn O))) record, The Grimmrobe Demos, in 1999 with a goal to reinvent the form in their own image, throwing out the rulebook with each new project. They were completely underground at first, but their audience has rapidly expanded. Sales of the 2005 conceptual album Black One have topped 10,000 copies—a "hit" for an independent label, though distant from the multi-platinum status of, say, Metallica, who have become the Rolling Stones of metal. Listening to Sunn O)))'s performances, in which single notes flatten the space around them until they sublimate into something atmospheric—like cloud formations dark with raindrops—it's easy to hear how the band could be the missing link between the slabby mania of Black Sabbath's "Paranoid" and the supersized drone of Tony Conrad's Four Violins.
Interviewed recently in the British music magazine The Wire, drummer Chris Hakius, formerly of Sleep and now half of the duo Om, was played Four Violins in a blindfold test. "When people throw around the term 'stoner,' I think this is more stoner than us," he said, "and it's more stoner than anyone who claims to be that. That right there, without any drugs whatsoever, that makes you feel high."
O'Malley elaborates a little more: "I'm really into people like La Monte Young and the mathematical intonation they brought into music that's 4,000 years old." Of course, referencing such names gets the band criticized by some quarters of the metal community, which can be sharply fundamentalist in its tastes. Indeed, Sunn O))) is linked to a diverse assortment of metal-derived bands that don't fit the genre's anti-intellectual image. Groups like the Japanese trio Boris, distributed in the U.S. by Sunn O)))'s Southern Lord label, might even be called "post-metal" in that they approach its various strains as sources to be scrambled rather than canonized. Om has plunged into a style that is profoundly meditative. Satan would be displeased with such minions, but these bands are drawing more art-wise listeners to music they may once have laughed at or dismissed as an adolescent indulgence. That doesn't necessarily help impress the hardcore metal fans, though.
"They think we're trying to spruce it up," O'Malley notes, amid references to Sunn O)))'s interest in using "sound pressure" to shake up its audience's innards. (Its shows are notorious for long-tone detonations of something called "the brown note.") Along those lines, O'Malley reflects on a recent tour as an opening act for Celtic Frost, a vintage European black metal act. Its audience, the fiercely loyal kind that buys $25 T-shirts and thirsts for mordant majesty, had mixed feelings about Sunn O)))'s experimental antics, even though the kids probably dug O'Malley and Anderson's scary black robes. "It was our first show, at the Fillmore in San Francisco, and I looked out at their crown and realized we do not have a metal crowd by any means compared to this," he says. "It was like there was exactly 50 percent cheering us, and 50 percent going 'you're fucking bullshit.' Imagine if it was 10,000 years ago and you had your tribe and you thought you were a metal tribe, and then the real metal tribe came over, you'd lose your territory pretty fast."
Chatham's Essentialist and Sunn O))) gigged at the same kind of New York and Chicago venues within weeks of each other—clubs like Tonic, the Knitting Factory and the Empty Bottle—where open-eared listeners bring expectations that are attenuated less by mainstream exposure than insider awareness. "Our audience is pretty diverse," O'Malley says. "I think we appeal to people who are really interested in sound and music and new experiences and listening."
But O'Malley is also aware how quickly such territory shifts as tribes—and genres—splinter. Almost no popular music is as mutable as any labeled metal. It rivals electronic music as a constant incubator of new, often amusingly hyphenated categories. "You could have something called Psychedelic Viking Metal," O'Malley says, "and there would maybe be two bands in the scene. And then one of those bands would introduce a new element and there's a big shake-up."
Even without footnotes, though, the parallel developments of minimalism and metal during the past 20 years would offer some heady crosstalk. "I find a tremendous degree of relation between much heavy metal and some of the structurally minimalist approaches to music composition," says David Daniell, whose impromptu iPod selections jarred Chatham to a middle-aged epiphany and who now plays guitar alongside Chatham in Essentialist. "I'm not just referring to those like Sunn O)))." While working up pieces for the new album, Daniell constructed a four-minute "cut-up" based on loops of the first 20 seconds of Slayer's song "Behind the Crooked Cross" (from the 1988 album South of Heaven). "Take a listen to the beginning of that song, it could easily have been a Rhys Chatham piece as is. Metal—at least the subset of the genre from which we drew our inspiration—produces much of its intensity through repetition and variation of relatively straightforward musical themes. Riffs, to use the common parlance, with a great focus on tone and timbre as an aspect of the identity of the music. The high volume of this music, much like in the majority of Rhys' guitar-based works, leads inevitably to the overtones of the vibrating strings emerging as an almost equal component of the composition. Of course, in most heavy metal, these aspects are only there implicitly. That's where Essentialist picks things up: distilling these implicit aspects of heavy metal, making them explicit."
And, in a sense, bands like Sunn O))), which also includes the duo's seemingly endless offshoots and side projects, are working the case from an opposite direction. "What I like about listening to Tony Conrad is that the music doesn't have to be linear," O'Malley says. "You can take one point in a line and explore it, looking at that point in depth, as one step. It takes time out of the equation a little bit."
***
Ten Metal Bands Every 'New Music' Fan Should Hear
Influences
Black Sabbath
Ozzy Osbourne's latter-day emergence as rock's answer to Homer Simpson should not cause anyone to underrate the vast influence of the band that put the "heavy" in heavy metal. Still known to reunite with or without its waddling bogeyman of a lead singer, the group has sustained an off-and-on career since 1968. Its name is drawn from a 1963 Mario Bava horror film, thus prompting suspicions that the musicians were Satanists. [Ed. Note: One of the band's original names was Earth, a name which would subsequently be used in homage by one of the bands cited below.] Part of Sabbath's signature sound derives from guitarist Tony Iommi's signal breakthrough: He downtuned his guitar from E to C#, to make his Gibson easier to play after losing the tips of two of his fingers in a factory accident. The result, with bassist Geezer Butler following suit, was a sludgier version of old-school blooze-rock. During its prime, Sabbath was the noise of choice among the dazed-and-confused crowd in America's high school parking lots. Now, of course, albums like Paranoid (1970) and Masters of Reality (1971) are considered classics.
Motorhead
Fronted, even now, by gravel-throated wildman Lemmy Kilmister, the British act was a throttling offshoot of the progressive rock outfit Hawkwind. As much punk as metal, its long term effect was to suggest that the genre could make for perfectly good biker-rock shorn of its Dungeons and Dragons elements.
The Melvins
The missing link between Black Sabbath and a generation of Seattle grunge bands—a teenaged Kurt Cobain was their roadie—this Montesano, Washington trio is very nearly beyond category. Its deployment of painfully slow tempos is the trio's obvious gift to doom metal, extracting extra bang from the hammering nihilism of Swans, a group that emerged out of New York's early 1980s downtown scene, and the jammy blare of California's punk juggernauts Black Flag. Given that the band's lead singer Buzz Osbourne (no relation) called himself King Buzzo, however, its intent has always seemed more Dada than deathtrip. Sample the Melvins most accessibly on its major-label efforts Houdini (1993) and Stoner Witch (1994).
Slayer
Thrash metal's dark overlords, the California quartet is anything but sludgy, but its sheer ferociousness has made it an influence even on bands that don't really sound like it at all. Active since 1982, the group existed for fans who thought genre standard-bearers like Metallica and Megadeth were weak. Its classic is Reign in Blood (1986), one of the key albums with which producer Rick Rubin (Red Hot Chili Peppers, Johnny Cash) built his reputation. Erstwhile drummer Dave Lombardo has been the band's emissary to more exploratory scenes, working with downtown improv guru John Zorn and the group Fantomas.
Stoner Innovators
Sleep
The stonedest of stoner-metal acts, the now-defunct quartet from San Jose, California, never lasted long enough to hear its masterpiece—Dopesmoker—released in its intended form. The band broke up in 1995, disillusioned when its label rejected its efforts as unfit for retail. Twice. Finally issued complete by Tee Pee Records in 2003, Dopesmoker is more than an hour of sheer monolithic slo-mo intensity, perhaps the sound of what it feels like to be a bug writhing in pine sap. Or a very high teenager stuck in a Silicon Valley bedroom. It makes Black Sabbath sound like the Ramones. Drummer Al Cisneros and bassist Chris Hakius went on to form Om, while guitarist Matt Pike now fronts the way-thrashier High on Fire, perhaps the leading hard-edged metal outfit. [Ed. Note: Music Cartel issued parts of Dopesmoker as Jerusalem in 1999.]
Earth
An enduring combo that has existed since 1990, the band hails from Olympia, Washington—in proximity to the emergent grunge scene. One of its founding (now former) members was Slim Moon, who is currently an A&R executive for Nonesuch Records and who started the Kill Rock Stars label, which notably fostered a number of bands involved in the riot grrl movement. Earth has followed its own idiosyncratic orbit, claiming status as architects of purist drone. See Extra-Capsular Extraction (1991), surely the most uncompromised title in the Sub Pop catalog. The group abides today on the Southern Lord label, home to its greatest exponent, the band Sunn O))).
Doom and Beyond
Sunn O)))
Metal is really only a jumping-off point for Stephen O'Malley and Greg Anderson, a bi-coastal duo whose series of albums for Anderson's Southern Lord label reach far beyond the concept of quaking dirges into improvisational use of sound as an artifact, electronics, subharmonic blamm-o, and collaborative endeavors with performers not remotely metal—including Julian Cope (The Teardrop Explodes) and David Grubbs (Gastr del Sol). They revel in the eldritch trappings of the genre: performing in black hooded robes, or recording a track for its recent Black One album with guest vocalist Malefic miked inside a coffin. But the band's catalog is much more experimental in spirit. The group's new Altar is a two-CD summit with the Japanese art-metal band Boris, featuring guest appearances by gospel singer Jesse Sykes. Satan will be very disappointed.
Om
This offshoot of Sleep veers off from doom metal into something almost Zen-like. Indeed, members Al Cisneros and Chris Hakius resemble a pair of dharma bums in their publicity photos. The recent Conference of the Birds (Holy Mountain) posits the duo as meditative seekers, creating extended song-forms that build around chants, metallic textures, and neo-Pink Floyd psychedelia.
Boris
Doom-y only by association but too much fun to ignore, the Japanese trio is the breakout act on Sunn O)))'s Southern Lord label. Named after a Melvins' song, the group has progressed quickly out of its sludgier phase—sympathetic with national guitar hero Keiji Haino and his jetliner engine improvisations—that Earth's Dylan Carson once dubbed "sound of two slugs fucking." Its new Pink album is characterized by extremes that have critics scrambling for footnotes from Sabbath to Sigur Rós. The sharp angles and jostling rhythms are as much zoom as doom.
Yob
Hailing from Eugene, Oregon, one of the more lysergic hippie towns in America, the members of Yob came by their doom metal inclinations almost as a birthright. Though the band has now broken up, its albums—such as The Unreal Never Lived (2005)—became fan favorites. If various precursory acts have detoured off the genre's mainline, these second-generation acolytes kept the faith by consolidating its strengths.
###
Steve Dollar writes about popular culture for the New York Sun, Time Out Chicago, and many other publications. He also penned the liner notes for Rhys Chatham's latest release, A Crimson Grail (Table of the Elements). His Jazz Guide NYC: 2nd Edition will be published in January by Little Bookroom.