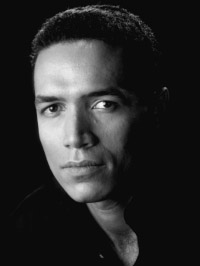 Michael Abels
Michael Abels, halfway through writing his Encore composition, has made a discovery. "I think I now get how a dessert chef feels," he says, laughing. "Because you're definitely not what people are coming to the restaurant for, and yet you're their last impression. I think ideally an encore is something that should achieve some of the same things."
Already titled Outburst, Abels considers the work "very much about colors and the subtleties of orchestration." To put it in dessert terms, it's "a lemon tart with fresh berries and sorbet. A palette cleanser that has many pleasing delicate flavors and textures, but without the guilt you'd feel after cr'me brulÈe."
Though limited to three minutes at the end of the program, Abels doesn't feel it makes the commission any less valid as a serious piece of art. "It's a gimmick only in the exact textbook definition of the word. It's a gimmick in that it's a theme…a theme that was used for the commission that is a point of departure, as basically every commission is. "
He acknowledges that the restrictions are challenging, "but it's certainly no more of a challenge than satisfying any other commission." In this instance, the composer is forced to economize, "but that's a particular muscle that you exercise and as you exercise it then your ideas start understanding what the program is and they come to you in ways that correspond with what you need rather than fighting what you're trying do."
Abels was still in high school when he realized that composition was turning out to be a stronger calling than performance. "I was interested in all different types of music and just what made a music style that we identify sound the way it does. The best way to understand that is to actually try to write something." He pursued that curiosity through study at the University of Southern California with James Hopkins and Robert Linn, and later to an exploration of West African music with Alfred Ladzekpo at the California Institute for the Arts.
Abels is probably best known for his orchestral pieces Global Warming, Frederick's Fables (a work for children) and Dance for Martin's Dream. With the support of the Music Alive program, an initiative of Meet The Composer and the American Symphony Orchestra League, he will be in residence with the Richmond Symphony for two weeks during the coming season.
He spent three years in the South Central Los Angeles neighborhood of Watts as a recipient of a Meet The Composer New Residencies grant. Though he feels that a composer's first responsibility is to create, the experience taught him a lot about what a composer can bring to a community. "The role of the composer is first and primarily to create from the soul, and sometimes that seems to fly in the face of the other things, but that's the first priority. The second is to make a point, have a perspective that causes people to think in a different way. I feel like my best work is when I use music as an expression of a point of view."
Beyond that, Abels also stresses the need for composers to be active within their communities. "I think it's important….I think that artists aren't visible because a lot of what they do, in the doing, is not very interesting." By working out in the community, you "make your profession visible and tangible to people."
The relationship between being an African American and a composer is something "I learn more about that all the time," Abels says. "Both how it affects my work through my own experience of my ethnicity and how it's impacted my life."
To illustrate, Abels talks about writing Dance for Martin's Dream, which after a somber opening quickly turns into a joyful dance. "I wrote it that way because I thought, 'My life has been so greatly positively affected by the civil rights struggle. I'm just walking in the wake of all these really powerful grand people'…so through my work to date the impact of my ethnicity has been one of expressing the joy of progress more than the struggle. And who knows if in ten years whether that would be true or not, but that's what I've done so far."
That's on a personal level. Professionally, he has found, race can be "both a calling card in a good way and a niche in a not so good way. I really think that that is going away more than it's happening. Composers of an older generation than me, 20 years older, I've heard some of them talk about some of the things they've faced, and there's no way you could conclude anything but that there was discrimination going on."
But does he ever feel African American composers are ghettoized in the classical world, relegated to that annual Martin Luther King Day concert each year? After a moment of careful thought, he argues that it wouldn't really be fair to complain about the programming of black composers on MLK Day. "If people take a piece called Dance for Martin's Dream and perform it on King day I don't think that's being typecast and when the piece is performed on days other than King day, I think that that's a step in the right direction."
After some reflection, he says that the fact that he is African American hasn't really impacted his professional career one way or the other. "And I've certainly thought about this a lot. The real question then is, 'Have I been typecast?' And the answer is that there's always a danger of that but I don't think I have."