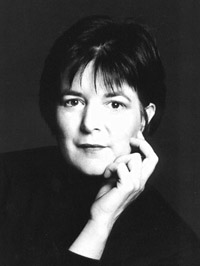 Tina Davidson
"I have plans, I just don't know what they are yet," Tina Davidson admits when asked about early ideas for her Hechinger Encore. Though distracted by a deadline for another commission, she's expecting that writing the piece for the National Symphony Orchestra is going to be a lot of fun.
"I'm assuming they want something fast. You know, an encore is an encore, right? You get out your chops to make it fun and not gruesome. You want them to sweat but like dancers when they sweat — it's sort of the glory of moment kind of sweating rather than 'I can't believe she's doing this to me.' "
The commission's placement on the program and the time restriction don't seem to phase her. "For me as a composer, it's another challenge. How am I going to do this? How am I going to say something meaningful in three minutes?"
Davidson completed her undergraduate work at Bennington College, earning a B.A. in piano and composition in 1976. When she finished, she quickly nixed the idea of going on to graduate school. A professor teaching a post-graduate class related this advice: "Many are called, few are chosen." After getting that kind of encouragement, she asks, "Why would I go to graduate school?" She also felt the universities were discriminatory. "You don't see any equal representation of women in music departments."
She has since found her own niche beyond the walls of academia. "I feel I've been very fortunate to see myself as a woman composer and to have a career as a woman composer. I know the front door is not open for me all the time, but I'm really great at breaking in through the back door," she confides, laughing. "I haven't lacked for opportunities in that sense and it has allowed me, I think, to be more diverse."
Being in the minority has forced her to be conscious of it and to use it to her advantage. "I think being a woman really has been an enormous opportunity for me because I've had to rethink things. If I don't want to go in that door, because I don't like what they're going to give out or the door is not open for me, how do I make my own life in the music world? "
And make her own life she has. Since 1998, Davidson has been the composer-in-residence at Fleisher Art Memorial under whose auspices she runs a citywide Young Composers program. She was previously composer-in-residence with Opera Delaware, Newark Symphony Orchestra, and the YWCA, as part of Meet The Composer's "New Residencies" program.Davidson has been awarded a number of grants and fellowships, including the prestigious Pew Fellowship. She has been commissioned by groups such as the Kronos Quartet, Sylmar Ensemble, Network for New Music, WHYY-TV, Pittsburgh New Music Ensemble, Greater Twin Cities Youth Orchestra, Orchestra Society of Philadelphia and the Mendelssohn String Quartet.She also wrote an article for Ms. Magazine in 1992 that explored gender issues in composition.
A large chunk of Davidson's work has been devoted to collaborative and residency projects, which she says has really forced her to "figure out how I can do that as an artist and take a site-specific project and make it into something that's enduring."
Davidson has also spent quite a bit of time teaching composition to both children and adults. She has a unique view of her role in this process. "I am there to say 'yes,' and I believe that the only way that we're going to save new music is to give people the same experience they have when they're 5 years old and painting in kindergarten." She illustrates that when kids take their school art class paintings home and their parents say, "It's art!" and tape it to the refrigerator, the children see themselves as artistic. Music composition generally runs a very different course, often relegated to the very end of an American classical education, so few children get similar creative encouragement when it come to music.
"As I teach in my own way, it's about affirming to everybody 'You've got ten fingers, ten toes, and guess what? You've got a whole lot of creativity. And if you don't think you have it, it's because somebody told you no a long time ago. And I'm there to say yes.' "
Based on her experiences working in nontraditional settings, such as a homeless women's shelter, Davidson fears that classical musicians and composers have become so obsessed with excellence that "we forget that excellence is established over time. As a composer, I am not concerned with judging other people. I am concerned with writing the best music I can, supporting other people to be musically creative and listening to new music." She traces the problem to a struggle for control. "I think it's just a power issue. If we say that only geniuses can write music, then when [audiences] don't like our music it's their fault and not ours."
"I always feel that I project into my music who I am becoming and it teaches me back to who I am," she says, trying to put her finger on what has directed her composing career. "I've really suddenly wanted in my life, as a parent and as a composer, to see life as abundance, and I had no idea what that meant. I remember sort of thinking well I'm just going to stick that word out in front of me like it was a carrot, just discover it as we go along. It's really changed my music.
"I guess it's been just sort of a growing sense of wanting to see the musical world differently. Wanting to see it as inclusive rather than exclusive, wanting to see it as abundance rather than scarcity. "