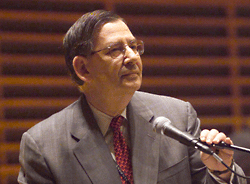 In a moment of foreshadowing, Henry Fogel (then the League's board chairman) speaks at the 2002 ASOL Conference
On January 31, the American Symphony Orchestra League announced Henry Fogel as the organization's new president and chief executive officer. Fogel has served as the president of the Chicago Symphony Orchestra Association for the past eighteen years and was named the League's board chairman in 2001. He will begin his new duties at the League on July 1, 2003.
In September, League President Charles Olton announced that he would end his tenure at the ASOL in June of 2003. Soon after the announcement, a search committee was organized by the board to find his successor. Concurrently, Fogel had announced plans to leave the Chicago Symphony Orchestra Association in August making for a particularly smooth transition between leaders. "Rather rarely in life, there are wonderful coincidences, when all the stars line up and the best result comes to pass quite naturally," said Don Roth, the chair of the League board's search committee and president and CEO of the Aspen Music Festival and School.
Fogel's success with the Chicago Symphony Orchestra Association as well as his involvement with the League made him the ideal candidate for the position. Under his direction, the Chicago Symphony's budget tripled and the endowment grew from $19 million to $160 million, facilitating the $120 million renovation of Orchestra Hall. He also served as the executive director of the National Symphony Orchestra and the general manager of the New York Philharmonic. However, it wasn't in management, but in radio that Fogel got his start, and he is credited with producing the first orchestra fundraising "radiothon." Fogel is also an avid record collector and his collection can be searched online.
In addition to his obvious passion for music and skill for fundraising, his involvement on the boards of the Steering Committee for the National Women Conductors Initiative, the Honorary Boards of the Center for Black Music Research at Columbia College, and the Board of Overseers of the Curtis Institute of Music, among other organizations, adds a progressive dimension to his dynamism.
Through his deep involvement in these organizations, Fogel has his finger on the pulse of the orchestral community. "Right now, of course, all segments of our society are facing problems from a constricted economy—orchestras are no exception," he offered, when asked about the outlook for American orchestras in the coming years. "Clearly financial issues are at the forefront of our agenda right now, and examining the cost structure and how we can improve it will be an important priority."
In addition to the lethargic economy, Fogel sites "problems of audience development and problems resulting from the lack of serious music education in the schools and from the increasing marginalization of the arts in our society at almost all levels," as major concerns facing orchestras all over the United States.
Eager to tackle these obstacles upon his arrival in New York in July, Fogel wants "to make the League more proactive in seeking solutions to [these] problems." He identifies a need for the orchestral field to forge more connections with other disciplines including theatre, opera, and film to keep the institution vibrant. And where do composers fit in to this picture? Well, according to Fogel, "The League needs to establish a better dialogue with composers—at the moment we don't even have a composer on the Board of Directors, a situation that is a priority for us to rectify."
Fogel is very keen on expanding the programs that the ASOL has in place to advance the orchestral repertoire, such as the MUSIC ALIVE: Composers and Orchestras Together residencies and New Music Now, a website providing information on newly created works for orchestra. From Fogel's point of view, new music is an important part of keeping the orchestral world lively. "Orchestras are still attracting big audiences for a variety of repertoire—and it is interesting that some orchestras with the most adventurous programming (San Francisco comes to mind) seem to be having the most success."