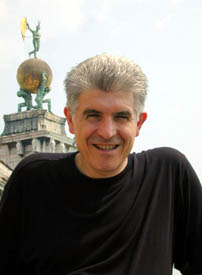 Bill Fontana
Photo by Oliver Barker
My sound sculptures use the human and/or natural environment as a musical information system full of interesting sound events. In designing such real time musical information systems I am assuming that at any given moment there will be something meaningful to hear. I am in fact assuming that music, in the sense of meaningful sound patterns, is a natural process that is going on constantly. These information systems are designed by selecting interesting sound locations within either an urban or natural environment, placing live microphones or hydrophones at these locations, and simultaneously transmitting the sounds to a central listening point (sound sculpture location).
In the beginning stages of my work, this idea was more of an assumption than a fact. After realizing many different projects around the world that all involved the creation of a musical information network, I have concluded that there is something compelling about hearing the simultaneity of sounds in a natural landscape, a city, a structure such as a bridge, a train station, a harbor, or a long stretch of beach. What is so compelling is the natural completeness of the live flow of musical events and patterns. That the live ambient sound constellations present such seemingly perfect relationships makes this art form actualize an awareness of what is already present.
In the accumulation of making projects and directly experiencing the simultaneity of sound in the environment (landscapes or cityscapes), the aesthetic horizons of the present moment are the most exciting and challenging genre to explore. The working process is a kind of composition in reverse. The music and the patterns exist as some incredible unheard music, because in order for them to be heard, it would be necessary to be present with one's body in all these locations at the same time. Thinking about the musicality of the world as the simultaneity of sound events becomes a redefinition of the sense of embodiment. Listening in acoustic space is always an activity of a body in a space. The installation of microphones and sensors in many places at the same time takes streams of disembodied information and reconstructs them into a new form of embodiment.