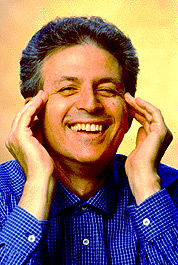 Charles Amirkhanian
Photo by Mark Estes
Executive Director, Other Minds
Balancing Composing and Arts Administration
I began early in life in my hometown to organize concerts as a means of supplying myself with composing deadlines and performance opportunities for my own music. There I served as president of the Phi Mu Alpha Sinfonia (music fraternity) chapter at Fresno State where I was an English major, producing the first concerts in that city of avant-garde music. In part I hoped to create a sense of community among composers that didn't exist in a "conservatory" atmosphere where performers were the central focus and "new music" for the small composing faculty meant a grudging acknowledgment of the work of Paul Hindemith. The fact that there was not much of a scene in Fresno and that I could hear what I wrote days after the fact was very useful. Also, the Music Department had less control over the content of fraternity concerts, paving the way for experimentation that otherwise might have been discouraged. Score one for administrative work in this case. Here under the radar we slipped in the first Fresno performances of music by John Cage and Morton Feldman. And we feted the first Fresnan to win the Pulitzer Prize, Leslie Bassett. He flew in that year (1966) for a chamber concert of his works. His winning Variations for Orchestra was a marvel of complexity and intelligence.
I became Music Director of KFPA Radio in Berkeley on July 8, 1969, a date that seems more significant to me now because July 8th is the birthday of several composers whose music later become central to my work as a producer—George Antheil, Percy Grainger, not to mention Ge Gan-ru. Two customers at the record store where I worked in San Francisco, the Sea of Records, recommended that I apply for the job. One was the composer Robert Hughes (who just recently produced the first CD of the music of Ezra Pound for Other Minds Records), and the other was an articulate curmudgeon who had a freeform midnight show at the station but was more knowledgeable about Wagner and traditional opera than the intricacies of avant-garde music—John Rockwell, now of The New York Times).
I was given the job in June and asked the station for a month off to visit an obscure composer in Mexico City, hoping that he would let me interview him for my first broadcast on the air in Berkeley. Such promise as access to the radio audience of San Francisco has impressed most composers over the years who have generously let me invade their homes, tape recorder in tow. But not Conlon Nancarrow. As I arrived there I slowly realized that he was the musical incarnation of Samuel Beckett—a man who wanted his work to speak for itself without his own explanations and personality distracting the audience. I gained a friend but not an interview. Years later I returned to Mexico to record Conlon's complete music, not once but twice, and to KPFA I owe the courage to have approached him in the first place. And finally I got my interview [Recorded on Other Minds OM 1002, Conlon Nancarrow: Lost Works, Last Works].
Once back in Berkeley at the radio station I was afforded the opportunity not only to broadcast absolutely any kind of music I felt deserved it but also the chance to use a professional radio control room to make tape pieces using multiple interconnected monaural Ampex recorders. It was there that I began a new composing phase, moving away from instrumental pieces for percussion ensembles and toward an integration of speech and music that became my main focus for 15 years: text-sound composition. And my involvement as a radio announcer trained me to use a microphone to best advantage for my voice quality.
If I had not been at KPFA I would not have used the recording studio as my primary compositional tool. I'm still thankful for the creative freedom and the learning experience in radio that helped me define my artistic personality, often in contrast to the wide variety of music I was exposed to from the avalanche of LPs and tapes that came my way in the course of my broadcasting work.
Fresh from completing a master's degree at San Francisco State in the Interdisciplinary Creative Arts Department I had a hankering to broadcast not only music but various forms of intermedia. I developed a series of "Radio Events," happenings in which an artist was given as generous an amount of airtime as needed to create a broadcast that solicited a live response or action on the part of the audience. One early participant was Jim Petrillo, now head of the digital arts program at California State University Hayward. Subsequently Jim invited me and my wife, artist Carol Law, to dinner at a new small French restaurant, Chez Panisse, to discuss possibly collaborating in the future. This led to a fruitful period of collaboration with Jim and his partner, writer Betsy Davids, in a group we called The Musicians Union. Thereafter, Carol and I took up the thread and continued on for a decade, performing sound poetry with Carol's remarkable macrophotography slide art in venues from the Walker Art Center to Amsterdam's Stedelijk Museum and the Sydney Biennale in Australia. I doubt that all this would have happened without the connecting point of my work at KPFA.
Indeed the KPFA job led me to travel widely, recording interviews for radio with composers everywhere and performing my own work where contacts blossomed. My meeting with the Swedish composer Lars-Gunnar Bodin (through radio work) led to a residency with Fylkingen at the Swedish Radio in Stockholm where in 1972 I produced five works in four-track sound that introduced me to the concept of working with professional engineers rather than trying to do everything myself. One of those pieces, Just, based on the words "rainbow, chug, bandit, bomb" was re-issued last week on the 10 + 2 anthology by Other Minds and still gives me great pleasure to hear.
An interview that KPFA programmer Richard Friedman and I did with French composer Luc Ferrari in 1970 set me off in search of ambient sounds to integrate into my music. Richard and I founded the "World Ear Project", inviting everyone to send unedited ambient sound tapes to us for airing raw. Portable cassette machines with decent sound were new and our call for tapes resulted in an amazing outpouring of creative microphone placement by musicians from everywhere on the planet. As the technical capability of sampling matured, my familiarity with collecting ambient sounds fed directly into a series I did of electroacoustic pieces, working with Henry Kaiser from about 1984 at his studio and resulting in a new facet of composing that enriched my palette. Here again my radio work brought new life and meaning to my composing. Indeed, young Henry had contacted me because he said my program actually had initiated his interest in new music. I began to feel strangely fossilized at this point. I had entered KPFA as Music Director at 24 and suddenly was an old timer to those in their twenties. Where had the time gone?
In late 1992, at 47, I left KPFA to co-direct the Djerassi Resident Artists Program with Carol. Suddenly my responsibilities changed from being involved strictly in programming and producing (the artistic concerns) to working directly with a board of directors to advance a non-profit organization that was ready to seek a new level of professionalization. We could build on years of positive contributions to the field but had to invent the fundraising capacity to grow and stabilize its operation.
This was for me a profoundly difficult but exhilarating challenge. I was grateful for being involved now with an organization solely focused on the arts, leaving behind my second-class status at Pacifica Radio where nearly all funding assets were poured into news and public affairs programming. Music, drama and literature all were window dressing rather than core canon, regardless of the fact that they had once been so central to Pacifica's mission. But fundraising at Djerassi was another order of business from what I'd learned at KFPA.
Not being conversant with the by-then highly developed theories and practices of fundraising and management, I began to take seminars produced by Indiana University around the country on what makes a non-profit work successfully. I'd recommend those courses to any artist who is in a similar position. But beware what it will do to your artistic output. Running a non-profit is a full-time job. The more you know about formulas for non-profit success the more there is you can do to achieve it. If the generous broadcast schedule for new music in my day at KFPA was a siren call to work ever-long hours, the directorship of an arts non-profit is a bottomless pit.
How to reconcile this sudden speed bump in a formerly productive composing career?
I decided to regard my time at the artists program as a time for personal growth—to meet a challenge that would sustain my lifelong interest of creating a place of respect and support to other artists than myself and do it as if there were no tomorrow. I think Carol felt this way too. We traded hours in our studios for a grand vision of composing the way for a valuable cultural asset to survive and thrive. Along the way we were able to give new shape to the outreach and panel process, identify new foundation and individual donors, attract a new and active group of trustees, upgrade the newsletter, and initiate a public tours program that brought attention to the organization and new friends; We also standardized many organizational systems that still are in place today and began a process with the board and founding family that led to the tripling of the endowment by placing easements on the 600 + acres of Djerassi Program property to preserve the environment for future generations to enjoy.
Along the way we learned much about rural living and survival, enjoyed breathing fresh ocean air, drinking pure spring water direct from our own property, and living in a remote, beautiful home with an outdoor hot tub with no neighbors in view nor any human-made sound audible most of the time. We also enjoyed the company of hundreds of gifted artists in all media whose gratitude energized us and made the sacrifice worthwhile. Perhaps our greatest gift to the program was to steer the board to our successor, the sculptor Dennis O'Leary, who lives in that house today and who has exercised superb leadership there.
The Djerassi experience did provide a memorable introduction to Asia. It led me to collaborate with the U.S. cultural attaché Arthur Zegelbone at the American embassy in Tokyo and Japanese composers Toshi Ichiyanagi and Mamoru Fujieda to produce the 13th and final Interlink Festival in several cities there. The resulting two trips there were extremely inspiring and certainly gave me a head start in appreciating the currently popular feature film Lost in Translation. I've learned from traveling what truly is untranslatable, like aspects of American music that don't command attention abroad but are exceedingly well respected here. And I'm humbled by the fact that so many interesting pockets of composers exist around the world where their careers are publicized to a population no larger than that of greater Fresno.
Another outgrowth of the Djerassi experience was soon to make a tremendous impact on me. Due to the fact that the residency program was closed in winter, I was able to take one week during that period and make it available to nine composers for an event I started ten years ago with Jim Newman called the Other Minds Festival. To this day, the private residency for Other Minds at the Djerassi Program survives and is one of the most memorable features of our festival for guest composers coming here from around the globe. In March we celebrate our tenth event, and without my involvement in Djerassi there would have been no such opportunity for others.
As the festival grew in popularity and recognition, I sensed that it might have a life of its own. Carol and I resigned in 1997 from Djerassi when we had the opportunity to have brief artist residencies in Ireland at the Tyrone Guthrie Centre and in Italy at the Bellagio Center. The latter resulted in another year at Bellagio (1999-2000), during which time I was able to complete a lengthy and involved 40-minute tape work for WDR based on recordings of historical pianola rolls. Carol produced an astonishing body of work from digital video to drawing, collages and paintings that flowed out of her ever-fertile imagination. For Carol and for me, it was a moment of payback for 4 1/2 years in the trenches as directors at Djerassi, but a very good moment, introducing us to an enormous variety of accomplished thinkers in every field who passed through Bellagio weekly and monthly. Other Minds hired composer (!) Carl Stone to run the festival that year and he performed so beautifully that we didn't miss a beat.
By now Other Minds was on the rise and becoming more stable. Furthermore, it undertook a project that I had envisioned necessary for years but never thought it possible to accomplish. In 2000, the organization took over stewardship of the audiotapes of the KPFA Music Department comprising an invaluable (to a few of us) collection of interviews and concert that were in danger of disintegrating or being discarded. We set about raising funds to digitize the precious 4000 hours of programs. It's a project that will take a few more years, but we're on the way.
As I write, Other Minds is about to launch a new web site to make available some of these tapes to listeners around the globe. In early December, radiOM goes online, supported by the Internet Archive with digitized files of some of the treasures of this collection. We plan to add more material as funds allow us to process more of the analog tapes and permissions are cleared. Once again my administrative involvement will assist me in saving and distributing my own music and its history while doing the same for others who passed through the doors of KPFA over the years, like Brian Eno, Pauline Oliveros, Conlon Nancarrow, Lou Harrison, John Cage, Laurie Anderson, Henry Brant, Frank Zappa and hundreds of others.
By now the interconnectedness of my work as an administrator (comprising curating, producing, and fundraising) and a composer makes it hard for me to imagine one without the other. Just as some university composers feed off their interaction with their students I find that my interaction with other composers, performers and audience members sparks my musical imagination. And when I'm invited to speak with university students I feel that I have a greater depth of experience to call on in discussing and analyzing my music and the field as a whole.
We should remember that many non-commercial composers in the U.S. do various degrees of work in or with non-profits, be they Oberlin, Carnegie Hall, Meet the Composer, the Los Angeles Philharmonic or Bang on a Can. I think the situation is more common than we acknowledge—partly a condition of the non-commercial nature of our music and partly a result of cultural conditions in general. And of course even for the full time composer, there seems to be an ever-increasing requirement to market oneself and feed the burgeoning list of media outlets (pace NewMusicBox) to keep ones name in the news. In short, the day of the non-commercial composer who does only that probably is wending its way slowly but surely toward extinction. Multi-tasking is the rule of the day. But finally I have found those "distractions" from composing as inspirational as some of my best days composing or presenting a new work.
Last year, sitting alone in a Thai restaurant on a break from the Other Minds office I answered my cell phone to find out that 88-year-old Henry Brant had been awarded the Pulitzer Prize in music composition. The winning work, Ice Field, had been commissioned by Other Minds with a grant from the Rockefeller Foundation's Multi-Arts Production Fund. A protracted negotiation with the San Francisco Symphony resulted in a premiere led by Michael Tilson Thomas. All the time we spent from conception to realization over several years had resulted in something completely unexpected. Hours, days and weeks had been spent in just the administration of this commission. The euphoria of that week in many ways is a good match to a brilliant week in the composing studio. I feel no urgency to trade one for the other, nor any regret for having chosen two paths.