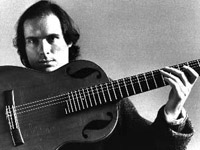 William Anderson
Photo courtesy of William Anderson
The first and foremost reason for the success of Cygnus' adventurous programs is that all of the six core members (Tara Helen O'Connor, flute; Jacqueline Carrasco, violin; Susannah Chapman, 'cello; Jacqueline Leclair, oboe; Oren Fader and William Anderson, plucked strings) have input in our programming. Each player has unique tastes, sometimes drastically different, yet the respect between the members is such that we all open ourselves to the music that another advocates strongly enough to suggest to the group. The resulting diversity is good, but I feel that what is most important is the strong advocacy for the music. I am very grateful to have been initiated into the mysteries of Anthony Braxton and Giacinto Scelsi, for example, which I may not have done without the influence of fellow Cygnus players. Two Cygnus players worked with Braxton's ensemble and developed a strong affinity for his work.
We meet composers through our work with Cygnus, and also through our freelance work in New York and elsewhere. All of us have multifaceted musical lives, with a special commitment to new music. For another example, I got to know Alisher Latif-Zadeh when I participated in Yo-Yo Ma's Silk Road Project at Tanglewood last summer, playing steel-string guitar in Alisher's Silk Road piece, Circles of Time. Rehearsing and performing Circles rendered me a great fan of Alisher's music. His Sufi background resonates strongly with my interest in Emerson's translations of Persian poets like Hafiz and Enweri. There is a great, but somewhat covert influence of Middle Eastern culture on Western Culture and music that becomes overt with works like Nietzsche's & Strauss' Zarathustra. Working with Alisher (who is exactly the same age as I am) completes a circle.
Cygnus has been around since 1985. I am very proud that Tara Helen O'Connor was playing with us years before she became a fixture in the Spoleto Festival, the Chamber Music Society of Lincoln Center, Santa Fe Chamber Music etc. Likewise, Oren Fader with whom I've been performing for 17 years, has been having one great success after another. He was recently singled out in a NY Times review of the Met Opera Chamber Players performance of Schoenberg's Serenade under James Levine. Jacqueline Leclair's version of Luciano Berio's Sequenza VII met with great approval from Berio and is now published by Universal Edition. We all saw our violinist Jacqui Carrasco on TV with Yo-Yo Ma for a Piazzola tribute. Our newest member, cellist Susannah Chapman just won the principal cello chair for the Mostly Mozart Orchestra. All of this exposure brings the members of Cygnus into contact with a great number of composers. Perhaps the six Cygnus players cover the six degrees of separation.
Our unique instrumentation was inspired by the Elizabethan "broken consort," a mixture of instruments from different families. We have been playing programs that integrate early music with new music since our second season in 1986. This has proven to be an effective way to show off our new works to their best advantage. Our next concert on the People's Symphony Series at Washington Irving High School in Manhattan, March 17, 2001, is such a program, coupling Piazzola, and Robert Pollock with Josquin; Peter Maxwell Davies' Renaissance Scottish Dances with Carter's Enchanted Preludes and Sebastian Currier's Broken Consort.
I have a great interest in the latest developments in the elder generations of modernists. I find many of them writing some of the most astounding, extraordinarily inventive and effective music in America today. It has softened, sloughed its hubris, and comes as easily to these composers as breathing. It comes readily to the players and listeners too. At the same time, many generations of their students are contributing independently in transforming a once new and difficult musical idiom into a language that is often as warm, comfortable and familiar as tonality was for late Romantics, at other times strikingly fresh and new.
It is time for Oren and me to give the NY (American?) premiere of Lachenmann's guitar duo, which is quite unknown here. I had to hear about this much discussed and imitated guitar duo from my Japanese colleague Norio Sato (a young Japanese composer showed me her Lachenmann-inspired guitar guitar duo, but I've yet to see or hear a note of Lachenmann's music). Lachenmann is one European composer with whom I need to acquaint myself along with Sciarrino, Stroppa, and Grisey. I get the impression that some cutting-edge European composers feel that the difference between Babbitt and Puccini is negligible. They both use very old, traditional languages that are "self contained," while composers like Scelsi, Sciarrino, Stroppa, Grisey, and Lachenmann are taking music into uncharted post-modern, non-self-contained, microtonal, micro-timbral uncharted waters. I am interested in catching up with those developments, and getting a sense of their ripples on this side of the pond.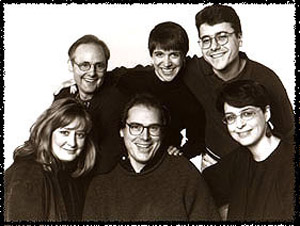 Cygnus Ensemble
Photo courtesy of William Anderson